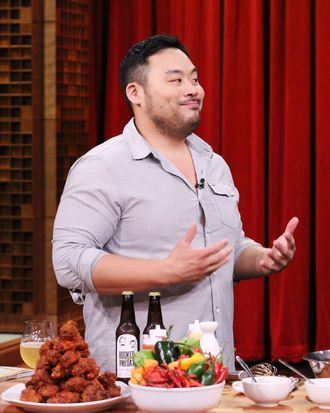 It has to do with a "unified theory of deliciousness."
Photo: NBC/Getty Images
Taking a break from conquering the delivery world, Momofuku head honcho David Chang sat down to write this month's Wired cover story. In it, he presents his "unified theory of deliciousness," which basically boils down to the idea of applying the theory of strange loops to food, dishes like bolognese and mapo tofu having fundamental similarities, and people liking dishes that remind them of other food they've liked in the past. Also, umami is super important.
It's not so straightforward, of course. Chang continues, in a bit of philosophical clarity, to declare that a "perfectly seasoned" dish will taste both too salty and not salty enough, which is something you may have thought while microwaving instant ramen during your sophomore year of college. More important, though, he finally answers the question everyone has been asking for years: Why are his famous pork buns, the tiny sandwiches upon which the entire Momofuku empire has been built, so damn good?
Despite the dish being an "11th hour addition" to the Momofuku Noodle Bar menu, and a pretty basic one at that, people went nuts for the combination of fatty pork, sweet hoisin, and fresh cucumber. And for Chang, the buns' success is pinned to the combination of steamed bread and pork belly, a classic in East Asian countries like Taiwan and Japan, that also hits the same notes as the BLTs sandwich-obsessed Americans grew up on. Put another way: Everyone loves pork belly.