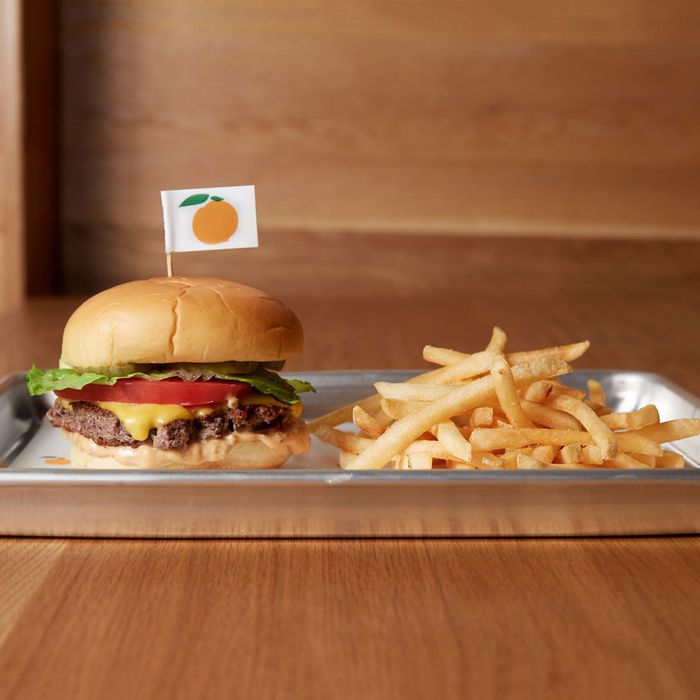 It's getting the David Chang treatment.
Impossible Foods made a lot of noise with its veggie burger that "bleeds," securing $108 million in funding last year and generating serious hype. But it's yet to have been tested on consumers' palates. Now, company founder Pat Brown, a biochemist, appears ready to unleash his creation. Earlier today, Impossible Foods introduced its burger at a press event in midtown Manhattan, where it was unveiled that — having already been backed by heavyweights like Bill Gates — Impossible had scored an (unlikely) culinary ally: David Chang, who will debut the veggie burger in New York at one of his restaurants.
The Momofuku man rose to stardom thanks to his gluttonously porky cooking, and has been to known to espouse very strong opinions about what should and shouldn't be done to burgers from time to time. Those rule don't include cutting out beef entirely, as the Impossible's high-tech creation will debut tomorrow at noon at Chang's Momoufuku Nishi. Available with all-American fixings lettuce, tomato, pickles, and special sauce — all on a Martin's potato roll, of course — it will set you back $12. Non-vegans can get cheese for an extra dollar. Fries will be on the side. There will also a tasty looking limited-edition patty melt.
While Chang will only be making the burger and melt, the chef says he's experimented with the fake meat in dumplings, meatloaf, and as a pork-sausage substitute. He also says he first ate it as tartare, and gave it the highest seal of Chang-ian approval by calling it an umami bomb.
So, how are the actual burgers? The versions served at the press event tasted uncannily like the real thing, with a whiff of miso, and has real crumble and crust. The veggie patties certainly taste more like a proper burger than the lifeless grey pucks your uncle served at that backyard barbecue.
For Impossible, getting Chang onboard sounds like exactly the kind of partnership they were gunning for. Last year, Brown told New York that his target clientele isn't vegans but "mainstream, mass-market, uncompromising, meat-loving carnivores." Which sounds, really, like a pretty apt description for a Budweiser-guzzling chef who, for a long time, maintained a staunchly meaty no-substitutions policy. In other words: If you're going after the meat crazed, you better go right for the jugular.