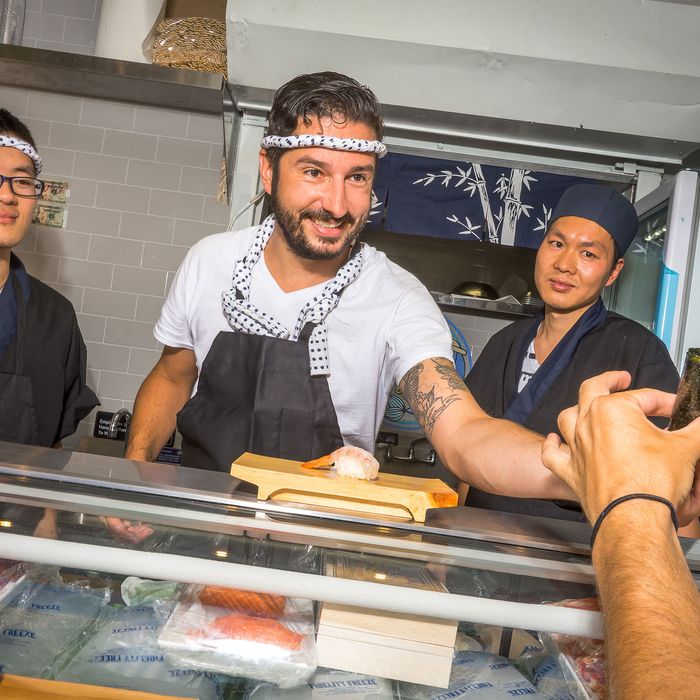 "I make rice 20 times a day; I'm a sushi-rice machine right now."
Photo: Noah Fecks
Chefs and their cooks often have a contentious relationship with New York's Department of Health, and nobody knows this better than David Bouhadana. The former head chef of the East Village's Sushi Dojo, Bouhadana got into a squabble last fall with the DOH over the department's insistence that sushi chefs wear gloves when handling raw fish — something Bouhadana believes is anathema to the craft. That spat cost Bouhadana his job at Dojo, where he had become one of New York's most acclaimed sushi chefs. Now, eight months later, he's back with the first of two new projects: Sushi on Jones, an open-air omakase counter in the new Bowery Market. Grub Street stopped by to talk with the chef about his new spot, his future plans, and where he currently stands on the crucial glove issue.
How did Sushi on Jones come about?
It happened by accident. It was a blessing in disguise. It was an opportunity that no one had ever thought of. It's top-notch sushi without the huge price tag. This is what every station in Tokyo and all across Japan has. Amazing high-end fast food. And, unexpectedly, we can't find that sort of thing here. All we have is hot dogs and pretzels. So I think this is a game-changer.
How's it been so far?
I don't have my platform yet, so I can't be Mr. Professional. I haven't shaved in a couple weeks, I'm wearing short shorts, I'm sweating out here, and I'm having fun. And I get to be sushi help. I love being sushi help. I don't want to be head chef right now; I want to make rice and wash dishes. It feels great to go back to being a student in that way. But I'm in charge. This is my shop.
What's the menu like?
It's a $50 omakase, no substitutions, but the menu is not 100 percent final right now. I can tell you, we have your standard fish: tuna, salmon, hamachi, eel, scallop, shrimp, albacore shrimp, and a few little pieces we're trying. Our claim to fame is the wag-uni, which is the Japanese premium beef with truffle salt and uni.
I think the pieces I put here are what people order after their omakase. I don't have the white fish, I don't have the silver fish, I don't have the three kinds of this and that. I have all the power pieces. None of the fillers. Also, because I can't make that beautiful little piece of that special little silver fish. I don't have time to vinegar it, salt it, age it.
Do you think you'll do takeout eventually?
Not for a while. While the weather is rocking and rolling, people want to sit down and have sushi until midnight, and we are fully booked … When it's winter, I imagine people aren't going to want to sit outside.
Is this something you'd want to open more locations of?
I think we stumbled upon something that can be replicated without me being there. That needs to be mastered first. We're thinking about something like that. Our main focus, at this point, is perfect, continue with Sushi Bouhadana, and see how this goes.
I feel like the only decent thing currently in New York, until Sugarfish arrives, anyway, between something higher-end and sushi you really don't want to eat is Sunrise Mart.
[Laughs.] I'm a big fan of Sunrise Mart. Well, the cool thing is there could be more of these. I don't want to get too much into it, but this could fit inside of Sunrise Mart, this could fit inside of a stadium, this could fit in any place. So the opportunity is there. But we're day three, and we want to get this perfect and make sure that when I walk away it's still high-quality and delicious.
You're also opening up a restaurant, Sushi Bouhadana.
Correct. We're still in the process of opening it, so there's not too many things I can say yet. But it will be a high-end omakase. It will be a 12-seat sushi bar; this is fun outdoor sushi.
The idea of street sushi must terrify the Department of Health.
I think the DOH and Department of Buildings are unfortunately the reason why we don't have amazing street food. I think Department of Buildings' rules about open-flame, fire inspection system, water, grease trap — these are things that you can't put into small spaces. I think Anthony Bourdain's market will be a game-changer. But because of those regulations and restrictions, we're confined to hot dogs and pretzels. We got super lucky here at this property.
Right, it doesn't really qualify as street food.
Well, I think the most exciting word is "open-air."
What went through your mind when you lost the job at Dojo?
That's a hard question to answer. There was a lot of emotion. But it's over. That was three years of building Sushi Dojo and the Izakaya, and when I was released it was a huge relief. It was all blood, sweat, and tears for me. I had no equity, and I put so much into it. At the same time, my partnership soured, management was bad, I had to control incompetent people, and it hurt because I had put it all on the line. I did it every day for my name, and that clearly showed. I was heartbroken, excited, relieved. My job changed overnight from sushi head chef to sushi free agent.
What did you do? Did you go back to Japan at any point?
The next day I woke up and went for a coffee. I think sitting still for two months was unbelievable. Walking around on a Wednesday, I was like, "Wow, people are outside, this is amazing." I got to go out, play my guitar, see my friends, eat dinner at seven o'clock. I'd never eaten dinner at seven o'clock in my life, and I'm like, "Wow, this is cool." Day drinking? Amazing.
Then, yeah, I went to Japan. I went to Florida to see my family. I went to Los Angeles, and I went on a road trip. I'm going to Costa Rica in a couple weeks. Also, my body just needed a month of sleep. I used to just wake up, sit on the couch, and take naps. That's what my mind needed to do. Flush everything out, and it's crazy there's now press — whether it's good or bad, that's hard to take that in. People know who I am. I don't know who they are, but they email me, call me, they want photos. It's crazy, because all I do is sushi. It's a blessing, an honor, and a curse. It's fun.
How do you look back on your time at Dojo?
When I was younger and at Sushi UO, I was having an identity crisis. I'm not your typical sushi chef, obviously. I'm a white guy, I like surfing, I have tattoos and a beard, and my favorite band is Tool. I'm a Japanese-trained American sushi chef. There was a lot of pressure from my master to be the best. But at Dojo I got to express myself. People could see that I was fun, cool. My master said you can't change any of the fish, you can't change the rice. But he never told me about music and lights.
It was a great experience. The outcome was the best thing that could've happened because there was no lawsuit involved. But this was the only way that partnership would've ended. I couldn't just walk out. Things had soured, and the gloves and closing were the final straw. I don't want to expose too much of our issues, but something was going to happen.
So the question everyone has been waiting for: Are you wearing gloves?
The DOH has a job to do. We are wearing gloves here. But I went through grueling years to become that master chef, to earn that respect, to charge people that much money. I think it's really gross to charge someone $200 and wear gloves. That's saying you're not clean. Not that they're not clean here, but this is fast-paced — and I think gloves are perfect for that.
Why one and not the other?
Let me put it this way. I think not wearing gloves is for master-trained sushi chefs who are in front of you, washing their hands. This is fast-paced. It isn't about the art form. It isn't about patience. It isn't about discipline. I think there needs to be an exception and a rule for the high-end sushi bars, where you're paying an absurd amount. These guys who are artists, craftsmen. They have degrees, they are trained for this.
The guys at Jones don't have degrees. They aren't master sushi chefs. They are great sushi chefs, but they're machines. They know that, I know that, and I'm a machine with them. I make rice 20 times a day; I'm a sushi-rice machine right now. But when the atmosphere is Zen, that's when the gloves come off. That's when it's time to be intimate. That's when my hand and your hand come together. When I hand you a hand roll and it's beautiful, I make sushi with my hands and you eat with your hands, that's beautiful. This? Fast-paced. Thirty minutes, in and out.
Are you going to use gloves at Sushi Bouhadana?
I don't want to say what I'm going to do at Bouhadana. Like I said, the DOH has a job to do. I respect them and want them to do their job. But what happened at Sushi Dojo was personal. Things were said, things were done. They made an example out of me. Great job. It made my career go higher and higher, and here we are talking about it.
I'm working with people, with chefs. We are coming together for a sushi alliance to hopefully change the rule on gloves and make an exception. Sushi came before the DOH. There's issues with it. I stood up for it. All the chefs believe in me. But they don't want to speak on my behalf because they're nervous. I think we're going to come together and try to solve this problem. But if you go ask Seki, Ichimura, Hatsuhana, all these guys, they'll say the same thing.
I understand why you'd not want to answer that question. It's how chefs have to deal with the DOH.
I just think maybe the gestures and the attitude were wrong with Dojo. I think coming in at 8:30 p.m. on a Friday repeatedly, in front of customers, my face was flushed, I turned red, there were comments made on both sides, and it became personal. So that was just what happened. I had poor management, and I had to walk the inspector, holding hands with them for an hour and a half through my restaurant. I was flustered. I had reservations piling up, the show gets stopped, they're telling me to throw away food. There were a few comments that were made, and I think they were unhappy with it. I probably wasn't the nicest person.
I'm just trying to keep the philosophy alive for sushi and what I've learned. I lived in Japan for three years, I worked very hard, and this is the way I was taught and what I believe. This isn't a nationwide rule. This is a rule that has to be changed, and the public made me a big deal out of it and we got some drama out of it, and it was fun. Now it's time to seriously sit down and fix this problem.