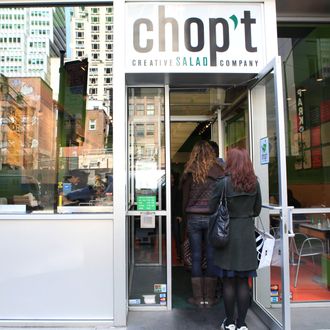 In need of salad spin control.
Photo: Cynthia Chung
Chop't is facing a revolt after sneakily discontinuing some beloved salads over the Fourth of July. Regulars weren't at all happy to return from their three-day weekend barbecues and discover their go-to work-lunch menu had developed some glaring omissions. Three of the chain's salads, six of its dressings, and three of the so-called "Choppings" had all gone AWOL, they learned:
The chain tells the Daily News it was a long-planned update to "pay homage" to local farmers by adding "flavorful new creations worthy of the season." But annoyed customers really couldn't care less — not only did those menu items disappear, but the prices increased for what remains, and a couple people have even noticed a mysterious shrinking in their salads' size:

Chop't's Twitter team has been trying to suggest creative fixes, like re-creating a favorite salad as a "Custom Craft," or swapping in a new dressing. But customers are even feeling hosed by these suggestions:
This litany of complaints aside, the replacements don't sound awful: There's a spicy honey vinaigrette, a chili cashew dressing, and some sort of sriracha-tzatziki mix. New salads include a Farmstand BLT salad that has Niman Ranch bacon and heirloom tomatoes; a vegan Spicy Cashew Soba Noodle bowl; and a summery caprese plate with peaches and local Lioni Latticini mozzarella.