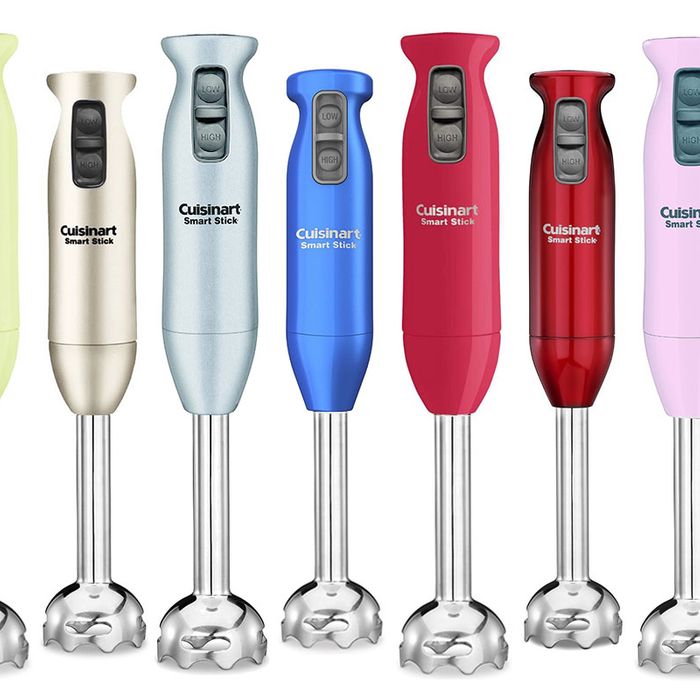 Although I love to cook and have even worked in a kitchen or two, I never thought I needed an immersion blender. But then one day not too long ago, I attempted to make chunky pesto by hand-chopping piles of basil and pine nuts: Turns out, there is such a thing as too chunky. So I decided it was time.
There are so many immersion blenders. Ones with bendable arms, rubberized grips, fancy attachments. A lot of them go for upwards of $100. I decided on the Conair Cuisinart Smart Stick Hand Blender because it had good reviews and cost me $30.
And it's changed my life. What I love most about it is that it has just two speeds: the lower one I use for concoctions like the aforementioned pesto; the higher one for smoothies and purees. It has 200 watts of horsepower, which is plenty for a hand blender. It's not too bulky — it weighs about a pound and a half and maneuvers easily into all sorts of pots, bowls, and jars. It fits in my tiny Brooklyn kitchen drawer.
I use it to whiz my Bolognese into the perfect texture in mere seconds. I use it to scramble eggs (so much fluffier than when I was just beating them with a fork). Now that it's summer I'm obsessed with gazpacho — just combine whatever veggies look good at the farmers market with white vinegar and good olive oil, turn on the blender for 30 seconds, and you're done. Also, have you ever made your own whipped cream? Buy a half pint of heavy cream, pour it in a bowl with a spoonful of sugar, and give your immersion blender a go — heaven, especially over fresh berries. And then you can lick the blender and put it right in the dishwasher.
The Strategist is a series of smart, obsessive shopping guides from the New York Magazine section of the same name. We've scoured the web to bring you the best of the best. Some of our latest conquests include rolling luggage, umbrellas, beach tents, incense, white T-shirts, nail clippers, and yoga mats. If you buy something through our links, we may earn an affiliate commission. Please note that all prices are subject to change.