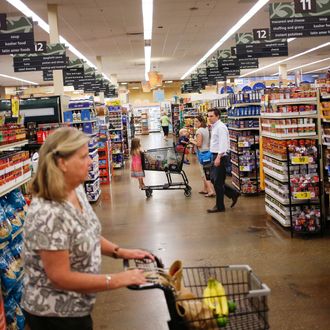 Shoppers patiently waiting for their labels.
Photo: Luke Sharrett/Bloomberg via Getty Images
A national labeling requirement for food GMOs is now all but a certainty. The House passed the Senate's bill yesterday afternoon, meaning President Obama's signature is all that stands between that box of Froot Loops and a warning that genetic modifications are lurking inside. If he signs the bill into law, as the White House suggests he will, the USDA will be charged with crafting a standard within two years that would apply to all food labels in the country. It would also override Vermont's labeling law that went into effect earlier this month.
It's no secret that the bill, which sped through Congress remarkably fast, isn't that popular with anybody (besides the lawmakers, who can claim it as a legislative victory). About half of the detractors see it as too milquetoast, while the other half argue it's a tactic to push consumers away from genetic engineering, a technology that so far pretty much all tests have shown is safe. The FDA also says the bill's vague wording could be a free pass for companies like Monsanto and DuPont that have perfected "gene editing," a process very similar to genetic engineering, but one that doesn't run afoul of Congress's cloying federal label requirement as it's currently written.
The biggest complaint, however, seems to be over labels themselves. Companies would get three options: Add simple text declaring the product contains GM ingredients, slap on a universal symbol that means "I have GMOs," or use a QR code that curious shoppers must scan using a smartphone. Critics are pretty sure which option companies will prefer. As the Just Label It coalition tells the Times today: "We don't think the QR code is a viable or even an honest disclosure. It's just another way of keeping citizens in the dark — every 13-year-old knows QR codes are dead."
The good news for QR-code haters is, since Vermont beat the federal government out of the blocks, companies like General Mills, Mars, Kellogg, and Campbell's already adapted their labels to that state's standard, which requires simple text. And yesterday, conveniently timed to the House's passage of the bill, Dannon announced all yogurt packaging by the end of this year will say if there are GM ingredients.