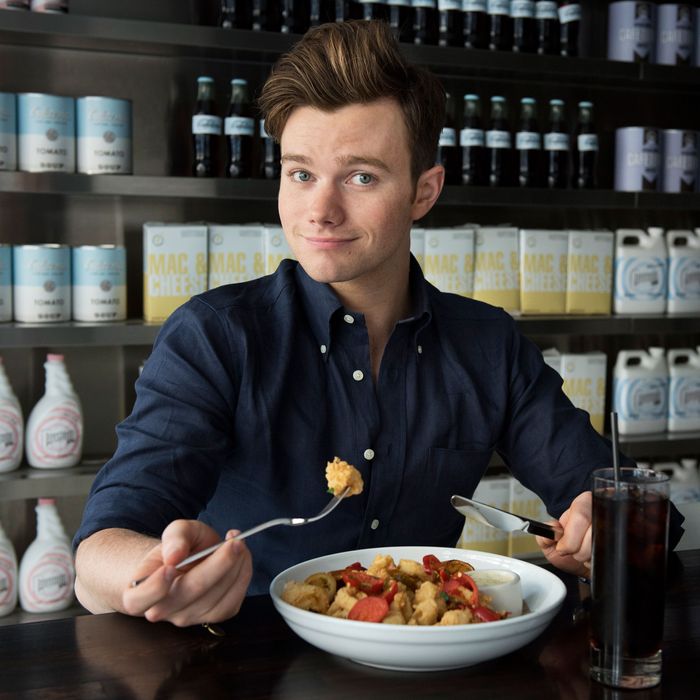 Colfer, at Cafeteria.
Photo: Liz Clayman
Best known as Kurt Hummel on Glee, Chris Colfer is a man of many trades. He's currently on a book tour for the fifth installment of his wildly popular middle-grade fantasy series, the Land of Stories, with a sixth book on the way. Beginning July 22, you can also catch him in Absolutely Fabulous: The Movie as a "hairdresser slash social-media consultant" to Jennifer Saunders. But first, read about his affinity for chocolate-chip cookies and what he dubs the "Trail Mix of the Gods" in this week's Grub Diet.
Friday, July 8
In the madness of feeding my cat, feeding my dog, and feeding the wild bunnies living on the hill in my backyard, I forgot to eat "breakfast." But luckily, my boyfriend and I planned on having an early lunch before catching a movie. We ate at Gulfstream in Century City, Los Angeles. It's really good seafood, and it's conveniently located next to the movie theater.
I ordered the rotisserie chicken, which was slow-roasted with an apricot glaze and came with a heavenly wild-rice salad. Or, as I like to think of it, Trail Mix of the Gods. Like a successful ensemble comedy, there are so many ingredients in there — grains and berries and nuts — you wouldn't think go together, but they blend together in perfect harmony. To drink I had a Diet Coke. Every meal is accompanied by a Diet Coke. Even in the morning, a Diet Coke.
As we watched the Secret Lives of Pets, we shared a box of my favorite candy, Cookie Dough Bites. If you haven't had them before, do yourself a favor and treat yourself. Each bite is a chocolate-chip cookie in your mouth. So far, the only places I've found them are in movie theaters and Amazon, but I feel weird about ordering food online.
For dinner, I had the insalata vegetale and cauliflower soup from Pace, a great, homey restaurant in Laurel Canyon that's famous for the Canyon folk like myself. Pace soups are always vegan and always organic. The insalata vegetale is one of my favorite salads in Los Angeles, a mix of zucchini, squash, green beans, tomato, garbanzo beans, olives, greens, and cheeses. I add turkey. They do such a great job with fresh ingredients, and the best part about Pace, besides their delicious food, is that they deliver. A major plus for introverts like me.
Saturday, July 9
I must warn any breakfast enthusiasts out there that I am not a breakfast person. If you're an oatmeal-loving, pancake-flipping, bacon-sizzling aficionado, I apologize if any of the opinions expressed in this food diary seem offensive to you and your lifestyle. I believe eggs and cereal have plagued our society — and are nearly impossible to escape between the hours of 6 and 10 a.m. Don't get me wrong: Sometimes the only thing that can get me out of bed is the promise of a meal, but the first meal of my day is always highly unconventional (and downright un-American at times).
Today I'm leaving for New York City to start press and a book tour for The Land of Stories: An Author's Odyssey, the fifth book in my middle-grade series. My first meal was a tomato-and-asparagus salad and lobster bisque in the LAX American Airlines Lounge. It's food, it's free, it's not eggs: I'm a happy camper.
On the plane I had some crab rice, a green salad, and some quinoa. I'm so wrapped up in watching Citizenfour on my iPad, it's all I manage to eat for the rest of the day. I had nightmares about the government spying on me. In the middle of the night I got up and ate a chocolate-chip cookie. It helped me sleep.
Sunday, July 10
On my way to my publisher's office I stopped at a Pret A Manger for a quinoa, roasted corn, avocado, and chicken salad. Since there are no Pret A Mangers in Los Angeles, I crave this salad every time I'm in New York. Oh, also, I don't like to cook. There isn't a kitchen in the world I couldn't burn down in three small gestures. For example: I almost burned down my house in the seventh grade when I tried to boil an artichoke. All it was was boiling water, but the Fire Department showed up. Thanks to my ADD and impatience when it comes to food and cooking appliances, my friends and family refer to me as "a walking domestic hazard." Needless to say, I eat out a lot.
After signing roughly 3,000 copies of my upcoming book, I'm exhausted and head back to my hotel. Like a classy toddler, I order tuna tartare and chicken noodle soup from room service. I treat myself to another chocolate-chip cookie at the end of the meal.
About the cookies: While I don't like to cook, I'm actually a pretty good baker. The oven is the one thing that I know how to beat into submission. But the only thing I can make is chocolate-chip cookies. I went through a baking phase where I would bake them all the time and give them to my neighbors, whether they wanted them or not. I got the recipe from my mom, but my mom always used oatmeal in hers and I never cared for oatmeal. I still bake them, and they're actually my favorite breakfast item. I usually crave one, or two or three when I wake up.
Monday, July 11
For breakfast, I stopped at Pret A Manger for the same bowl of quinoa-corn-chicken-avocado goodness. I had two full days of press ahead of me and knew in practicality getting food in the morning (without eggs and cereal) would be a challenge. So, I bought two more quinoa bowls and stored them in my mini-fridge at the hotel for the following mornings. To make room, all the mini-bottles of booze are laid out across my kitchenette countertop. It looked like I was hosting a sad rager.
Lunch is at Cafeteria in New York City. I'd been there before, but I can't remember when. Probably at like four o'clock in the morning. Lunch was calamari, then meatloaf, which I love. It's funny. My mom grew up on meatloaf, but she never made it when I was growing up. I guess she didn't care for it. But I'd always see them having it on TV, like Roseanne, and I always craved it. And when the day came when she made it for me for the first time, I fell in love.
For dinner, I have the regular-sized shabu-shabu at a Japanese restaurant called Omen, which was a recommendation. When my friends discovered that my barbecue selection required some manual preparation, they all quietly said a prayer that I wouldn't burn down the restaurant. The food was delicious and authentically Japanese. I was also craving sushi, but I crave Americanized sushi. I was the jerk who asked the waitress if the sushi chef would do a California roll for me. Awkward.
Tuesday, July 12
It's publication day, and my stomach is in knots. I can barely manage four bites of my saved quinoa salad. Luckily, a few hours after my first round of interviews, we settled into the Smith for a Tuesday brunch. I ordered the avocado toast. I can't pass up anything smothered in avocado. It's the California boy in me.
After a long day that included a book event at Barnes & Noble in Union Square, my publishers took me out for a celebratory dinner at Café Medi on Rivington Street. We ate family-style — meaning I can eat seven times as much food as I normally would, and no one is the wiser. We share mushroom polenta with truffle, octopus salad, slow-roasted rabbit with chanterelles, green-pea risotto, and chicken "under a brick."
Everything at dinner tastes wonderful, but I always feel guilty after eating meat, especially meat from animals that Disney animates so frequently. Sometimes I worry I'll come back in future lives as the types of animals I eat, so I've always had a goal of converting to vegetarianism. But being a vegetarian would be difficult for a meat-and-potatoes guy like me, so I hope the universe will forgive me if I don't.
Wednesday, July 13
I started the morning with a few bites of my last quinoa salad from Pret A Manger. It doesn't taste right. After a thorough investigation, I realize the mini-fridge doesn't shut all the way. Oops!
My team and I left New York City for the second stop on my book tour, Pennsylvania. For lunch I ordered the short ribs on the Amtrak (what can I say, I lead a glamorous life). I usually don't eat red meat, but every now and then I make an exception. The short ribs were surprisingly good for train food.
After my book event we headed to a restaurant in Philly called Barbuzzo, where I had pan-seared gnocchi with guanciale, smoked corn, heirloom cherry tomatoes, and local mushrooms. It was a religious experience. If brown butter isn't proof there is a God, I don't know what is.