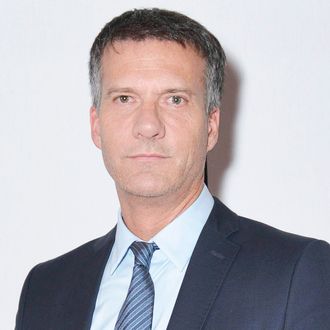 Yikes.
Photo: Eugene Gologursky/Getty Images
Efforts to convince customers everything's just peachy at Chipotle are about to hit a new snag: The man who's been the public face of the chain's recovery efforts got indicted yesterday for possessing cocaine. Manhattan prosecutors say chief creative and development officer Mark Crumpacker was one of 18 "key repeat customers" connected to a Lower East Side drug ring that the DA says delivered $75,000 worth of cocaine to buyers, who'd arrange to meet in places like bars, CVS pharmacies, and corner delis.
No doubt the timing is inconvenient, since the company is still battling to regain customer trust, and most recently made headlines for a lawsuit claiming all the top executives dumped stocks before the food-safety crisis began. Crumpacker oversaw Chipotle's free-burrito giveaway and the new loyalty program, neither of which, to be fair, has been the company's saving grace yet.
In a statement, spokesperson Chris Arnold says Crumpacker has been put on leave until things get sorted out:
At the moment, we know very little about these charges. Due to the nature of the situation, Mark has been placed on administrative leave. We made this decision in order to remain focused on the operation of our business, and to allow Mark to focus on these personal matters. Mark's responsibilities have been assigned to other senior managers in his

absence.