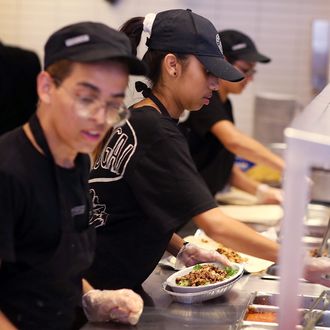 "Understaffed and overworked," employees say.
Photo: Joe Raedle/Getty Images
It's been a rough past half-year for Chipotle employees — interacting, day in and day out, with a string of angry or worried customers, all while executives were, at times, dumping their company shares and doing lines of cocaine. One big consequence of the E. coli outbreak was that the company had to cut hours, and employees who initially understood why that needed to happen (for a while, it was looking like employees could probably run whole stores solo) are now wondering what's up. A new petition on the site coworker.org states that stores are busier yet still seriously understaffed, and that this shortage has started crushing workplace morale, running off top workers, and affecting customer service.
The petition's creator, a Massachusetts employee named Daniris Pacheco, writes that a lot of two-person jobs have turned into "a one-person nightmare." Believe it or not, lines at stores have gotten longer, she says, but service is in steady decline, a problem compounded by the fact that "Many of our top performers left to find jobs that appreciated their hard work." Normal workdays sound like a mess:

We barely ever get to open the fax line, which provides speedy service to those who order online or via telephone. … Because of the lack of staffing it has left us with many negative monthly reviews. For example, during the night shift, it is said that our peak rush hours are between the hours of 6 and 7pm when in fact our rush "hour" can extend very well near 10pm most nights. Some of us often leave work without taking our

breaks.
Busy workers can't do store upkeep, either, which then drags out closing down at night. The letter, which is at 1,086 signatures and counting, warns the company is squandering its "second chance at being [customers'] favorite go-to lunch and dinner establishment." It's timed to Chipotle's latest earnings report, which will come out later today.