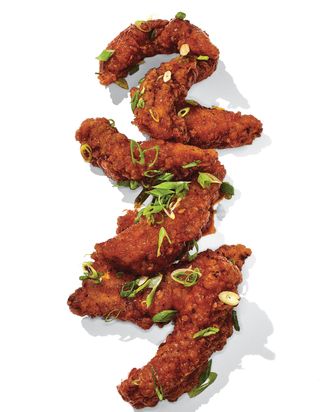 Fuku fingers.
Photo: Bobby Doherty/New York Magazine
For a long time, as a devoted chicken-finger connoisseur, I was reduced to frequenting scuzzy diners or bashfully ordering from the kids' menu. I'd swallow my pride, ask if it was okay that I was over 12, and tackle my plate with a knife and fork (despite the deep-fried delicacy's name, I will never disrespect a finger by eating it with my hands), alternately dipping little pieces into honey-mustard sauce and ketchup, sometimes both. Unlike its similarly déclassé cousin the chicken wing, which has been ushered into respectability by Japanese izakayas, Korean fried-chicken franchises, and barbecue joints, the finger has remained fallow culinary territory — likely because food people find its boneless, bland white meat too insipid to even consider. But with the rise of gourmet stoner food, the tender's time has come.
The specialist Sticky's Finger Joint, which recently opened a third location in Hell's Kitchen, pioneered newfangled flavors like salted-caramel pretzel and General Sticky Tso. Eli Zabar uses high-end Poulet Rouge poultry for the fingers at his Upper East Side beer bar, Night Shift. And at Carla Hall's Southern Kitchen, which opened in May in Brooklyn, you can get her signature Nashville-style hot chicken in finger form. But it was David Chang who truly legitimized the finger as food for grown-ups when he collaborated with Danny Bowien last year on the incendiary Mission Chinese Fuku Fingers at Fuku+. Their replacement, the Sweet & Spicy Fuku fingers, is almost as good — tender and crisp, balanced in flavor. And most important, I am never embarrassed to order them.
*This article appears in the July 11, 2016 issue of New York Magazine.