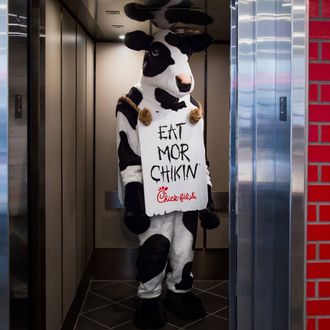 Worth it? You decide.
Photo: Michael Nagle/Bloomberg via Getty Images
This is shaping up to be a banner week for cheap chain food. Free Slurpee Day was yesterday (and because 7-Eleven is turning 50 this year, festivities are being dragged out all week), and today the marketing gimmickry continues apace at both Chick-fil-A, where it's annual "dress like a cow" day, and IHOP, which has a pancake deal going to celebrate its 58th anniversary.
People who don a cow costume inside the chicken chain today for Cow Appreciation Day, as this dignity-sacrificing event is known, will reap the benefit of a free sandwich or wrap. In years past, there have actually been two reward levels — one for people who came as actual cows (they got free full-on meals), and another for the posers who just, like, paired something black with something white and called it a day (they only got free sandwiches). This year, anybody who's vaguely "cowlike" will receive a free entrée, which, from a pure spectator's standpoint, seems like too easy of a hurdle to clear.
IHOP, meanwhile, is making customers pay 58 cents for pancakes (the marketing team had to incorporate the anniversary year somehow, of course), but the obvious flip side is that an entire short stack can be yours from 7 a.m. to 7 p.m. today with no cost to your self-respect. Or having to take part in any of this: