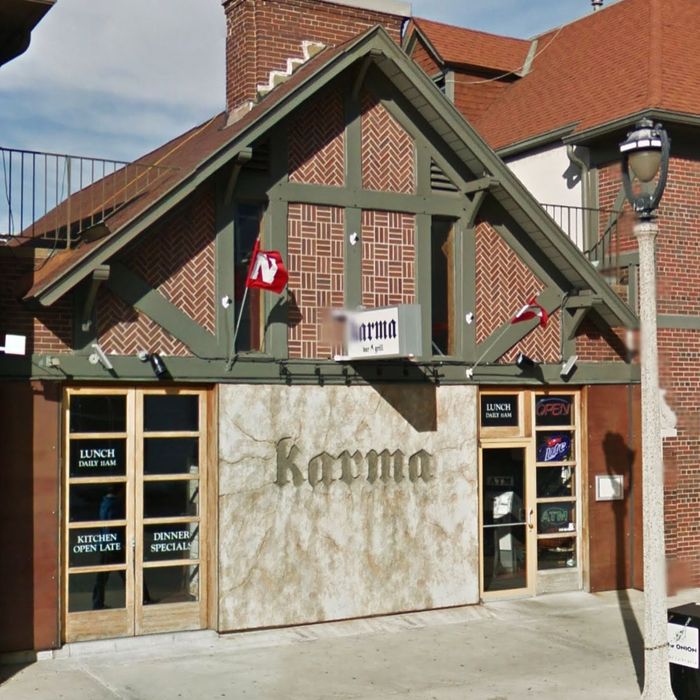 The Milwaukee restaurant in question.
Photo: Google
Chefs and restaurateurs going after Yelpers who post overly negative reviews of their restaurants is quickly becoming a time-honored American tradition. There was that time the owners of Sparks, home of New York's top strip steak, sued Yelp to make it identify a malicious reviewer. Then there was the case of the restaurateur who called the mother of a critical reviewer schizophrenic and asked the Yelper to "kill herself." Not to mention the scorned restaurateur who fought back against a dramatically negative Yelper by trashing her karaoke skills. Milwaukee bar owner Ari Domnitz hasn't stooped to those kinds of insults, but he's joined the pantheon with an angry response all his own.
After "Anthony C." posted a one-star review of Domnitz's Karma Bar & Grill, writing that "he's never been a fan" and doesn't "get why people like it," the owner fought back: He reviewed Anthony C.'s reviews.
The 1,300-word response was both posted to Yelp (where it's since been deleted by the company), and to Facebook, where it's been shared hundreds of times. Domnitz begins by bashing the premise of Yelp itself, sarcastically describing it as a "fantastic open forum of internet based criticism that allows someone to pop on at will and completely bash a small business owner's livelihood." The bar owner then picks apart several of Anthony C.'s reviews, including one of a 7-11 (three sparklers), knocking him for criticizing the work ethic of "minimum wage employees," and the Yelper's review of local restaurant and Milwaukee institution Elsa's, writing that the spot "has been serving a diverse crowd of Milwaukee clientele for longer than you've been alive and they do it better than nearly anyone in Milwaukee."

Circling back to the instigating review of Karma Bar & Grill, Domnitz writes that everything they do in the kitchen is "clearly not up to Taco Bell's 3 star standards" and asks, "[I]s it possible that you are somehow unable to … appreciate food that wasn't microwaved by someone trying to figure out how they turned Doritos into Taco Shells?"
After the post went viral, Karma received both supportive and outrageously negative responses on Yelp. User Rome Y. even arrived at the very logical conclusion that "this place must be opporated [sic] by anti-american muslims." An "Active Cleanup Alert" box, which means Yelp is monitoring the page for inappropriate reviews, is now visible on the restaurant's page.