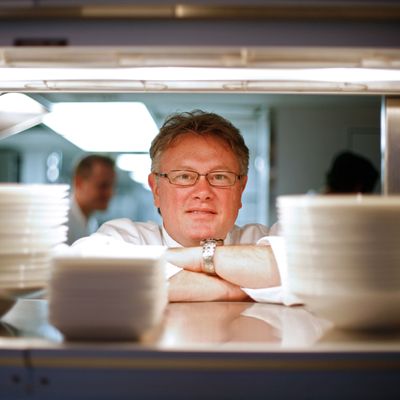 Gray Kunz's at his New York restaurant Gray's in 2007.
Photo: Chris Goodney/Bloomberg via Getty Images
It was a bit of a shock last December when it was announced that Gray Kunz, the hugely influential chef behind Manhattan's groundbreaking Lespinasse, would return to New York. Well, sort of. As it turned out, Kunz would be returning upstate, to Saratoga Springs, with, in a sign of the times to all of the naysayers, a steakhouse called Salt & Char.
For those who obsessively follow New York's restaurant scene and yearn for the return of a singular restaurant like Lespinasse — as well as a restaurant run by one of the world's most highly respected chefs — rib eye and baked potatoes is probably not what anyone expected. So what's the deal? Grub Street got on the phone with Kunz — perhaps the closest chef New York's modern restaurant scene has to someone like Paul Bocuse — to talk about his new project, as well as what else he has in store.
You told the Times that you always wanted to open a steakhouse. That actually seems curious for a chef of your stature. Why?
Well, I've always thought that if the Swiss people don't go back to fondue sooner or later, they're not doing a good job. And if Americans don't go back to the steakhouse sooner or later, then we're not doing a good job. I think that's the element that's always intrigued me. I like steak itself, and I like the idea of challenging new cuts, working with local farmers up in that area, the prospect of working with butchers. It is steak and potatoes, but it is probably an elevated steak-and-potato concept. I find that not only challenging, I salute that, and we also have a very strong vision.
Do you see a challenge in the restrictions of the steakhouse menu?
I think there's a tremendous amount, still, that can be brought to the table when it comes to steak, and the steakhouse. But there are traditional things that go with it, like serving a sauce bearnaise or a baked potato. Which we are doing, and my goal in the beginning was, "Let's look at those classics and see what can we do — not to reinvent them, not at all — but to make them much more interesting." For example, our baked potato is in a salt crust and it has all kinds of garnishes. Those would be my thoughts, the basic guidelines that I follow. Does a baked Alaska belong in a steakhouse? Sure, what can we do about it? Is there a chopped salad? Sure, what can we do about it? We worked a lot on the kasundi [an Indian tomato preparation] that comes with the fried calamari. It's probably a bit more upscale, but I love doing that. I think if customers can recognize a key-lime pie, we don't need to go into multiple lengths of explanation. The surprise will come on the plate.
At Lespinasse, you were known for a fanatical insistence on excellent ingredients, and it set the restaurant apart in the '90s. But these days that's just expected of good, much less great, restaurants. How do you distinguish Salt & Char?
I think beyond striving for, I don't think any chef would tell you different, but it always starts with the base product. Let's face it. The chefs are really the messenger, bringer, and carrier of what the farmers produce. I have always considered the farmers the superstars. That will never change no matter what I'm doing. We are going to have our own farm sometime in the next couple years.
You were also famous for your insistence on freshness. Cooks have talked about having to throw everything — stock, sauces, so on — out at the end of the night. Now sustainability is a much bigger concern. But is it even possible to create a sustainable fine-dining restaurant?
Absolutely I think there is something to be said for tying sustainability into fine dining. We are looking very carefully into what we use. It's very important that we look at what kind of fish we're using and why. Overcatching is not in my books at all. You hear farm-to-table all the over the place, but if you don't have your own land and you aren't growing your own things it's just another word for another concept. And that will fade away in a few years, you'll see it. So if there would be a fine-dining restaurant, it would have to have a real solid foundation based on things that are real and true. It would be fun, but I have never contemplated doing that again. Yet if the right opportunity comes along, I would look at it. Though, I'm aware of what it takes. It's very rare to find all those elements coming together with the right people, investors, real estate, and of course the right staff. It would be a sheer miracle if that all came together at the same time.
The roster of influential chefs that went through your kitchens makes others look like the minor leagues: Andrew Carmellini, Floyd Cardoz, Rocco DiSpirito, Corey Lee — the list goes on and on. What do you make of your legacy?
My goodness. I don't even know if I want to call it legacy. I never anticipated having any legacy whatsoever. I think that's probably because people love working with me, and, yes, I am very demanding, but I also teach and try to convey messages of professionalism and perfection. But most importantly, these chefs I worked with after 10 to 15 years, they still keep in touch with me. I must be doing something right [laughs], but I don't know what that is. Those chefs are doing great jobs themselves, are true professionals, and that's all I can ask for. It's probably one of the biggest recognitions that I can have.
Well, it certainly sounds like it had a lot to do with your dedication.
I haven't drifted from that commitment. I have a sharp eye on detail. Not that I was trained like that, it's just in me. I can sometimes walk through the kitchen and say to the third person on the line, "You better watch your tomato sauce, something is off or it's burning." That's probably the gift given to me. That kind of eye for detail, the excitement I still get seeing a new piece of equipment or even a peeler or a knife that's shaped differently for a certain task. After all these years of being in the kitchen, it still excites me tremendously. I'm extremely curious. Always looking at new things, thinking about how I can improve the ergonomics of the kitchen and the work environment. To make it easier, faster. How can I implement systems that make it better? I hope I've contributed something in that realm as well.
I think it surprised a lot of people that you were coming back to New York by way of Saratoga. Have you been met with that response?
No, I haven't. It's all been positive. I've had a house in the Hudson Valley close to Rhinebeck for 15 years and always wanted to do something here. I think there are some very good prospects of me coming back to Manhattan with my current partners, and hopefully it will not be too long. I like the idea of small-town America and doing something great there. I really love that aspect of being here, but am certainly looking at returning to Manhattan soon.
What do you have planned for Manhattan?
You know, those are conversations that I hold confidential with my partners, and I hope you can respect that. We have a multitude of projects in front of us right now and we're going to have to make a decision in the next few months. But there's another project waiting for me first and that's the Adelphi Hotel in Saratoga. That will take the good part of a year or more to get together, and it's a very important project for the company.
What can you tell us about it?
The Adelphi is such an incredible historic and iconic building. We are working on it very, very carefully. It's a boutique hotel. Small in scale, upscale in vision. There's a tremendous amount of potential because of where it's situated, what has gone into it, who the partners are, and the projects. In six months or maybe even before that, we'll be building a whole commissary kitchen in the building that my partners and I are a part of. One that can provide goods to other restaurants, do outside catering — the project is very far reaching.
We have a group that is going to be reckoned with. We're setting up the ground rules and foundations for Salt & Char here in Saratoga. I'm not saying we would allow more mistakes here in Saratoga, that would never happen, but I think it gives us a little more wiggle room to work with.
So you'll be opening more Salt & Chars?
Yes.
Will you be doing that on a national level?
I'm not sure, really. I think we have our eyes set on various areas that we particularly like. That's part of our vision. But I think it's important for me to stay focused on the first one. It's only been a week since we opened, and it'll take time and effort to fine-tune all of what we need to do. Overall, yes, we have very big visions, but we need to still perfect the first one.
There's been talk about the doom of fine dining for years. Recently, New York's critic Adam Platt went so far as to say he didn't believe there would be another restaurant like Le Bernardin. What do you make of this?
You know, it's a very difficult thing for me to judge because I've been in that realm for so long. But if I can take Café Gray as an example: Although it's in Hong Kong, it has certain synergies with New York. When that restaurant opened, it was never our plan to create a fine-dining restaurant, just one that's very well priced, with a fun menu, and in probably the best business hotel in Asia.

As for the era of the Lespinasse and Le Bernardins: Yes, they are there. But there will only be very, very few after the next five years. What will happen is the offspring of those restaurants will be opened by people that have worked there and understand you can provide quality and a very good experience without making customers leave their wallets at the door. It is not diminishing the quality, it is actually enhancing that segment. Places that are very forthcoming, very friendly, and have incredible staff. I think Danny Meyer is a great example of this. It's a very good business model. In my opinion, that's where restaurants are going and it's why I chose the steakhouse and felt comfortable with the concept.
Why do you feel like there will be so few fine-dining restaurants?
Well, a lot of it has to do with cost, location, rent, and the incredible amount of money necessary to put a restaurant like that on to the map. On the other hand, I must say, I think it would work to be very, very daring to open a small restaurant smack dab in midtown with four cooks in the kitchen, three or four servers, and 30 to 40 seats. It could work in Manhattan because of the customer base, but it's very costly and the rate of success is very, very small. I don't think 150-to-200-seat restaurants are going to be sustainable just because of economics, the square footage required, and the incredible cost. But on a smaller scale? Absolutely, yes.
So why is now the time for you to have finally made your New York comeback?
It was not something I determined strongly or like I was looking at some timeline. There are things that happen in life, opportunities come along, and, you know, a very strong part of this is the partnerships I have in place. I believe in a future with them.
We've set forth many different concepts. As long as it makes sense, the capital that is required is there and the real estate that is required is there. So I'm in a very good position to pick and choose what I want to do. I waited a long, long time to do this and have never felt comfortable with other opportunities. Let's face it: You have to pick and choose your partners extremely carefully. I've had that experience.
Talking about your food at Lespinasse to Lucky Peach, Ruth Reichl said, "I felt that Gray suddenly gave us a different flavor palate." How do you marry that impulse to create something so distinct with this food?
Maybe a little less with the steakhouse. But there's another concept coming down the pipeline. If there is a blank canvas and you said, 'Would you like to create another fine-dining spot?' Yeah, maybe. Maybe not. Once again, I love being in New York, but I kept my Swiss roots and stayed very grounded. There's no reason to stick my head up in the air. That's not who I am. I bring that to the food and restaurant, and I think that's well-respected. And I'll continue doing that.
I also am in a position in my life right now — and I'm so fortunate to be, though let's face it: I have done that in some ways on purpose. It was a business decision I made quite a few years ago. I do not want to own 50 restaurants. Whatever I'm doing needs to be a great concept, a fantastic experience for the customers, and I cannot transport my soul into 50 places. That does not work. But at the same time, I'm very much aware that the opportunity to create a hotel and restaurant group that is very unique is a very rare opportunity.
So you have no desire to create the Shake Shack of fondue.
No. No, no. The steakhouse concept can translate itself very well. That was one of the things I loved. There's a framework. Sixty or 50 percent of the menu can be translated into various locations. It's still grilling, a very basic and humbling experience, and you can transport that. But to transport a fine-dining restaurant is sheerly impossible. There's lots of moving parts that are difficult to control. Once it comes together — and I'm very good at building well-oiled machines — it is a tremendous satisfaction. I still believe there's a magic in there that keeps me going. The staff that I'm involved with keep me going. And, of course, what I love the most of all is being in the kitchen with the chefs.