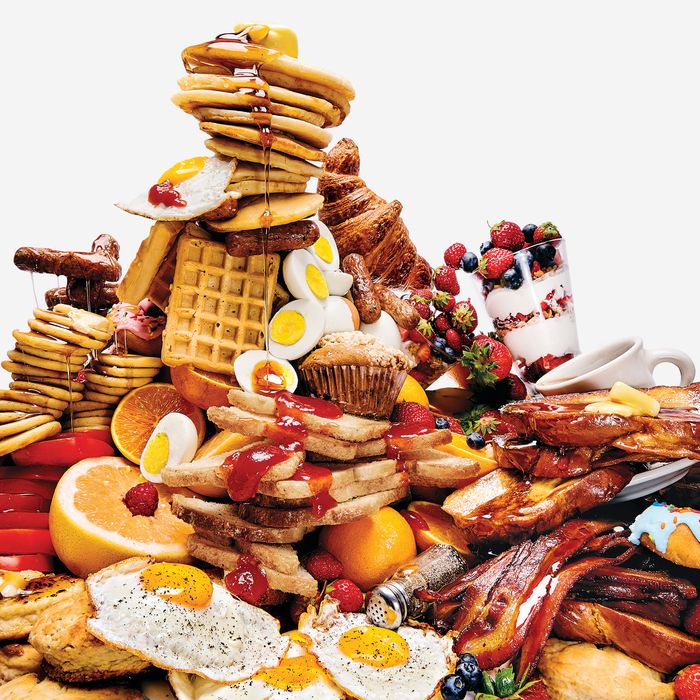 Budding competitive eaters can channel their inner Joey Chestnuts at these new all-you-can-eat joints.
Photo: Bobby Doherty/New York Magazine
As part of the Underground Gourmet's annual guide to the city's best new dishes under $25, here are five new all-you-can-eat joints where budding competitive eaters can channel their inner Joey Chestnuts.
1. Miss Lily's
132 W. Houston St., nr. Sullivan St.; 646-588-5375
Summer Mondays are Jerk Fest nights at this Jamaican restaurant: Order the $25 all-you-can-eat special for a pretty wooden tray offering soft, deliciously fatty pieces of jerk pork; super-smoky chicken; watermelon-lime-and-mint salad; coconut-covered corn on the cob; cucumber pickles; and a spicy mango chutney you may find yourself eating with a spoon. "Just so you know, you can't take any home," your server might cheerfully say, but also: "It really is all you can eat: Whatever you want more of, let me know!" (Two-for-one cocktails early in the evening help mitigate refill shame.)
2. Humboldt & Jackson
434 Humboldt St., at Jackson St., Williamsburg; 718-349-3355
A monthly $16 brunch features a different chef's menu each time. One recent Sunday found the cooks manning a buffet of Philadelphia-tribute foods: Taylor ham and crumbly, excellent scrapple, plus trays of pickled-grape-enhanced salad and soft scrambled eggs. While you load your plate, the restaurant will send to the table its outstanding waffles, covered in powdered sugar and sweet walnuts.
3. Yaar Indian Restaurant
22-55 31st St., Astoria; 718-721-0205
The $10 weekday-lunch deal at this nine-month-old restaurant is spectacularly satisfying: In back, trays house golden-brown aloo-gobi samosas, spicy-creamy chicken tikka masala, vindaloo chicken, and airy naan. (Add plenty of sinus-clearing green chutney to any of these.) Sit up front to people-watch — Yaar's right below the Ditmars N/Q stop — or in back, where there's a colorful mural by Brooklyn artist Joshua Gabriel, for a more serene experience. And the fresh-mango lassis are terrific.
4. Jaew Hon New York
71-30 Roosevelt Ave., second fl., Jackson Heights; 929-328-0553
The Isaan Thai hot pot served nightly at this colorful restaurant comes in a divided bowl, so you get two soup bases. Choose among a clear broth; spicy-sour tom zap; and jaew hon, the name of the soup and the hot pot itself, made with your pick of pork or beef blood. Pay $13 for the hot pot and 90 minutes at an ingredient buffet of taro root, squash, glass noodles, mushrooms, fish balls, and more that you plop in your soup to cook. Rescue your swimmers with chopsticks and dip in the trio of sauces — two spicy (one is chile-seed-flecked and mouth-burning hot), plus a sesame-seed-based beginner's version. Special meats and fish cost extra.
5. Sushi Para 88
212 W. 14th St., nr. Seventh Ave.; 212-882-1089
To order the many and varied options on the $20 all-you-can-eat lunch ($25 at dinner) — which includes all the regular and special rolls, like the World Series with soft-shell crab and tuna, plus appetizers like shrimp shumai — mark what you'd like with a pencil on a fill-in menu. The fish might not impress Nakazawa fans, but it's totally serviceable. Pro tip: Sit in the garden, and bring a six-pack (it's BYOB). And be sure to clean your plate, or risk a $1-per-wasted-item charge.