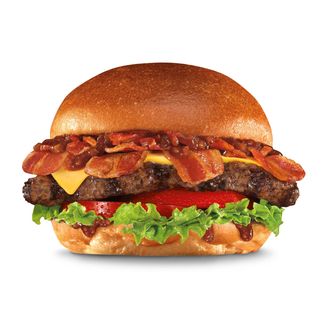 Spoiler: It's actually a "3-way" of bacon.
To promote its umpteenth suggestively named sandwich — this time it's a "Bacon 3-Way Burger" — Carl's Jr. has released a "hardcore" ad promising to take poor, virtuous bacon "where it's never been before." Anyone expecting either actual porn or a sandwich with fewer than 800 calories will be disappointed, per usual, but that doesn't mean America's sleaziest burger chain hasn't still hit a gross new low in its proud history of objectifying women.

Here it is in its so-called "director's cut" version, suggesting content that's potentially not rated:

Space constraints make listing every innuendo impossible, but the gist is three bikini-clad models — Sports Illustrated Swimsuit Issue regular Genevieve Morton, Emily Sears, and Playboy Playmate Elena Belle — feed each other bacon, rub greasy strips of it on their breasts, sit with legs splayed on the counter, lick fingers in slow motion, and almost kiss. All of this happens while "We havin' us a threesome" — lyrics to a song by rapper Dirt Nasty — plays in the background. At the end, one of them casually notes, "It's called the Bacon 3-Way Burger. What did you expect?"
It lands squarely on a rung above previous sexist marketing ploys. In the past, Kate Upton got aroused by a patty melt for a Carl's Super Bowl ad (that ultimately got banned), Paris Hilton attempted to "wash" a car between burger nibbles (in a spot that crashed Carl's website), and Kim Kardashian tried to sexy-eat chicken salad in bed (because CEO Andy Puzder thought her burger-eating skills were lackluster), all part of the chain's stated goal of making "sales go up" by creating controversy every time there's a new burger.
That doesn't say much for the sandwich itself, which, if anyone's still interested, involves a "threesome" of bacon, bacon crumbles, and a special bacon jam that, while you wouldn't know it from the ad, is technically a fast-food first.