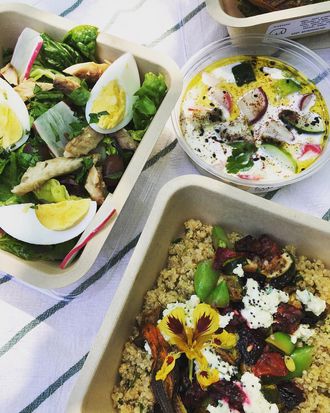 Get ready for the "terroir bowl."
"Farm-to-table" is one of the food industry's biggest myths, perhaps nowhere more so than in the Hamptons, a land of rich agriculture and pricy restaurants, where very little of the homegrown (or fished) ingredients, it seems, winds up on menus. Which is why it was so refreshing to stumble into Caravan one recent afternoon and discover a small, stylish takeout shop that looks like it could have sprung from the pages of a Yotam Ottolenghi cookbook, if Ottolenghi started patronizing South Fork farms like Quail Hill, Balsam, and Amber Waves and packing up his handiwork to go in convenient ecofriendly containers.
The refrigerated case is full of abundantly nourishing, boldly seasoned food that's heavy on vegetables and grains: yogurt from Brooklyn's Culture, sweetened with cardamom-rhubarb compote or bulked up with crunchy cucumber and radish and strewn with nigella seeds and za'atar; succulent wedges of vegetable-stuffed frittata paired with pestos like nettle-arugula or tarragon-tahini; an open-faced tartine of Blue Moon's smoked bluefish on hearty beer bread, baked by local loaf maven Carissa Waechter. Caravan calls its grain and greens compositions "terroir bowls," and fills them with things like lemon-sumac quinoa, interspersed with leeks, zucchini, sugar snap peas, charred garlic scapes, and strips of grilled halloumi cheese. And the "Amagansett Niçoise" integrates the best from near (new potatoes, Iacono Farm eggs) and far (José Gourmet's excellent tinned Portuguese mackerel, one of a handful of groceries displayed alongside fresh local produce and French oils and mustards).
Caravan is the brainchild of three young partners: Alexandra Cohen is a trained chef and yoga instructor; Lee Reitelman and Deeva Green are avid home cooks who spent a year teaching English in Bordeaux and fell in love with southwestern France's food and market scene. (Green, incidentally, is a sister-in-law of Matt Kliegman, co-owner of the Smile and, as he puts it, spiritual operational consultant to the endeavor.) Cohen runs the kitchen, which is located in a shared incubator space at Stony Brook's Southampton campus, and, with her partners, builds the weekly menu around the harvests of local farms whose names are scrawled on the wall. Caravan is an idea whose time has come: a way to support the East End agrarian economy without actually spending precious beach time shopping and cooking.
137 Main St., Amagansett; 631-731-4898