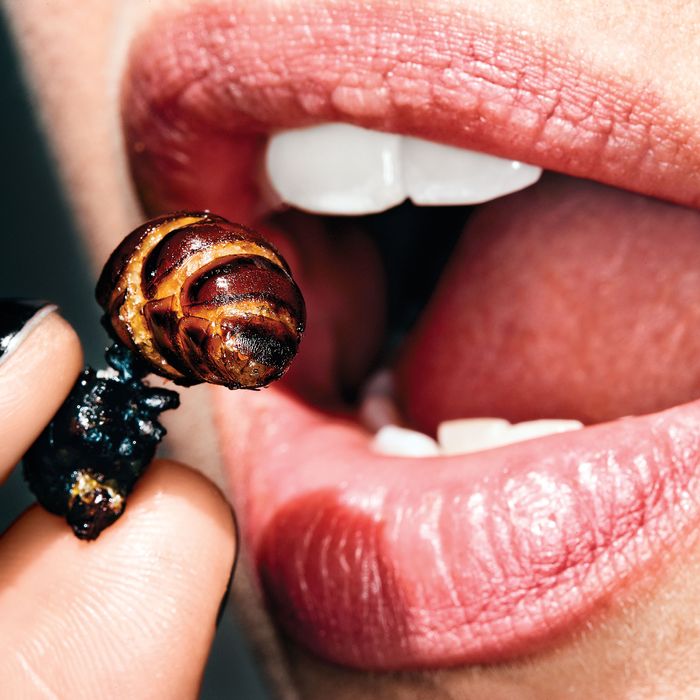 An hormiga culona, roughly translated as "large-bottomed ant," from Colombia.
Photo: Bobby Doherty/New York Magazine
"What's in the cocktail?"
"Cricket-infused vodka, strawberries, jalapeño, and simple syrup," says Robyn Shapiro, who is wearing a vintage NASA T-shirt in her big (for the East Village) kitchen, with off-white Corian counter­tops and the refrigerator hidden in a drawer. Shapiro, whose day job is deputy director of the Lowline — that vaguely postapocalyptic underground park planned for the Lower East Side that would be lit by sunlight piped in via mirrors from the surface of the Earth (enough light to grow food, in fact) — had invited friends over for something else one might associate with civilizational collapse: a dinner of insects. "I was going to make the syrup from lerp" — a sticky, sugary bug secretion — "but I wasn't able to get more from the guy who forages them."
Insect-eating, or entomophagy, is Shapiro's obsession of the past few years, and she's not alone. The Lowline rallied celebrities like Lena Dunham and Edward Norton to its subterranean techno-futurist cause; bugs have attracted Questlove (who Instagrammed himself eating his crickets-on-top salad from SXSW) and Arielle Zuckerberg (Mark's sister), who earlier this year invested in Tiny Farms, a San Francisco–based bug-tech company seeking to "scale" cricket production as a viable food source. There are powdered-cricket power-bar companies and cookie bakeries and countertop mealworm incubators for the home, which certainly ups the ante on composting. Out in Bushwick, a couple of women are making cricket-infused bitters for drinks. (Called Critter Bitters, they are an ingredient in Shapiro's cocktails.)
Shapiro, 37, a former marketing executive with Ralph Lauren, is pale, dark-haired, and pragmatic. Entomophagy is more than just a hobby for her: She's launching a company, called Seek, that will sell cricket-flour-based "snack bites" ($8 for a four-ounce jar), versions of which will be dessert tonight. But first we have to get over the fact that there's a bug — she refers to it, with delicate indirection, as "fossilized" — in the middle of the cubes she's clinking in the glasses whose rims she's just dipped in caterpillar chile salt. "This is a cricket that I murdered myself." She laughs. "There's a theory that one of the reasons we could eat insects is to get rid of invasive insects."
All of this coheres with a long-standing critique of how we eat: the unsustainable amount of water, feed, and land meat-eating requires. Bugs, being coldblooded and short-lived, with a preference for cramped spaces, turn what they eat into protein for us much more efficiently than a cow does. In 2013, the United Nations Food and Agriculture Organization released a report asserting that, with food production needing to increase 70 percent to feed the 9 billion people who will populate the Earth by 2050, insects should be part of the solution. Beyond protein, insects are full of iron, zinc, and calcium; they are, of course, also gluten-free (but may trigger shellfish allergies). The report inspired Shapiro to order several thousand crickets to her apartment; not long afterward, her then-girlfriend, the Oracle software heiress and film producer Megan Ellison, hired David George Gordon, author of the Eat-a-Bug Cookbook, to fly out from Seattle to cook a meal with her as a birthday gift.
Shapiro has just returned from Colombia, where she was on bug safari, and this dinner is intended, in part, to show off what she poached. The menu includes cricket toast with ants on top, ­heirloom-tomato-and-hornworm caprese — the produce garnished with its parasite, that is — and housemade waxworm pasta with waxworm-garlic-scape pesto. "They are the tastiest of the worms," she explains. "They feed off apples and honey, and they have a sort of pine-nut taste." (Her pesto recipe calls for 750 waxworms.) There's also a heaping bowl of silkworm pupae, prepared with kale, fried chickpeas, and sage on top. The pupae taste earthy, like some mysterious pulpy vegetable.
There are five other guests, including Hanley Ma, whom Shapiro met while working at a rooftop farm in Greenpoint, and Peter Kim, the director of Brooklyn's Museum of Food and Drink, who's wearing a Def Jam T-shirt. Shapiro puts a live, green hornworm on my shirt, much to the delight of her 20-something friends Kendall Tichner and Natalia Leite. The hornworm rears up, like the emoji caterpillar glyph, and one of them squeals. The other pulls out her phone to Snapchat the moment.
Insect-gobbling has long been advanced-level epicureanism, a globalist adventure. So you eat roach skewers in Thailand. Or sun-dried mopane worms in Botswana. Or winged termites in Cameroon; Kim developed a taste for them in the Peace Corps. "You drop them in the pan and fry them up," he recalls with relish. "You can add a peanut sauce. It's like insect bacon."
But the Bourdain–meets–Fear Factor aspect of this is not all that is driving the current interest in bug eating. With the world feeling increasingly on the edge of disaster — global warming, drought, financial collapse, and the warfare and terrorism that follow in their wake — especially for people who will still be relatively young in 2050, that U.N. report's target date, there is a feeling that something must be done. So let's learn how to farm and cook bugs. Preferably in dishes that look great on social media.
Video: Entomophagy Goes Gourmet
"Our food system is broken," declares Robert Nathan Allen, 31, who runs an insect-eating educational organization in Austin, Texas, called Little Herds, which he created after reading the U.N. report. The question for him and people like him is how to raise more food, more sustainably — "without getting into the Snowpiercer-esque" vision of "big corporations feeding the masses" with factory-produced gelatinous bug-mash.
In late May, Allen, along with a Wayne State University anthropologist named Julie J. Lesnik, hosted a conference, Eating Insects Detroit, gathering together 200 or so entomophagy first-movers. Their project is full of can-do optimism. "We're getting to build this industry from scratch and do it right," Allen says, in contrast to the existing, subsidy-heavy, pesticide-dependent agribusinesses.
In addition to academics and maker-entrepreneurs, the conference attracted attendees like Don Peavy, a former contestant on the BBC America reality show Chef Race: U.K. vs. U.S. who now cooks insects (his Instagram: @chefpveatsbugs; he has a YouTube bug-chef show in the works). He was there, he explains, because "the world is falling apart. The rain forest is being demolished, the ozone, the atmosphere. And society is falling apart. There's all these Walking Dead, end-of-the-world things which are happening. This is a time which calls for some major work, major interventions."
Entomophagy evangelicals have been around for a long time. An 1885 book called Why Not Eat Insects suggests caterpillars and wood lice as supplements to the limited diet available to laborers. Yet despite the fact that insects are a staple around the world — especially in tropical areas, where they are larger and more plentiful — bug-eating is falling out of favor among the emerging global middle class, which by and large still finds the idea of imitating an American-style diet enticing. Meanwhile, until recently, bug-eating, in the West, tended to be a kind of zany cross-cultural button-pushing activity: people, like Gordon, who published that Eat-a-Bug Cookbook nearly 20 years ago, prodding our cultural taboos with gross-out demonstrations on TV talk shows. The first edition of his book had been quite wacky — a bearded, toque-wearing Gordon proffering a tarantula, spatula in one hand — but the new one, with a soft-focus cricket fondue on the cover, looks like any other artifact of the Brooklyn-inflected foodie mainstream.
"The level of acceptance has changed so much," says Gordon. "Go on YouTube. There was me on The View," when he was a guest more than a decade ago. "Joy Behar was very dismissive. She at one point sprays my dishes with bug spray!"
Wider adoption, Gordon believes, means first getting the aspirational classes onboard. "I'm trying to get into more high-end parties and events," he says. "People are always talking about sushi as a model for this." Thirty years ago, it was rare and, for most people, unappetizing to eat raw fish. But then Hollywood stars started eating it. "I want to be the bug chef to the stars," he says. "I want to do more for the Brad Pitts of the world."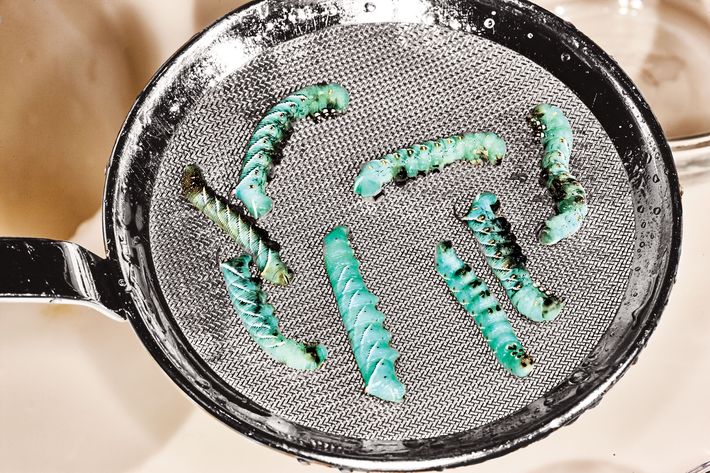 In short, there's a bug rebranding afoot. Maybe it's not surprising that Shapiro used to work for Saatchi & Saatchi, or that Megan Miller, the co-founder of bug-based Bitty Foods in the Bay Area, was once a media-and-technology-trend forecaster and consumer researcher. There are whole ted talks on bug-eating. Now it's scalability time. There are Exo bars, which are Williamsburg-based cricket-powder power bars ($3 each), popular with the CrossFit set; the company pulled in $4 million in funding earlier this year. Another bug-protein-bar brand, Chapul, won a $50,000 investment from Mark Cuban on Shark Tank in 2014. Tiny Farms, with the tagline "Raising bugs in Silicon Valley since 2012," has adopted the methods ("data-driven design") and rhetoric ("An innovation platform to stimulate interaction between farmers, researchers, and hobbyists who want to change the world with edible insects") of the tech world to create a licensable method of cricket husbandry. It's gotten to the point where the right wing has even cooked up a conspiracy theory around the bug-eating trend. As a correspondent for Infowars put it, "It's definitely not a far-fetched plan out there [that] the U.N. would like us to be feasting on insects while they are eating beef and chicken and pork."
Shapiro is careful to say that the Lowline and her Seek project are unrelated endeavors, but they share a solution-oriented subtext. On July 14, the Lowline got a tentative go-ahead from the city's Economic Development Corporation. The same day, the project's Instagram account posted about a project by a 20-something architect, Walmir Luz. It's a vision of New York, circa 2050 — that date again — where floodwaters become a part of city life. "Not every problem needs to be a problem," Luz is quoted as saying. "Problems can be solutions. It is just a matter of perspectives."
In addition to Seek, Shapiro has been working with her friend Mitchell Joachim, whose Brooklyn Navy Yard–based architecture firm Terreform One (among other odd, futurist projects, they've dreamed up pillowy "lamb" cars that can bump into each other, and pedestrians, harmlessly) recently won an award for "a super-­sanitary free-range tech-based farming system to harvest crickets" as a protein supply in the event of, say, a tsunami, or maybe Armageddon. Joachim was surprised to learn that there was a non-disaster-preparedness business model for the invention. Or, rather, that there are so many people who believe disaster is already upon us. Joachim's vaguely menacing contraption looks like it belongs on a Vulcan starship. Shapiro, who "came in with her amazing bonbons," suggested "gut-loading" the crickets — programming their diet — to give them various flavors. They're considering manufacturing them for sale.
Back at her dinner party in the East Village, Shapiro is talking about the most extreme versions of entomophagy. "There are ideas that might go too far even for me, where you could insulate your walls with food scraps and have the insects in there eating them and then eat the insects," she explains.
"Wouldn't that attract rats?" asks Leite.
"More protein," jokes Kim.
It was time for dessert, featuring gourmet versions of the "snack bites" Shapiro is launching this summer. These are made of cricket flour and flavored with things like pistachios, figs, orange-blossom water, dates, and white chocolate.
We begin discussing what we wouldn't eat. Cockroaches?
"I have," says Shapiro. She tried them in Southeast Asia. "Crunchy."
"Primates?" asks Kim. While in the Peace Corps, he himself had once been tricked into eating monkey meat by villagers, who thought it was hilarious that he'd been hesitant to touch it.
What about human?
"I would eat human," volunteers Shapiro.
"You mean in a survival situation," says Tichner.
"I would eat it for survival, and I would eat it for pleasure," says Shapiro. "Not every night." I mention the potential ethical-sourcing issues.
Human-eating is about as dystopian as you can get, of course. But her point is that taboos are not universal. Not long ago, she was in Fiji, bored at the beach, "and I was thirsting for some culture," she says. Knowing the island has a history of cannibalism — "Apparently, they are ashamed of it" — she went around trying to get people there to talk about their pasts as cannibals, with some success.
"I'm not saying I want to, just that I would."
Kim, along with 'a futurist food lab' called The Future Market, recently hosted a dinner at the Museum of Food and Drink, which imagined a timeline of human protein habits. "We started with bison and worked our way to TV dinners and then meats that were biodiverse and then further into the future with insects." Once we exhaust the world's supply of ants and cockroaches, will we be next? Not quite, Kim says. "We've still got sea vegetables."
*This article appears in the July 25, 2016 issue of New York Magazine.