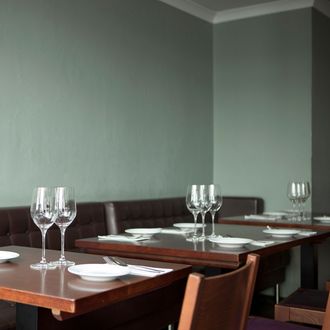 Great news for dinner walk-ins.
Photo: Franek Strzeszewski
Add this to the roughly 1 quadrillion bad things the U.K's "Leave" coalition should've seen coming: Brexit is having a deleterious effect on England's restaurant industry. In a story today featuring reporting by chief restaurant critic Richard Vines, Bloomberg essentially gave prominent restaurateurs free rein to grumble about their compatriots' vote to leave the EU, and they say business is already getting clobbered in this post-Brexit world where "bean-counters keep closer tabs on expense accounts, a weak pound raises prices of imported food, and eateries struggle to hire workers from the EU."
The country's dining scene had actually been doing pretty well up till now, too — Bloomberg says the number of restaurants jumped by 21 percent over the past five years. But even in advance of the vote, sales growth industry-wide nose-dived by half. The story mentions a variety of unpleasant (albeit not exactly unexpected) consequences: One restaurant group immediately scrapped multi-million-pound plans to buy four pubs in Scotland. Michelin-starred Pied à Terre says there's been 12 percent less corporate credit-card spending since the referendum, while chefs elsewhere worry the worst is yet to come because they fear already-costly products like Spanish jamón ibérico are going to climb even higher. Richard Corrigan, a celebrated chef, expects the price of French wine to jump by 15 percent and so has given staff very clear instructions: "When I saw the pound dropping, I phoned up the sommelier in Corrigan's and said, 'Buy the Bordeaux! Buy the Bordeaux!'"
A few are trying to stay glass-half-full. Russell Norman, founder of an Italian small-plates chain called Polpo, says Brits' penny-pinching will only hurt fancy "destination" restaurants. He predicts people "aren't going to just stay at home in a darkened room eating cornflakes." Which could be true, but to be safe, he might want to remember that even the lowly cornflake has caused his fellow citizens to go out of their minds once before.