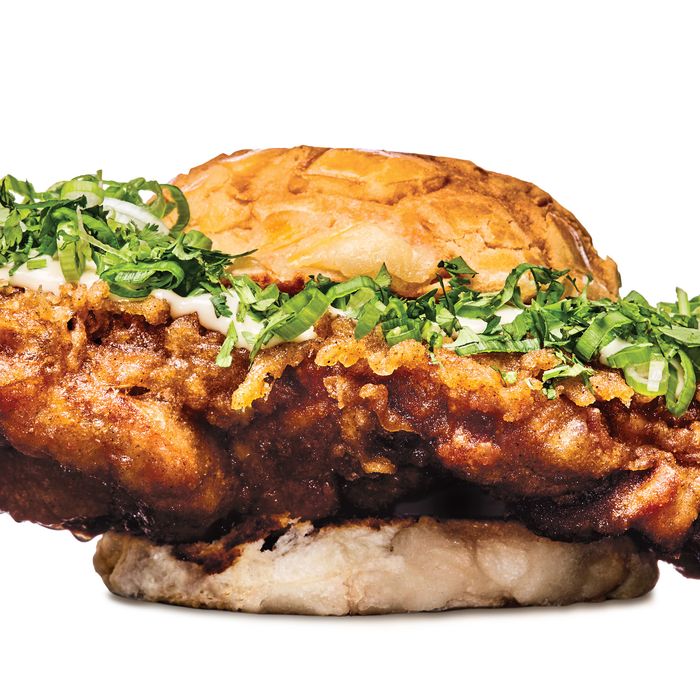 The Taiwanese-American Big Chicken Bun at Win Son.
Photo: Bobby Doherty/New York Magazine
If you thought New York held no new surprises in the realm of discount dining, this year's edition of the budget-gourmet guide will set you straight. We have seen a distinct upswing in national pride in the celebration of American regional cuisines, and have greeted the tasty arrivals of Detroit-style pizza, Hawaiian poke, Buffalo milkshakes, and Pennsylvania Dutch schnitz und gnepp. At the same time, we've reaped the rewards of globalization in the forms of Israeli hummus (via Philadelphia), New Brooklyn Taiwanese, and family-style Egyptian in Astoria. All unimpeachably delicious. Read on for the full list.
Israeli Hummus
Dizengoff NYC
75 Ninth Ave., at 15th St.; 646-833-7097

If you've considered New York's hummus needs to have been well met up to now, you haven't experienced the canny brilliance of this Philly transplant, Michael Solomonov and Steven Cook's aspiration to fast-casual world domination. The smooth chickpea paste itself is sufficiently lemony, garlicky, and, especially, tahini'd, but then again, so are many others. Where the Chelsea Market stand triumphs is in two crucial, heretofore neglected areas: the fluffy, flame-licked pita, which is baked in-house and served hot, and the ever-changing roster of toppings (shawarma-spiced maitake mushrooms! Peanut harissa and avocado! French fries with za'atar!), which are artful compositions on a creamy canvas. Seasonal side salads are equally inspired, and the sweet, crisp onion-petal pickles make ideal hummus scoopers.
Deep-Fried Vegan
Toad Style
93 Ralph Ave., nr. Putnam Ave., Bedford-Stuyvesant; 347-789-1589
Toad Style occupies a top position in a burgeoning category: vegan junk food. The kitchen steadfastly abstains from animal products and GMOs but has no issue whatsoever with deep-frying. Hence pizza fries doused in marinara and almond "cheese"; Buffalo cauliflower (a Super Bowl special); and bánh mì featuring delectably crispy nuggetsof a coconut-crusted substance we can identify as oyster mushrooms because the menu told us so.The cremini-lentil cheeseburger is satisfyingly crumbly rather than mushy — a true achievement in the veggie-burger world — and a BBQ pulled-jackfruit sandwich mimics the vinegary tang, smoky essence, and finger-licking sauciness of the real porky thing. This is comfort food with a conscience, even if it might require a defibrillator. Why should carnivores have all the fun?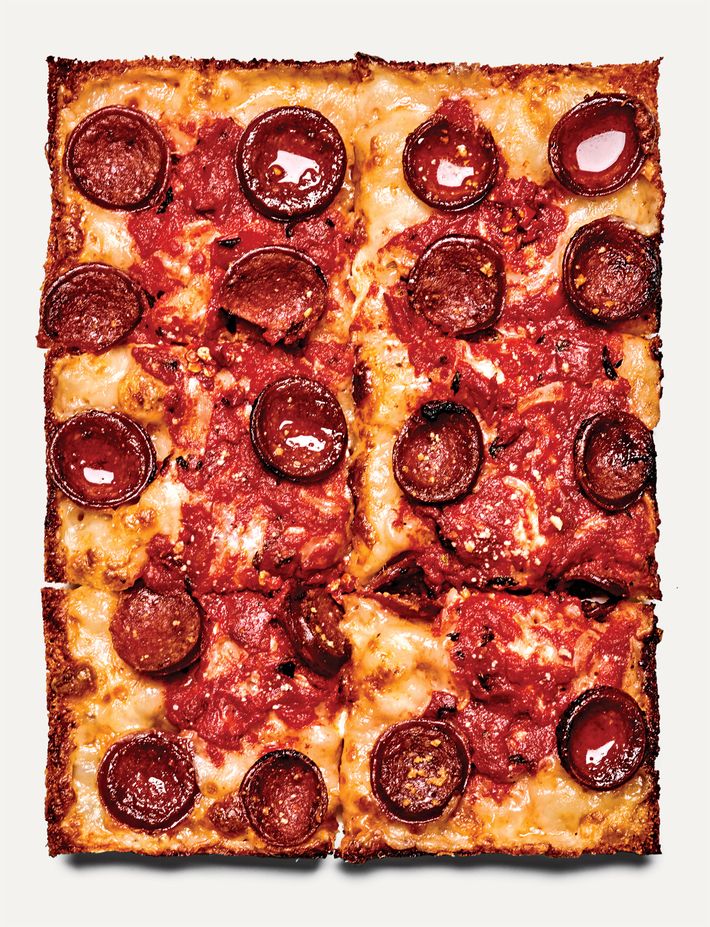 Detroit Pizza
Emmy Squared
364 Grand St., at Marcy Ave., Williamsburg; 718-360-4535
Detroit-style pizza? In Brooklyn? Were Cleveland and Pittsburgh styles unavailable? We confess to a New York bias, but isn't this stuff simply Sicilian with an attitude? So what if some cheese is scattered around the upper edges, where dough meets pan, to make the rim crunchy like a Friulian frico? That happens all the time in pan-pizza kitchens without anyone trying. And yet the pizza here is so ridiculously good — crisp but supple and springy (reminiscent, it merits saying, of the square pies Sara Jenkins made with a mashed-potato-enhanced dough at the late, great Veloce Pizzeria) — that we're willing to admit Emmy Squared is sui generis. Topping combos are spot on, too, especially the pepperoni-riddled Roni Supreme and the three-cheese Marn Blanc.
Wings Central
Buffalo's Famous
1111 Church Ave., nr. Stratford Rd., Prospect Park South; 347-425-0134
What else is Buffalo famous for besides wings? One visit to this friendly orange-Formica'd takeout joint and you'll be an expert on all things Western New York: fried bologna (thick cut, with Weber's horseradish mustard, peppers, and onions), potato pierogies, hot roast beef (on a kummelweck roll, dipped in au jus), Sahlen's hot dogs (dressed, like a Chicago dog, with ketchup, mustard, white onion, relish, and pickles), grilled chicken (bathed in Chiavetta's Barbeque Marinade), and a milkshake made from Perry's chocolate ice cream and loganberry syrup, one of over 50 different flavor options. You will also likely be coated in wing sauce (we recommend the BBQ hot) and craving a salad.
Meat Pies
Bolivian Llama Party
TurnStyle, in the 59th St.–Columbus Circle station; 347-395-5481
There is more to Bolivian food than the salteña, but that stuffed-dough pocket is what brought fame (if not yet fortune) to the three brothers who launched this pop-up brand, a veteran of Smorgasburg and current tenant of the underground food court at the Columbus Circle subway station. Whatever you do, don't think of comparing salteñas to empanadas, though the temptation is as great as the similarity. The main difference, so far as we can tell, is that salteña innards are much soupier — they're actually prepared with gelatin-­based consommé that melts as it cooks, in the style of xiao long bao. The dough is mildly sweet and enriched with lard, and the fillings include chicken, beef, and vegetables — all greatly enhanced by the housemade salsa.
Mid-Atlantic
Delaware and Hudson Tavern
135 N. 5th St., nr. Bedford Ave., Williamsburg; 718-218-8191
Before Patti Jackson came along, you might not have been aware that Mid-Atlantic cuisine needed a champion, or even that there was such a thing as Mid-Atlantic cuisine. But not only has Jackson created a delicious prix fixe primer for the regional style at her homey Williamsburg restaurant (tagline: from Baltimore to Buffalo), she's opened an adjacent tavern dedicated to the beers and bar food of New York, New Jersey, Maryland, D.C., Delaware, and her native Pennsylvania. The long room is quaint rather than boisterous, and the food reminiscent of family gatherings: a cheese-ball platter with homemade crackers, warm German potato salad, the Pennsylvania Dutch specialty called schnitz und gnepp, which marries gnocchilike dumplings with dried apples and smoked ham. Should you require something fried or junky to accompany your local craft IPL (yes, India pale lager: It's a thing), go for the Buffalo broccoli or the "Scranton Coney Island style" Texas wiener, served nightly after 9 p.m.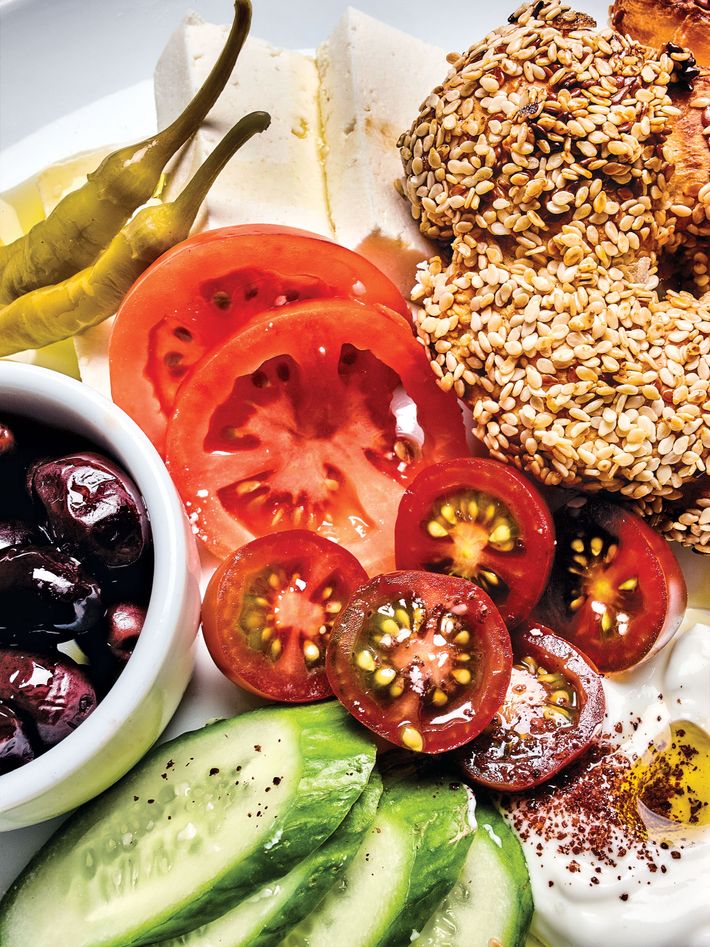 Creative Coffee Shop
Tekoá
264 Clinton St., at Verandah Pl., Cobble Hill; 347-987-3710
Tekoá has some of the trappings of a Brownstone Brooklyn coffee shop: stroller-pushing mommies, table-hogging laptoppers, Colson Patisserie pain aux raisins. But because it's owned by husband-and-wife chef duo Eder Montero and Alex Raij of the neighboring La Vara, the clean, bright space offers some welcome twists on a familiar formula. Namely, an egg-in-a-hole that makes a nest of a lemony spinach pie from Atlantic Avenue landmark Damascus bakery, and a good tuna melt of Spanish bonito and pimento cheese, further improved by the surprising sweet-tart zing of pickled pineapple. The "Milan style" minestrone is largely cabbage and, thanks to plenty of olive oil and Grana Padano, entirely delicious. And the offbeat, not-too-sweet house pastries range from a chocolate-­sugared riff on a Mexican concha to a molasses-­sweetened oatcake that's equal parts indulgent and wholesome.
Middle Eastern
King of Falafel & Shawarma
30-15 Broadway, Astoria; 718-340-8068
No one's saying that Astoria's street-cart czar Fares "Freddy" ­Zeideia's herby, craggy, ellipsoidal falafel isn't spectacular, or that it doesn't live up to the name that appears on the sign outside his first brick-and-mortar shop. But what gets short shrift is the "& Shawarma" part. One forkful of the combination beef-and-lamb shawarma — a groaning platter of meat, doused with competing sauces and served over rice with various pickled things — is enough to remind you that Freddy, by his own admission, is not only the king of chickpea fritters but also the sultan of alternately stacked strips of spiced meat and fat roasted on vertical spits. Just in case you disagree, Freddy always throws in a couple of falafels.
Thai
Look by Plant Love House
622 Washington Ave., nr. Pacific St., Prospect Heights; 718-622-0026
If you need proof that this Elmhurst transplant doesn't intend to water down its Thai home cooking for the new neighbors, there it is on the menu, first entry under "Noodle": guay tiao num tok (otherwise known as pork-blood noodle soup). Even if you choose to abstain from this delicacy, though, there are many other enticements. We're referring particularly to the steamed-fish-curry-­custard special called hor mok pla, a pair of banana-leaf cups filled with an airy, almost mousselike custard of finely ground fish, decorated with squiggles of sweet coconut cream, julienned Kaffir-lime leaf, and threads of red chile. Fat triangles of chive cakes are fairly irresistible, best when eaten at their hottest and crispest. And the deep-fried red snapper called pla lui suan appears as battered pieces, piled over a sweet-and-sour dressing of lime juice and chiles and showered with handfuls of cashews and herbs. There are Mason jars of pink-tinted, syrup-sweetened iced milk (nom yen), Thai and American-style desserts, and outdoor dining amid trailing roses and fruit trees.
Pan-Caribbean
Angela's
417 Nostrand Ave., at Jefferson Ave., Bedford-Stuyvesant; 718-552-2297
Exposed brick, bare bulbs, and salmon beurre blanc all suggest ­bistro; the mostly Bob Marley soundtrack, tender curry goat, and coconutty rice and peas shout Caribbean kitchen. However you categorize it, the breezy corner spot has a homey vibe and a small but appealing menu that covers island classics like jerk chicken and braised oxtail. Particular care is taken with accompaniments like sautéed cabbage and fried plantains, and although the plates are hefty and fully accessorized, you shouldn't neglect the sides. It's a rare mac 'n' cheese that can claim both a burnished crust and a curdy interior, and soft, smashed "stew pumpkin" shows the winter squash's savory side. The lonely bar awaits the arrival of the beer-and-wine license; until then, thoroughly refreshing mint-flecked pineapple iced tea will have to suffice.
Nashville Hot Chicken
Carla Hall's Southern Kitchen
115 Columbia St., at Kane St., Columbia Street Waterfront District 718-855-4668
At times, the new Nashville-style hot-chicken joint from television personality Carla Hall seems too cute for its own good. There's the "Hoot'n Heat Levels" of chile spice, with the kitchen crew hollering "boomshakalaka" every time someone orders the hottest; the faded recipe cards lining the bathroom walls; and the mini general store of Nashville foodstuffs, from "Sunday-­morning pancake mix" to bourbon-nib brittle. But the welcome is genuinely warm, no matter how overrun the small dining room may be, and the chicken itself is golden-crusted and juicy (if not as scorching as we'd been led to believe). It sits on top of a slice of Pullman bread, which soaks up some of the chile oil, and can be ordered by the piece or in combo plates with a choice of sides; we're partial to the slow-cooked collards, which still have some life in them. If you want to snack on something while you're waiting, pimento cheese and Ritz crackers is just what it sounds like, which is fine by us.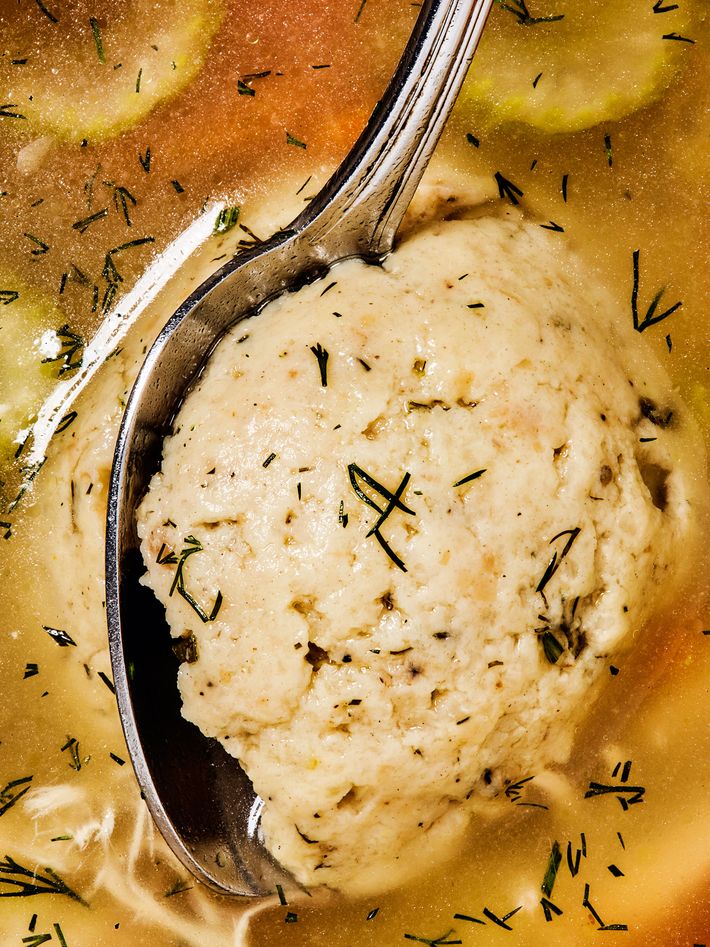 New York Jewish
Frankel's Delicatessen & Appetizing
631 Manhattan Ave., at Nassau Ave., Greenpoint; 718-389-2302
It would be easy to write off this combination delicatessen and appetizing shop as a bandwagon-jumping, hipster-­infested exploitation of a current food-nostalgia trend. But, truth be told, we're downright impressed. The young brothers Frankel seem to take their ancestral cuisine (Zabarsian, a.k.a. Upper West Side Jewish) quite seriously. In a tiny retail space inspired by places like Russ & Daughters, they make a smartly streamlined selection of deli classics from good ingredients. The pastrami, prepared to the brothers' specifications at a nearby facility under a characteristic veil of deli secrecy, is terrific, and can be had on classic rye or as a fiendish pastrami-egg-and-cheese breakfast sandwich. Even better are homemade items like a savory, almost buttery matzo-ball soup, and a hot brisket that's sweet and lush and based on a Frankel-family recipe. It's available on Amy's challah as a sandwich, or as a platter with latkes and cucumber salad. You can't go wrong either way.
Northeast Chinese
Auntie Guan's Kitchen 108
108 W. 14th St., nr. Sixth Ave. 212-206-8388
Chinese cooking from the northeast hinterlands of Dongbei is old hat by now in Flushing, Queens. But news of its arrival on West 14th Street practically warrants a mayoral ribbon cutting — or at least a visit from Instagram sensation Food Baby. The owners (who also run Flushing's Golden Palace and a takeout Auntie Guan's on 23rd Street) have larded the menu with a hodgepodge of multi­regional dishes, anticipating wimpy Manhattan palates. But we recommend you stick with the Dongbei classics: the ho-hum-sounding-yet-transcendent sautéed potato, green pepper, and eggplant; the pork-and-cabbage cake, like a cross between an Indian paratha and a Hot Pocket; Chinese leek turnovers shaped like little calzones; the hearty sautéed pickle cabbage with vermicelli and pork, a robust assemblage that eats like something that might have originated in Northern Italy's Alto Adige region; and the ever-impressive lamb chop with cumin, a braised, battered, and deep-fried slab of chewy, fatty ribs festooned in what we call the Dongbei everything-bagel style (cumin seeds, dried chiles, black and white sesame seeds, and whatnot). Among the Dongbei cognoscenti, it's as venerated as a Keens mutton chop.
Pakistani Grill
BK Jani
276 Knickerbocker Ave., nr. Suydam St., Bushwick; 347-460-5110

Fans of BK Jani's grilled Pakistani meats and paratha rolls have adopted a pre-Yelp style of expressing approbation: writing their reviews on sheets of paper that are taped to the walls like good report cards that get hung on refrigerators. Most of these critiques are five-star raves about the exuberantly seasoned burger and the marinated lamb chops, but not all. "I want to live my life in that lentil soup," writes one Meg of Bushwick. No offense, Meg, but the meat is the thing, charcoal-grilled and intricately seasoned. As good as those chops and burgers are, our scribbled testimonials would reserve higher praise for the chicken roll, wrapped in chewy, blistered flatbread with vibrant mint chutney, and the spice-suffused minced-beef seekh kebab. The chef-owner is going for a picnic vibe, with long communal tables, paper plates, and no utensils. (Unlimited wet-naps are available at the counter.) Make it a real picnic by taking your feast across the street to Maria Hernandez Park — everything tastes a little better outdoors.
Super Sandwiches
Southside Coffee
652 Sixth Ave., at 19th St., Greenwood Heights; 347-927-4870
Why you seldom find great coffee and great grub hobnobbing under the same roof is one of the culinary mysteries of our time. An exception is this pint-size coffee bar that has been doling out expertly brewed drip coffee and espresso for years and added sandwiches to the lineup last fall along with a talented sandwich-maker named Josh Sobel. Every one of Sobel's creations, from a well-lubed Italian hero to a pan-griddled tuna melt, is exceptional, as you'd expect from someone who studied at such venerated institutions of higher sandwich learning as Court Street Grocers and Mile End Deli, but we're ­especially fond of his breakfast sandwiches. The eponymous Southside — unfathomably fluffy scrambled eggs, Heritage Meats ham, Cheddar, pickled onion, and drippy "breakfast mayo" on toasted brioche — is satisfying in the way that only porky egg-and-cheese sandwiches are; simply looking at one could cure a hangover at 20 paces. And you can get it until the very civilized hour of 3 p.m.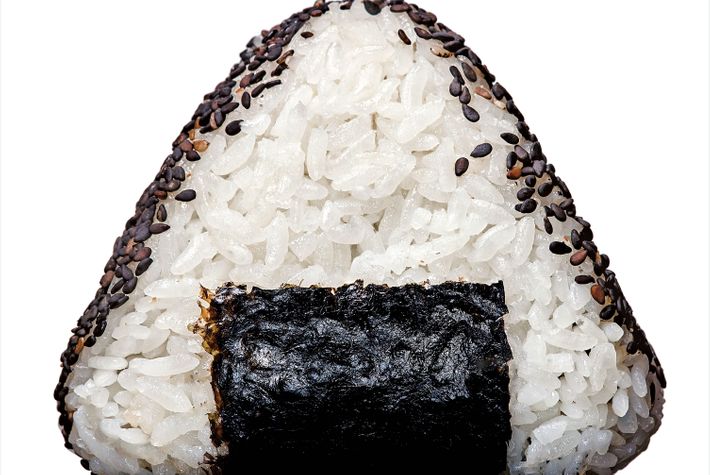 Korean Rice Balls
Kichin
297 Broadway, at Marcy St., Williamsburg; 718-599-1002
Onigiri, a.k.a. omusubi, or just plain rice balls, are traditional Japanese finger food made from seasoned white rice squeezed into triangular and oval shapes and wrapped in nori. In Korea, they call them samgak kimbap. Besides the fact that it's the ultimate portable snack, the beauty of the rice ball is that, like the sandwich and the pizza, there is no limit to what you can shove into or place on top of one, the inevitable outcome of which is the specialty of this Korean-­American snack shop: a chunk of rice stuffed with Cheddar, bits of bacon, and a runny quail egg, the whole package girdled with a sheet of nori and charred on the grill. Kichin's rice balls also come with other fillings like avocado and edamame, spicy salmon, and crunchy nuggets of Korean fried chicken. There are rice bowls and salads, too. But if Kichin were to offer nothing but bacon-egg-and-cheese rice balls, it would still do brisk business.
Dough-Driven Pizza
PN Wood Fired Pizza
2 W. 28th St., nr. Broadway; 646-964-4834
Most pizzerias allow you to choose your toppings; four-month-old PN would like you to pick the flour used in the dough from which your pizza is made. The flours range from organic stone-ground Italian whole wheat to high-gluten Canadian mingled with farro and rye, and, yes, it's no coincidence that the place is owned by a flour company. While this may seem like the promotional gimmick to end all promotional gimmicks, the pizzas are already among the best in town: remarkably tender-crusted with well-articulated pockets of air that aficionados associate with long fermentation, and some first-rate charring around the cornicione. And that's not all: There's good antipasti and great housemade pastas, including a tagliatelle alla trapanese, a specialty of the Sicilian chef's. Skip the lamb burger, though.
Midtown Lunch
Pickler & Co.
216 E. 45th St., nr. Third Ave. 646-869-9026
Midtown is not the first place you think of when you think of ecofriendly, possibly organic, vaguely hippieish noontime feeds. But that may be owing to the fact that you've never heard of Pickler & Co., a year-old, under-the-radar, mostly takeout shop plunked down smack-dab in the lobby of a fashion college, whose mission is to serve its desk-jockey clientele "worry-free" wraps, salads, and sandwiches. The meats are ­antibiotic-and-hormone-free; the dairy is locally sourced; the spices are non-irradiated; the cooking oil non-GMO. None of which would matter as much if the four-ounce burgers weren't so delectable (despite their pretzel buns), the grilled cheese with bacon so rich and gooey, and the streamlined Reuben the best, if not in all of Manhattan, then certainly in midtown. Great cup of certified organic, fair-trade joe, too.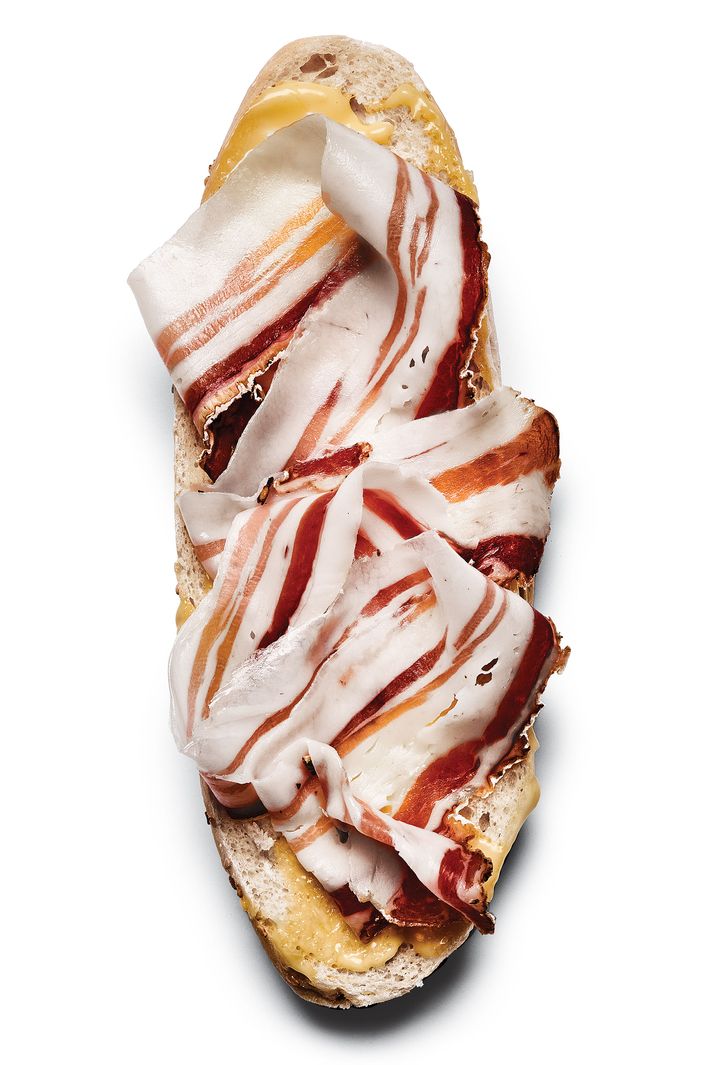 Nose-to-Tail Sandwiches
Ends Meat
254 36th St., nr. Third Ave., Sunset Park; 718-801-8895
Lonza, saucisson sec, and provolone with mayonnaise and mustard greens on a hero roll? Roasted Goldbar squash with parsley salad and feta on ciabatta? This is not your average Boar's Head–on–rye deli counter. In fact, you might think of John Ratliff's salumeria inside the food court at Industry City as a ­modern-day Faicco's or a Corona Heights Pork Store, only instead of making muzz and slinging meatball subs on the side, it's serving "pigstrami" with Swiss on semolina and breaking down whole, grass-fed animals a few feet away from the customers. All the cured-meat sandwiches are delicious and reasonably priced, but we're not ashamed to admit that we've got a thing for the chicken Caesar on ciabatta (not least because of the bacon that's put on it). And this might be the only whole-animal salumeria–cum–sandwich shop whose nose-to-tail philosophy extends to vegetables. Those tangy, crunchy, stalky green things that add such a nice counter­point to the richness of one day's cotecchino-and-lentils blue-plate special? Pickled chard stem. "We don't like to waste anything," says Ratliff.
New Brooklyn Taiwanese
Win Son
159 Graham Ave., at Montrose Ave., East Williamsburg; 347-457-6010
In several ways, Win Son seems like a Taiwanese-American Momofuku. There's the lowercase menu lettering; the small glasses that accompany the Taiwanese beer; the inventive, interpretive approach to an ethnic cuisine. There are small-plate appetizers, stark white bowls of noodles, and lots of pork. But mostly, there's the knack for sandwiches. Where David Chang built an empire on pork buns (and is trying to do the same with fried-chicken sandwiches), chef Trigg Brown is banking on his own canny constructions. His Nutritious Sandwich is a Croissan'wich for the ages, its sweet fried-dough roll encasing sliced ham and pickled pineapples. The Big Chicken Bun, with its supercolossal slabs of seasoned dark meat protruding from the edges of its squishy pineapple bun like an Iowa pork-tenderloin sandwich, is a delicious understatement. (Fermented-­tofu mayo's a nice touch.) The theme extends to dessert — a simple but deadly vanilla-ice-cream sandwich, served inside a fried mantou bun with sweetened condensed milk cascading down the sides.
Family-Style Egyptian
Tut's Hub
30-91 Steinway St., Astoria; 929-382-2332
Part Egyptian temple (the imposing façade), part boisterous romper room (the third-floor play space), Tut's Hub might be Astoria's most unusual restaurant. The steam trays and pizza oven could be found in any midtown deli, but not the foods they convey: koshary, a carb-­loader's dream of lentils, chickpeas, rice, and elbow macaroni, anointed with crispy onions and tomato sauce; warm, tender, superb rice-stuffed grape and cabbage leaves; puréed lentil soup redolent of bay leaf and cumin; and feteer, sweet or savory pastry made from dough that's stretched tablewide and paper thin and filled with anything from pastrami to chocolate syrup. Oddly, the kitchen devotes itself equally to Americana like burgers and pizza, so you might assume the baked pasta in the display case is lasagna; it's actually macaroni béchamel, made with ground beef and penne, and as popular in Cairo, Egypt, as tuna casserole is in Omaha, Nebraska.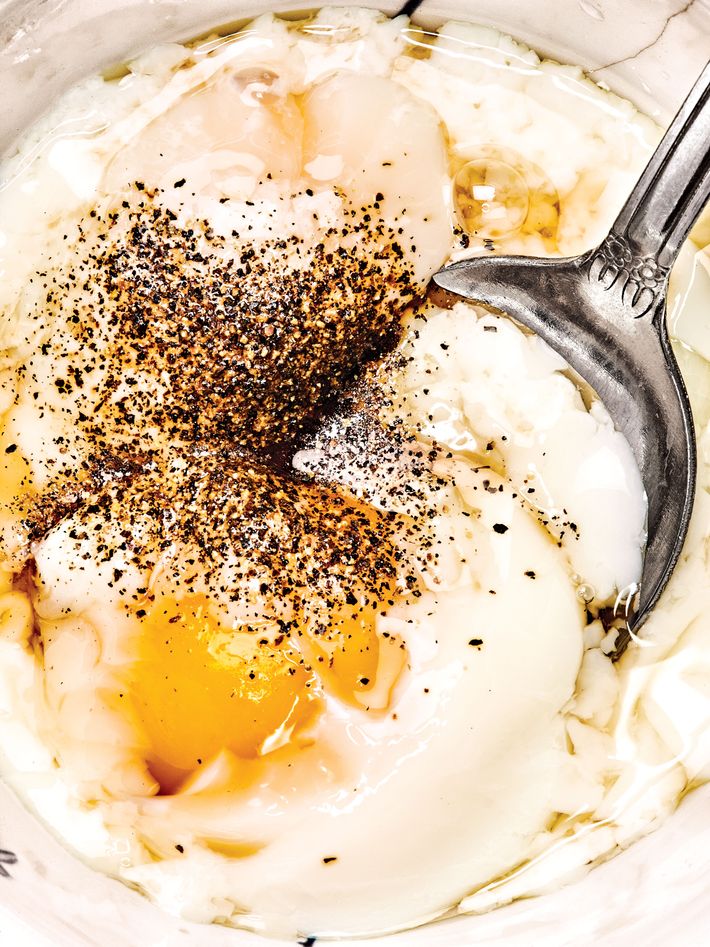 Malaysian Coffee House
Kopitiam
51B Canal St., nr. Orchard St. 646-894-7081
Kopitiam might be named for and modeled after the Malaysian coffee shops where customers linger for hours, but don't try that here. The five counter seats are in constant demand, and your fellow diners will hover anxiously as you attempt to savor chef-owner Kyo Pang's snacks and sweets. The counter display case is filled with variations on a Malaysian-­dessert theme, mostly involving sticky rice, coconut, palm sugar, and condensed milk, all of which go well with Pang's famous "hand-pulled" coffee. But be sure to order something from the minuscule kitchen, either sweet (thick slabs of warm toast glued together with ­pandan-tinged coconut jam) or assertively savory (nasi lemak, a craggy nest of tiny dried anchovies flavored with a sambal of fermented shrimp paste, chiles, and peanuts, deposited over a mound of coconut rice). The cooking is homey and packed with flavor, an untranslated love letter to Pang's ancestral cuisine.
Hunanese Home Cooking
Hunan Bistro
96 Third Ave., nr. 12th St.; 212-388-9855
What would an annual cheap-eats list be without an excellent new Sichuan — wait, let's make that the even hotter Hunan, Sichuan's southern neighbor — joint to scorch your lips and set your tongue on fire? Hunan Bistro, which opened late last year a few doors down from the equally blazing Han Dynasty, fulfills the requirement. Start your meal off on the right piquant note with a pile of Hunan pickled cabbage, which looks innocent enough but will cause jets of steam to shoot out your nostrils like an angry cartoon bull. Fan the flames with sautéed preserved pork with dried turnips. Move on to the main event, a steamed whole tilapia thoroughly covered in chopped scallions and red chiles. Then lower the thermostat with dessert­ — a sticky rice ball with sweet rice wine for two.
Third-Generation Sausages
Schaller's Stube
1652 Second Ave., nr. 86th St. 646-726-4355
Papaya King, the cheap eater's home away from home, is within tube-steak-tossing distance of this takeout-window-and-barroom spinoff of the Schaller & Weber butcher shop. But Schaller's Stube's pricier product is more along the specialty-­sausage lines of Hallo Berlin, and well worth the extra shekels. The classic bratwurst with a swipe of mustard is pretty much perfect, but our favorite is the Swiss-cheesed, sauerkrauted, and secret-sauced all-beef frankfurter called a Steuben's Reuben, a combination that could change even the most conscientious hot-dog purist's views regarding outré toppings. It comes on a buttery brioche bun and gets smooshed on a panini press, which seems like a terrible thing to do to a hot dog until you try it.
Shanghai Soup Dumplings
Yaso Tangbao
148 Lawrence St., nr. Willoughby St., Downtown Brooklyn; 929-337-7599
Nothing about the location of this fast-casual dumpling peddler — a grim, strip-mall-like stretch of Downtown Brooklyn — inspires confidence. (If you're from Los Angeles, where strip malls and crackerjack kitchens go together like bacon and eggs, this might be a promising sign.) But everything that comes out of the dumpling-observation room behind the counter (a glassed-in cubicle that brings to mind a maternity ward) is much better than you expect. Xiao long bao, the signature pleated soup dumplings that look like miniature hangover ice-packs, are chewy but tender, built like Swiss watches, and possess just the right amount of soup and pork, or pork-and-crab, if you prefer. Ditto the pan-fried pork buns, which also house a stealth teaspoon or two of hot broth. The real surprise, though, is how good all the non-dumpling stuff is: cold "drunken" chicken poached in rice wine; braised pork meatballs as light and fluffy as good matzo balls; and a chicken curry over crunchy fried noodles that eats a little like a dry, user-friendly version of the great Northern Thai dish khao saoi.
*This article appears in the July 11, 2016 issue of New York Magazine.