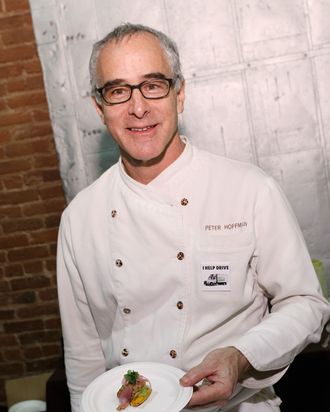 Au revoir, chef.
Photo: Brian Ach/Getty Images
Peter Hoffman was a big deal on the New York scene during the height of Savoy, his pioneering farm-to-table restaurant. The chef closed his then two-decade old Soho restaurant in 2011 and shuttered his casual East Village restaurant Back Forty due to "lease uncertainty" three years later. Now, the last remnant of his grass-fed empire will disappear when the chef closes Back Forty West (which is housed in the former Savoy space) after service on July 16.
Hoffman was an early adopter of the Slow Food ethos, before farm-to-table became a catchall marketing term. A number of influential chefs worked under him, including Saltie's Caroline Fidanza, who set the culinary tone at Diner as its opening chef, and Franny's co-owners Andy Feinberg and Francine Stephens. There will be one last crab boil on July 15, then Hoffman says he'll turn in his chef's whites and leave the restaurant business with a plans for a sabbatical, starting August 1, and a cookbook.