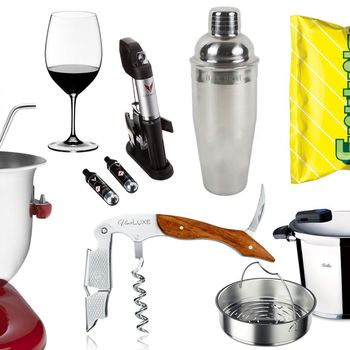 Today is Prime Day, which means the monolithic online retailer Amazon will sell a lot of stuff at discounted prices. Discounts vary, and some of them won't last long, so act fast, but don't act too fast. Don't go and buy every different kind of wine glass available if you don't have the room in your home. Grub Street combed through the deals and found 20 that are definitely things cooks of all kinds — parents, food nerds, beginners — will find useful. Just remember, you'll need to sign up for Amazon Prime first (you get a free 30-day trial, too).
Riedel Cabernet and Merlot Glasses
Price: $79 for a set of six
Riedel makes wine glasses that are nice without being so over the top (ahem, Zalto) that you don't want to break them out when friends are over.
Coravin Model Eight Wine System
Price: $225
If you happen to be the type who collects high-end (pricey) wine, it's time to splurge on the Coravin, the revolutionary device that allows you to sip your best bottles without actually uncorking them.

Fissler FSSFIS5859 Vitaquick Pressure Cooker
Price: $187
There's really no reason not to have a pressure cooker in your home kitchen. They speed up cooking times considerably, and they're practical for so much more than braises.
Premium SST Cocktail Shaker & 24 Oz. Mixer Set
Price: $20
You can make great cocktails at home, but it's necessary to have a decent shaker and, even better, a jigger for accurate pours. It's hard to beat this deal for a well-made set.
Tea Infuser
Price: $7
If you're serious about tea, that means you brew loose leaf (or powder, as it may be for you newly minted matcha maniacs). The easy way to keep those leaves in your cup and out of your mouth is a tea infuser, like this stainless-steel one that you're basically getting for free here.
Hurom HU-100 Slow Juicer
Price: $150
Instead of spending $10 a day on a small bottle of fresh juice, just buy a juicer for your home so you can make your own. (They're great for killer mimosas, too.)

Ritual 36-ounce French Press
Price: $13
Even if you're not a total coffee nerd, a French press is necessary for any home. The problem is getting a nice-looking, sturdy one with thick glass, which is exactly what Ritual makes.
KitchenAid Tri-Ply Stainless Steel 12-Piece Set
Price: $200
Stop cooking your stock in sauce pans and sautéing in pots, and invest in a multi-piece set that includes an eight- and ten-inch skillet, an eight-quart stock pot, and a proper sauté pan. It will more than do the job for the eager entry-level cook.

Calphalon Tri-Ply Copper 10 Piece Set
Price: $320
Alternately, if you're feeling a bit fancier, there are few things nicer in a kitchen than a row of hanging shiny copper pots and pans. These are designed for easy pouring, too, so you won't have to worry so much about spilling that beurre blanc.
FoodSaver V3240 Automatic Vacuum Sealing
Price: $72
If you need to preserve food in your freezer for a while, or if you're getting into sous-viding, a vacuum sealer is an absolute essential.
Vino Luxe Premium Waiter's Corkscrew
Price: $12
There's something really classy about opening a nice bottle of wine with a fancy corkscrew, and this one more than gets the job done with its rosewood handle and slick design.
Whynter ICM-15LS Ice Cream Maker
Price: $192
Summer is for endless ice cream, so it's time to make your sundae-party dreams come true and start making your own.
Miracle-Gro AeroGarden
Price: $120
A fire-escape or patio garden is certainly a nice thing, but this soil-free indoor grower brings the herbs to your kitchen and promises to grow them five times faster.
Tribest SV-101 Sousvant Sous Vide Machine
Price: $249
Now you can get perfectly rare meat and actually try cooking something from Modernist Cuisine.
KitchenAid Stand Mixer
Price: $249
A stand mixer is a necessary tool for any serious home cook. If you've been holding off on buying one because it's an investment, today is the day to pull the trigger — you'll save almost $100 dollars.
Nespresso VertuoLine Coffee and Espresso Maker
Price: $130
You could buy a fancy coffeemaker, but maybe it's not your thing, or maybe you don't have the money. As far as home espresso goes, it doesn't get a lot easier, or better, than Nespresso. This is a solid deal on one of their newer machines.
Gaggia 1003380 Accademia Espresso Machine
Price: $1,320 if you sign up for Prime
But if you do want to get a fancy machine, you'll save $330 on this well-regarded model with a burr grinder and a pre-brewing system for better flavor.
San Pellegrino Aranciata
Price: $14 for 24 11-ounce cans if you sign up for Prime
There's really no better soft drink than San Pellegrino's fruit-flavored sodas, which, while not too sweet, are robust, sometimes a little bitter in flavor, and sharply fizzy like the best seltzer.
Funyuns
Price: $38 for 64 1.25-ounce bags if you sign up for Prime
Onion rings are great, but they're also a pain to make at home, and anyone who says they don't love the old-school onion-flavored corn snack is tricking you.

Cracker Jacks
Price: $11 if you sign up for Prime
Speaking of classic snacks, there can never be enough Cracker Jacks in your life, so why not just stock up on them?