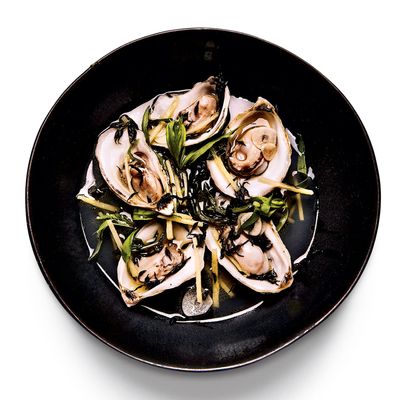 Zadie's Oyster Room steamed oysters.
Photo: Bobby Doherty/New York Magazine
Long before he instigated a bone broth craze with Brodo, Hearth's Marco Canora had set his sights on oysters. "I was hell-bent on opening a big, Grand Central Oyster Bar-type place," he says. He'd even become, like a dutiful grad student, a regular presence at the New York Public Library, poring over old menus. "All the oyster houses had the same catchphrase: 'Oysters served in every style.' " It's a motto he's revived at Zadie's Oyster Room, Canora's redo of his Fifty Paces wine bar, where he serves the bivalves seven different ways, including steamed with butter and vermouth. The cooking method prevents the shellfish from drying out; why reserve it for clams and mussels?
Mouse over or tap the image to read more.
On the menu at Zadie's Oyster Room; 413 E. 12th St., nr. First Ave.; 646-602-1300; $16.50.
*This article appears in the June 27, 2016 issue of New York Magazine.