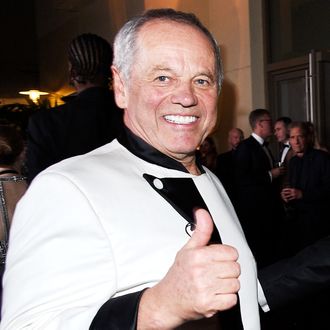 Congrats, chef.
Photo: Kevork Djansezian/Getty Images
It looks like the entire TV food world will no longer be represented solely by showbiz-y Bobby Flay on the Hollywood Walk of Fame. The Hollywood Chamber of Commerce announced 2017's honorees today, and Wolfgang Puck made the cut. The culinary icon will get a Hollywood Boulevard star all his own, alongside other newbies like Ryan Reynolds, Sarah Silverman, the Rock, Ice Cube, and all of 'N Sync. High-end dining today owes much to the Austrian-born chef, who is famous for his Beverly Hills restaurant, Spago. Beyond hosting cooking shows and catering Kardashian weddings, he's got Frasier, CSI, and Simpsons cameos to his name, and even displayed his full acting chops as "Chef Smurf" in The Smurfs movie. (But hey, Flay played himself on Entourage once.)

When Flay got his star last year, people made the case that Puck or Julia Child or Emeril Lagasse — heavyweights whose coattails Flay arguably rode to his own TV stardom — were maybe a little more deserving. Circling back to Puck could be a sign that Hollywood's finally taking TV chefs more seriously. Which probably means Anthony Bourdain and Guy Fieri are up next, and their stars will be right next to each other.

[NBC LA]