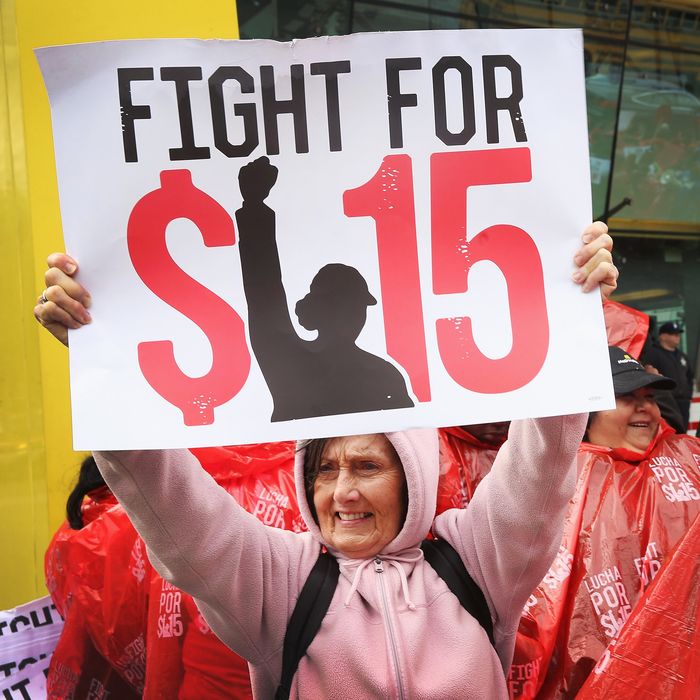 Another victory to celebrate.
Photo: Scott Olson/Getty Images
Fast-food workers in the nation's capital have a big pay raise coming their way. Lawmakers voted unanimously Tuesday to up the city's minimum wage to $15. The move will put D.C. among the handful of places (Seattle, New York, and California) where low-income earners are promised the so-called "living wage." Mayor Muriel Bowser, one of the bill's key backers, has promised to sign it when it reaches her desk, probably later this summer. The raise takes the usual format of a multiyear phase-in; here, the timeline will turn thousands of restaurant and service-industry workers in Washington, D.C. — the place with America's worst income disparity — into some of the highest-paid in the country by 2020.
The bill will also likely suck the air out of a November ballot measure that's trying to institute a $15 wage for all workers, including those who get tips. Fifteen bucks an hour is more than double the current $7.25 federal minimum wage, but D.C. lawmakers raised the tipped wage by a smaller amount to keep the city's influential restaurant industry happy. The pay for servers will rise from $2.77 to $5 an hour over the same four-year period. Advocacy groups for restaurant workers weren't thrilled about this, but the Washington Post notes the bloc is saving its ammo for a fight over another proposed bill that would give workers the most generous family-leave benefits in the country.
Opponents complain that D.C. is tiny in size, so if food and hotel prices go up, people "can stay in hotels in Arlington, they can go out to dinner in Alexandria. … There could be a migration of jobs from the District." House Speaker Paul Ryan also made sure to register his disagreement yesterday by traveling to one of the city's poorest neighborhoods and warning, "I think that will actually do more harm than good in so many instances, because what it does is it prices entry-level jobs away from people."
Mayor Bowser says that as long as the city remains "hip" and "safe," people "are going to want to live and work in the District of Columbia." She also rejected the argument put out by Ryan and others that a $15 wage kills jobs, saying, "We've heard that argument before."