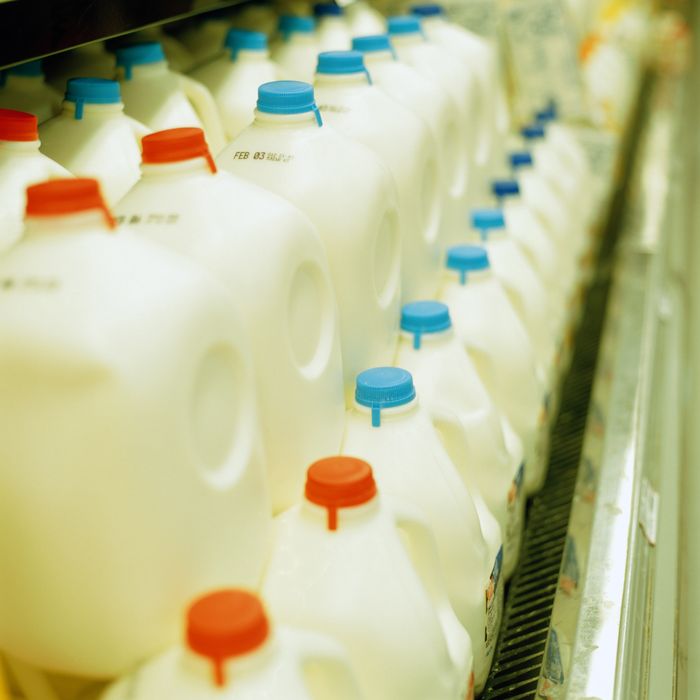 Have a cow.
Photo: Ryan McVay/This content is subject to copyright.
One of the myriad downsides to a Donald Trump presidency? Possibly paying $8 for a gallon of milk. Today's dairy industry depends heavily upon immigrant labor, so if Trump successfully rounded up all undocumented workers, "dairies would close, output would drop, and consumers would pay almost twice as much for milk," according to a recent study commissioned by the National Milk Producers Federation. The hit to the U.S. economy would be as high as $32 billion, it estimates.
It adds that a third of U.S. dairy farms in 2014 employed workers born outside of America, and fully one-half of the labor force is immigrant. The study figures mass deportations could wipe out more than 208,000 jobs and 7,000 dairy farms, reduce milk production by almost 50 billion pounds, and jack up retail prices by 90 percent. Bloomberg tried to get the large dairy companies to comment on the impact Trump's policies might have on their business, but, shockingly, they weren't real keen on attacking the serial frivolous litigant. The farmers themselves were happy to give the White House aspirant a piece of their mind: The president of Wisconsin's Dairy Business Association remarked that Trump's immigration stance "scares the hell out me," while the president of the Professional Dairy Producers of Wisconsin explained, "With my group of friends, we kind of joked around and said, 'Wow, did you ever think you'd vote for Hillary?'"
One of the economists who conducted the study also made sure to note that a milk shortage would mean higher costs passed onto consumers for cheeses, butter, and other kinds of dairy. Luckily for consumers of these delicious products, Trump isn't killing it right now. At the very least, it's probably safe to assume he's lost Wisconsin.