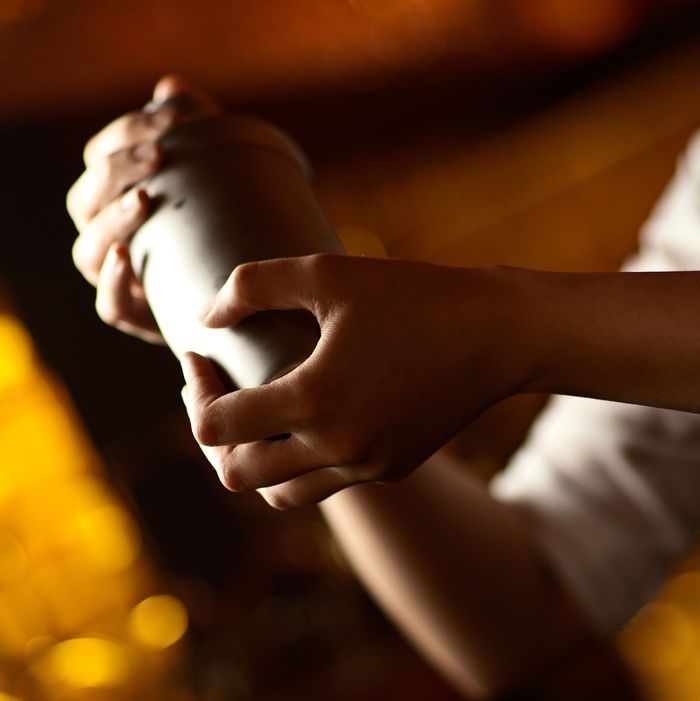 "Something happens in the late 30s or early 40s…"
Photo: Dylan Goldby
One recent evening, I was at the NoMad getting drinks while my guest, Marcia Polas, watched one bartender with great intent. But she wasn't trying to glean some mixological trade secrets. "He looks like he's in a lot of pain," she said, pointing to the bartender's shoulder blade. Polas knows what she's talking about: She's an occupational Pilates instructor who has recently taken an interest in the strain that bartending puts on people's bodies. When she later asked the bartender how he felt, he confessed that his back always hurts.
In a lot of ways, working in a high-volume bar can be as taxing on a body as a professional sport: A busy bartender can easily pour 300 drinks a night, picking up four or five bottles to make each one, shaking most of them vigorously to make sure they're perfectly chilled, and working eight hours without a break. Unlike athletes, plenty of bartenders often end their nights with 3 a.m. shots. It all takes a toll, quickly.
"Something happens in the late 30s or early 40s — most people struggle from burnout," says Dushan Zaric, who co-founded Employees Only in New York more than a decade ago. After 15 years working in the business, 39-year-old Russell Dillon, a muscular, bearded, bald bartender at Basik in Williamsburg, suffers from a torn rotator cuff. The work wears on younger colleagues too. Even burly, 27-year-old, Australian-born Jacob Ryan, who works at Mother's Ruin in the East Village, says that, at the end of a monster week, he has "nothing left" in the tank and his bones feel more like grinding machine parts.
Both Dillon and Ryan have spent time in class with Polas, who directs her students with a demeanor you might call "cheery drill sergeant." In class, she bounces from mat to mat as five fit bartenders lie on their backs holding their legs up in an L-shape, squeezing a green squishy ball between their feet. She adjusts the diaphragm of one student, jumps to the next to stretch out her toes, and then goes for two: While using her hands to hold up Dillon's feet, she stretches her right leg to prop up the tired legs of the former NoMad bartender Dominic Venegas, who she had warned just moments before, "Dominic, I swear to God, don't make me come down there."
Polas also spends time in bars, correcting her students' postures while they shake, stir, and haul ice. (As part of a program put on by spirits-maker Rutte — a new U.S. brand launched by Royal Dutch Distillers — she recently led a 12-week program for a dozen bartenders from prestigious drinking establishments like Clover Club, Death & Co., the Gander, and the NoMad.) Her goal, she says, is to make sure 25-year-olds don't get out of bed every morning feeling like their bodies were "hit by a truck."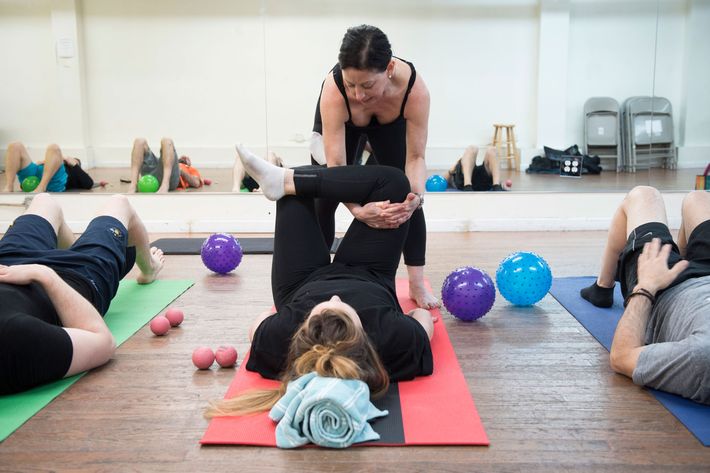 To be specific about it, Polas's practice focuses on making sure a body's connective tissue, known as "fascia," is "nice and doughy" so that the muscles can "turn off and stop working when they relax," ensuring better rest. She'll also instruct bartenders on how they use their bodies so they're not harming muscles, ligaments, and tendons while they work. (Since taking part in the program, Ryan has continued to do 20-minute floor exercises in his apartment and focus on his breathing; he says he hasn't felt this great in years and is proud of his pack of abs, "however many there may be in it.")
Bartender-specific Pilates, though, is just one example of a growing movement to help educate bartenders on the importance of physical and mental wellness (a movement that has gained significant traction in professional kitchens, too). People are actively trying things like yoga, cleanses, cutting back on alcohol, shaking drinks in a way that's less taxing, or even taking gigs with liquor brands so they spend less time behind an actual bar. I spoke with nearly a dozen people in the industry about the phenomenon, and they all said it was a result of several cultural changes. In the broadest terms, people everywhere are paying more attention to their health. As bars have gotten more ambitious, the job of bartending has become professionalized in a way that makes it a real career path in the hospitality industry for many people — meaning it's important to know how to do the job for a long time, not just five or ten years.
This year, the organizers of the annual Portland Cocktail Week have, for the first time, turned the festival into a six-city tour called the Bar Institute, with 800 bartenders converging in Baltimore for the kickoff event in April, and another 900 turning up at events in Phoenix and Austin. Yes, there are nerdy classes on topics like using citrus alternatives in cocktails, but the forum also serves as a time to focus on wellness; Polas was invited to teach sessions on Pilates in Baltimore and Phoenix. Another class, titled "Check Yo Self Before You Wreck Yo Self," was taught by a kinesiologist, and yet another, in Austin, focused on how to tackle side projects and not feel overwhelmed. One organizer says that they expect 2,000 bartenders to register for the Bar Institute tour's final stop in New York this fall.
Meanwhile, Dushan Zaric has left Employees Only to run his own spirits company and, he says, focus on ending bartender burnout. He and bar consultant Natalie Bovis have led wellness trainings at most major cocktail conferences in the U.S. over the past few years, with the help of liquor-company sponsors who pay for psychologists, chiropractors, doctors, and alternative healers' travel expenses. Zaric and other yogi-bartenders also lead morning yoga sessions, so their peers can find some stillness — and sweat out the previous night's drinks.
For her part, Polas hopes restaurant groups or other liquor brands — which commonly provide programs for bartenders — will start to fund future classes for industry workers' well-being. After all, it's a better perk for a brand's customers than free barware, and Polas, who says that one shift can do as much damage as "running a marathon every day," adds that it ensures those customers can stay in the industry a lot longer. She points out that, after only six weeks of therapy, her clients were "in entirely different bodies."