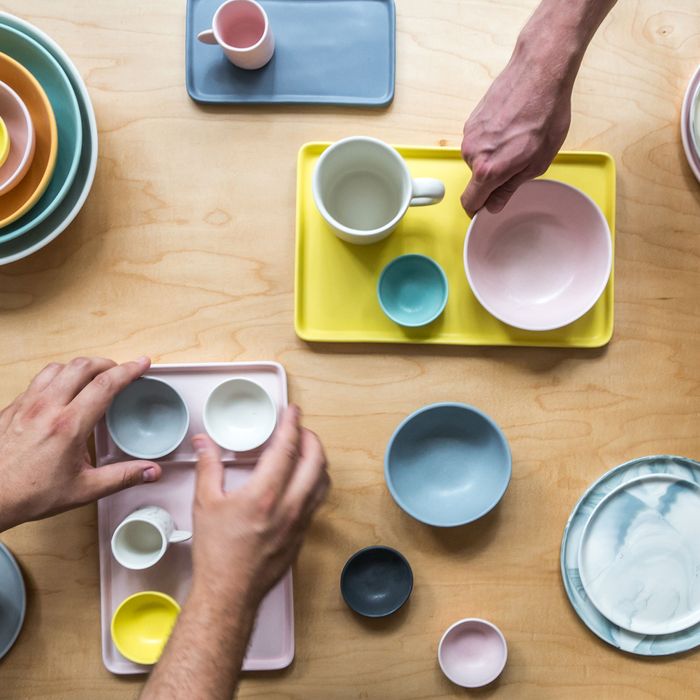 Gorgeous ceramics from Philadephia's Felt + Fat will be available.
Photo: Paul Wagtouicz
When most chefs depart from their usual service for the sake of a collaborative event, it involves another chef — possibly from out of town — helping them cook a meal. But Take Root, Elise Kornack and Anna Hieronimus's tiny Brooklyn tasting room, isn't like other restaurants. Tomorrow, Kornack and Hieronimus will debut a series of events featuring independent makers — artists, farmers, musicians — who will sell their wares in the restaurant, which will be transformed (temporarily) into a gallery-like space. The first installment of Take Root MRKT spotlights Felt + Fat, a Philadelphia-based design studio that makes the plateware used by Kornack and Hieronimus (as well as Eli Kulp, among others).
"All creative projects, particularly restaurants, are constantly an evolution," Kornack explains of the idea. "We kind of wanted to bring the vibration back, especially because Cobble Hill has a nice vibe in the late afternoon on a Saturday. We then realize no one's really featuring their purveyors. We've worked with Felt + Fat since we opened the restaurant, and we were one of each other's first big collaborations."
From 2 to 10 p.m. this Saturday, you can shop Felt + Fat's biggest hits, plus one-off items and a brand-new line of ceramics that the designers created in collaboration with Kornack. "I had actually asked them to create a certain plate for what would've been a potential restaurant concept for us, but we decided to put [that] off for right now," she says. "Now they're going to sell the whole line that we created together."
Beer, wine, and snacks will be available for purchase at the bar, so you drink and nosh while browsing: Two Philadelphia breweries, Tired Hands and Crime and Punishment, will be there, and Kornack is making a porchetta sandwich with broccoli rabe (plus a vegetarian version).
The next event, which will be sometime in August, is going to center on one of Take Root's farmers. "We're going to empty out the restaurant and make it like a market, and he's going to fill it with produce and wild flowers," Kornack explains. "We'll have live music too. We like to break up the space, energetically, and it'll be nice to have the door open and not have it be as finite as it is now, with the tasting menu and the reservations. Anna and I both love drunk shopping, so this is kind of perfect."