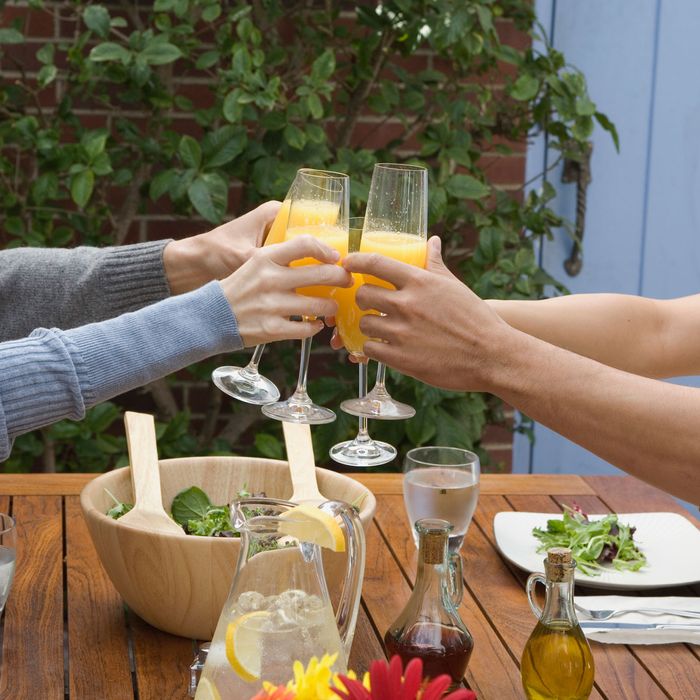 Cheers, weekend boozehounds.
Photo: Jupiterimages
Pour one out for New York's outdated blue laws, because 10 a.m. is the new first call for thirsty Sunday brunchers. Maybe the state can't pass an ethics bill, but Governor Cuomo has at least won his noble war on the state's antiquated liquor laws, a vestige of the 1930s he unambiguously blasted as "the most bizarre, arcane, frustrating, maddening law that you could imagine." The legislature Tuesday agreed to push the time forward two hours statewide, and the relaxed hours could go into effect as early as this upcoming weekend.
Restaurants and bars not in NYC can also apply for permits, limited to 12 per year, to start circulating booze as early as 8 a.m. — basically a way for pubs to serve patrons during European soccer matches and other televised events that begin super early in the States. Businesses in NYC weren't offered this privilege because the famously cantankerous community boards were already fighting the ten o'clock hour, shuddering at the noise complaints it's going to mean from upstairs neighbors.
All told, the bill includes a variety of sweeping liquor-law reforms, including other new amendments that allow liquor stores to gift-wrap purchases, reduce some of the onerous paperwork and fees imposed on craft distillers and breweries, and give wineries permission to sell visitors entire growlers of wine.
[NYT, Syracuse.com]