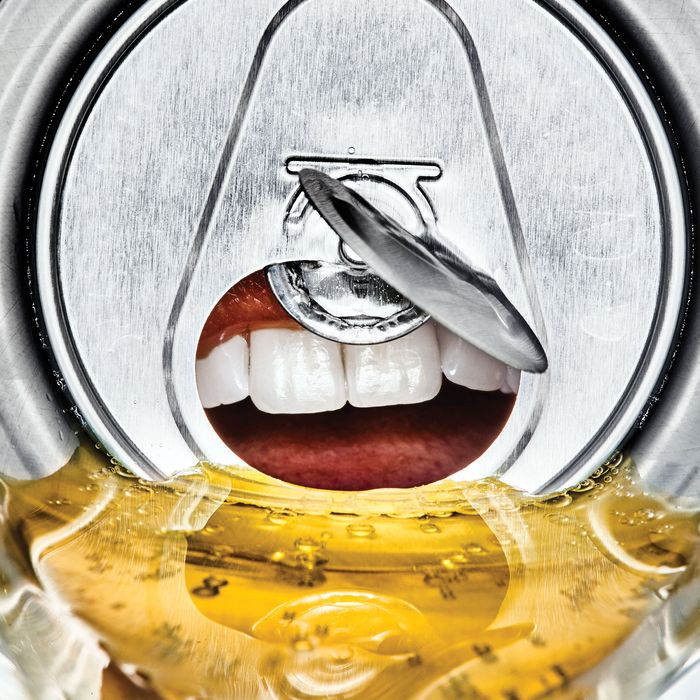 These beers match memorable flavor to moderate alcohol.
Photo: Bobby Doherty/New York Magazine
A decade back, craft beer was aligned with aggressively flavored, often boozy stouts and India pale ales. Although a welcome change from fizzy mass-market lagers, these intense beers were not the sort to drink, well, all day. So that drinkers needn't sacrifice taste and aroma for lower alcohol by volume, brewers have embraced session beers, so-called because you can down several in a drinking session. Led by Founders All Day IPA's success, the catchall category — the commonality is the beers are generally less than 5 percent ABV — encompasses ­formulations from tart sours to rustic Belgian saisons, snappy pilsners, and fragrant IPAs. They match memorable flavor to moderate alcohol, making them suited for any hot-weather occasion that demands a couple of cold ones. Here are a dozen session beers to sip (and sip again) this summer.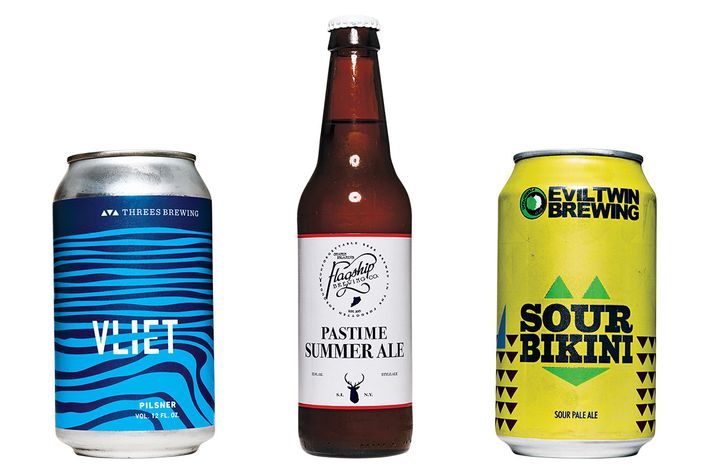 1. Threes Brewing Vliet (5.2 percent ABV) Believe pilsners are bland? The Brooklyn brewery's crisp, floral Vliet (a Dutch term for "flowing water") serves as a briskly herbal rebuttal. $5 for 12 ounces or $18 for two liters at Threes Brewing (333 Douglass St., nr. Fourth Ave., Gowanus; 718-522-2110).
2. Flagship Brewing Co. Pastime Summer Ale (4.8 percent ABV) The Staten Islanders' snappy, subtly sweet seasonal is a golden ode to Australia's earthy, melonlike, and aptly named Summer hop. $2.79 for 12 ounces at Bread & Honey (941 Eighth Ave., nr. 56th St.; 212-245-0007).
3. Evil Twin Brewing and Intangible Ales Sour Bikini (3 percent ABV) With cutting acidity and an aroma mobbed with lemons and grapefruit, the elegantly zesty quencher might elbow aside mimosas as your brunch eye-opener. $2.75 for 12 ounces at Covenhoven (730 Classon Ave., nr. Park Pl., Crown Heights; 718-483-9950).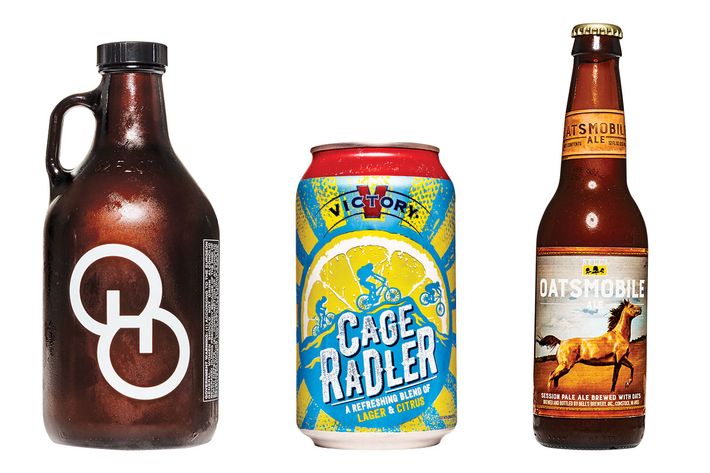 4. Other Half and Bunker Boogie Board Stuntz (4.5 percent ABV) The beachy, easy-drinking Brooklyn-Maine collaboration contains waves of tangerinelike Mandarina Bavaria and tropical, peachy Mosaic hops. $6 for 16 ounces at Other Half (195 Centre St., nr. Court St., Carroll Gardens; no phone).
5. Victory Brewing Company Cage Radler (3 percent ABV) The barely boozy offspring of lager and lemonade could be considered grown-up Gatorade. Radler is German for "bicyclists," for whom the blend was first invented. $2.50 for 12 ounces at Hops & Hocks (2 Morgan Ave., nr. Flushing Ave., Bushwick; 718-456-4677).
6. Bell's Oatsmobile Ale (4.3 percent ABV) Oats imbue the dainty pale ale with an unusually full body and light creaminess, complemented by fragrances of ripe mangoes and peaches. $2.59 for 12 ounces at Noble Grains NYC (313 E. 95th St., nr. Second Ave.; 212-996-2337).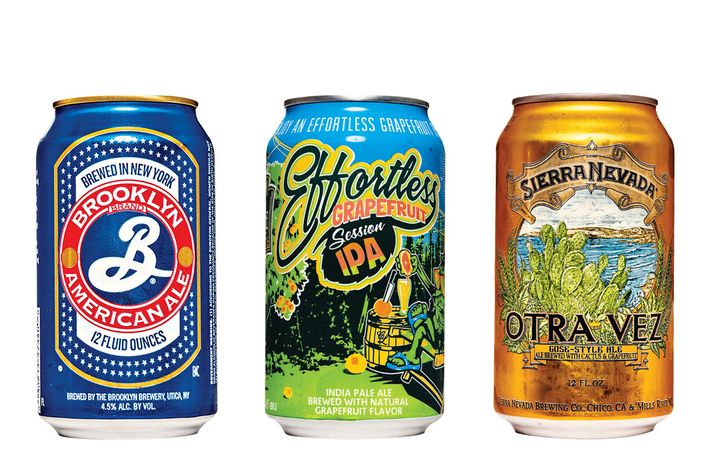 7. Brooklyn Brewery American Ale (4.5 percent ABV) British malts merge with floral, earthy Pacific Northwest hops to create a smooth ride best parked aside grill-hot hamburgers. $12 for six 12-ounce cans at Bushwick's Fine Fare (1305 Myrtle Ave., nr. Central Ave., Bushwick; 718-455-1551).
8. Captain Lawrence Effortless Grapefruit Session IPA (4.5 percent ABV) The decade-old Westchester brewery amplifies its session IPA's hop-derived citrus aroma and fragrance with the judicious addition of grapefruit. $19 for 12 12-ounce cans at Brooklyn Beer & Soda (507 Flatbush Ave., nr. Lefferts Ave., Prospect-Lefferts Gardens; 718-622-8800).
9. Sierra Nevada Otra Vez (4.5 percent ABV) California-grown prickly-pear cactus and grapefruit update Germany's sour, salt-licked gose (pronounced goes-uh). The lightly tart, tangy crusher will win over margarita fans. $23 for 12 12-ounce cans at Carmine Street Beers (52A Carmine St., nr. Bedford St.; 212-633-2337).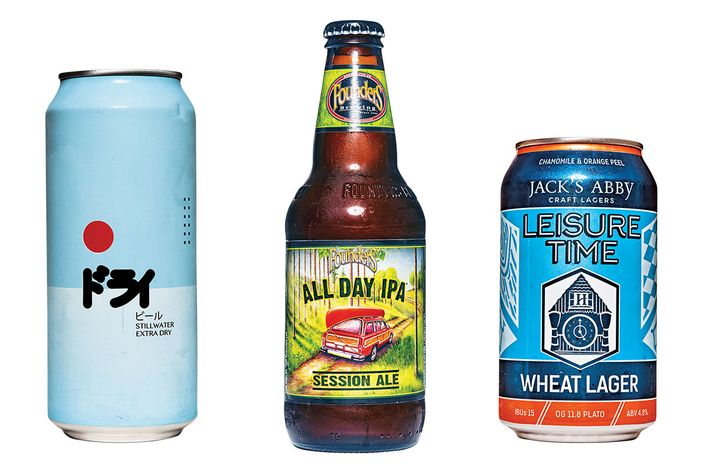 10. Stillwater Artisanal Extra Dry (4.2 percent ABV) Sake rice turns the itinerant brewer's Japanese-inspired saison as dry and crackling as kindling. Serve it with sushi and heat waves. $3 for 16 ounces at Astoria Bier & Cheese (34-14 Broadway, Astoria; 718-545-5588).
11. Founders All Day IPA (4.7 percent ABV) The Michigan-made IPA's massive citrusy pop and major affordability make it ideal for beach coolers and BBQs alike. $23 for 15 12-ounce cans at Murray's Cheese (254 Bleecker St., nr. Cornelia St.; 212-243-3289).
12. Jack's Abby Leisure Time (4.8 percent ABV) Made by a sibling-run Massachusetts brewery specializing in lagers, hazy Leisure Time is delicately spiced with lemongrass, orange peel, chamomile, and coriander. $2.29 for 12 ounces at St. Gambrinus Beer Shoppe (533 Atlantic Ave., nr. Third Ave., Boerum Hill; 347-763-2261).
*This article appears in the June 27, 2016 issue of New York Magazine.