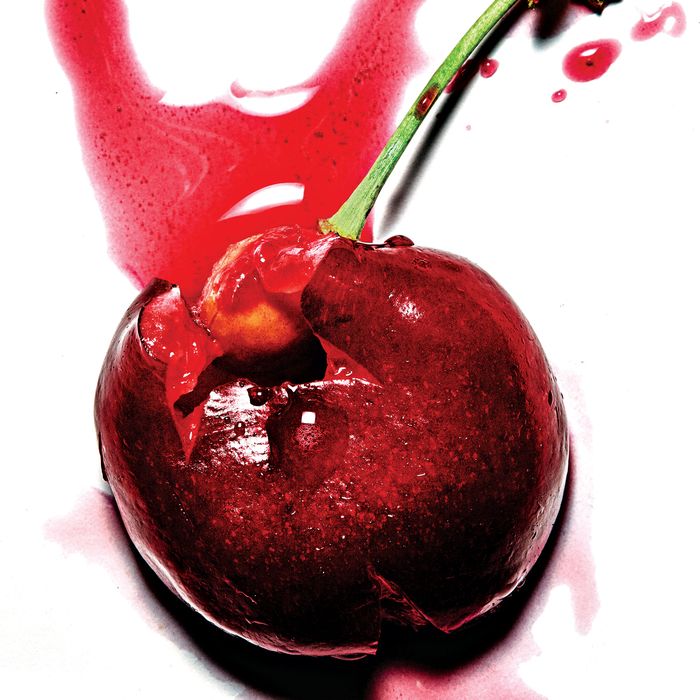 A freshly picked cherry.
Photo: Bobby Doherty/New York Magazine
You may have already filled up on fried food and pounded some boozy milkshakes, but there are still plenty of extravagant summer food and drink options ahead of you. Here, a sampling of our favorites.
1. Play pin the tail on the Veniero's.
1. Get a table at the old-school East Village bakery, and spread out the pages of its dessert picture menu.
2. When the waiter arrives, close your eyes, point anywhere on the pages, and say, "I'll take these."
3. Open your eyes to see what you ordered.
4. You win.
2. Get high on ice-cream sandwiches.
There's a trendy, lines-down-the-block ice-cream parlor, which shall remain nameless, that's known to keep a stash of ice-cream sandwiches infused with a "special" secret ingredient. An anonymous tipster ate a whole one and says it's a doozy. Another off-the-books stoner option: a bar with old-world charm and $10 cocktails in a certain family-oriented outer-borough neighborhood where those in the know can ask to boost any cocktail with a few drops of the bartender's homemade "infused" bitters.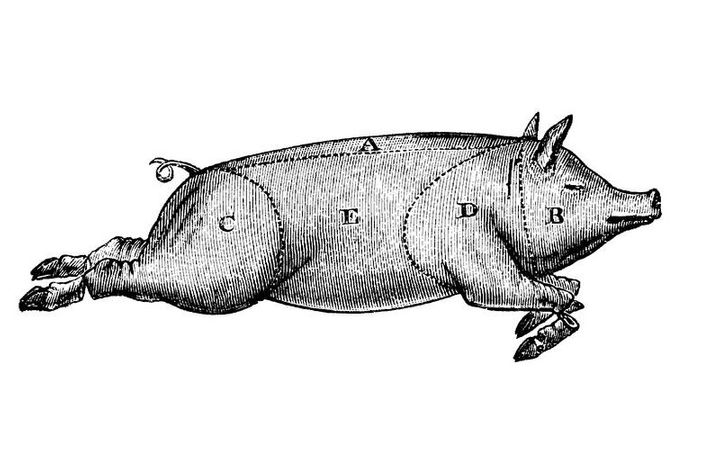 3. Stuff your face with one single particularly-bad-for-you type of food.
July 4: The Fourth of July International Hot Dog Eating Contest on Coney Island.
The record: 69 hot dogs in ten minutes. The jackpot: $40,000. (Next available qualifying heat: June 19 at Citi Field.)
July 9-10: N.J. Bacon Fest at the Tuckerton Seaport.
A weekend devoted to the crispy treat, featuring a bacon-eating competition and mini-pig races.
August 8: The Tioga Downs World Chicken Spiedie Eating Championship in Nichols, New York.
For the uninitiated, a chicken spiedie is a local type of spit-roasted chicken sandwich on a bread roll.
August 19-21: Hudson Valley Ribfest in New Paltz, New York.
Sixty barbecue teams face off for the title of best in show.
September 10: Seventh Annual Pig Island Festival in Red Hook.
A pork-only outdoor eating extravaganza.
4. Have someone hand-feed you freshly picked cherries.
Battleview Orchards in Freehold, New Jersey (about an hour drive from the city), offers all-you-can-pick cherries starting in mid-June. After picking, recline on the grassy fields between rows and rows of cherry trees, and if you ask nicely, one of the friendly staff members will hand-feed you your pickings.
5. Blow your rent check on a single cocktail.
Order the new $500 Le Roi at the Baccarat hotel, and the barkeep will mix Nolet's Reserve, Grey Goose VX, and Lillet Rose and serve it in a personalized, engraved Baccarat crystal glass. Meanwhile, the London hotel's new Billionaire Margarita ($1,200) involves organic Cara Cara-orange bitters and Patrón en Lalique Serie 1 — a $7,500-a-bottle tequila.
Reporting by Belle Cushing, Arianna Davis, Molly Elizalde, Jason Feifer, Bennett Marcus, Rob Patronite, Robin Raisfeld, Hilary Reid, Katy Schneider, Abby Schreiber, Lauren Schwartzberg, Alexis Swerdloff, and Mary Jane Weedman.
*This article appears in the June 13, 2016 issue of New York Magazine.