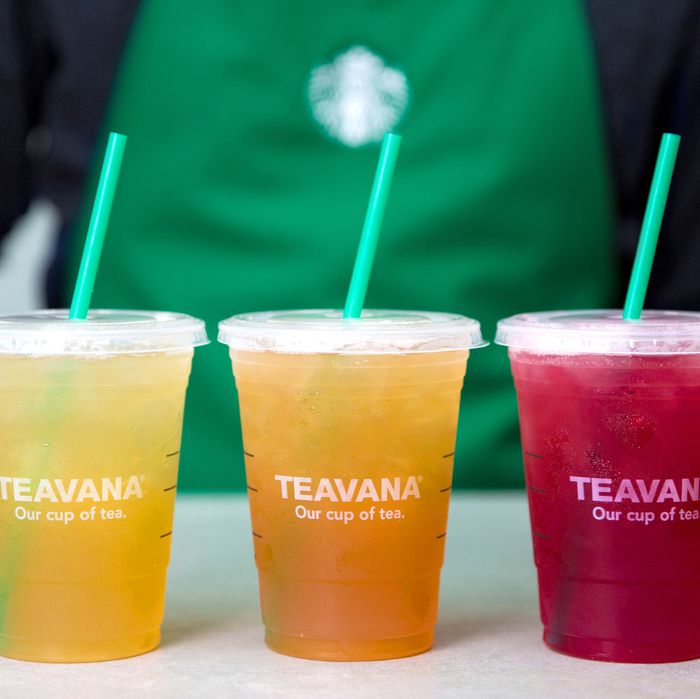 But can you spike it?
Photo: Starbucks
Eager for more of the billion-dollar tea market now that specialty coffee's being sold at Dairy Queen, Starbucks is going to start selling bottled Teavana for the first time in grocery stores. An undertaking this enormous requires help on the production end, though, and the coffee giant has found just the appropriately supercolossal bottling conglomerate to lend a hand: Anheuser-Busch InBev.
In an announcement late Thursday, this drink dream team says consumers can expect a line of Teavanas in some 300,000 U.S. supermarkets and convenience stores by next year. Unlike Starbucks's other tea brand Tazo, Teavana has been sold as loose-leaf up till now, but these new bottles will presumably feature Teavana's top sellers in a ready-to-drink, likely presweetened form.
Starbucks says the partnership presents a "significant growth opportunity," and the people at A-B InBev sound pretty psyched, too. "We see an amazing opportunity for tea," CEO Carlos Brito tells The Wall Street Journal. Although he could have said "any liquid," really, as the opportunity is more about A-B InBev's ability to run breweries at full capacity, giving its network of 500-plus distributors something nonalcoholic to sell as America's appetite for watery domestics continues to plummet.
Starbucks bought Teavana in 2012 for $630 million, its biggest acquisition ever. At the time, CEO Howard Schultz said the brand represented an untapped "$90 billion global market opportunity," and he unveiled a plan to Starbucks-ify what was mostly a mall retailer. However, the company's Teavana "tea bar" experiment ended in an unmitigated disaster that not even an Oprah endorsement could save. It looks like the backup plan dials expectations down to more of a 7-Eleven or AriZona-iced-tea level. But hey, the potential is endless: Imagine the new customers an "America"-beer-flavored Frappuccino could bring in.
[WSJ]