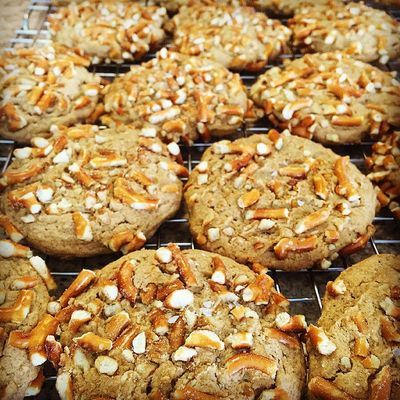 Who could resist peanut-butter pretezl cookies?
Photo: Tracy Obolsky
Over the last decade, Tracy Obolsky has established a place for herself among the upper echelons of New York's pastry world. A laid-back surfer who accidentally fell into the kitchen life, she's made ice cream with Nick Morgenstern at the General Greene and worked in kitchens including Esca, North End Grill, and Cookshop. Now Obolsky has left the Manhattan dessert circuit to open a bakery in the Rockaways.
Her latest project is located in Averne on the northern side of the peninsula. It will be called Rockaway Beach Bakery, and Obolsky plans to open, in some capacity, in a couple of weeks. (She doesn't want to share the exact address just yet, but equipment nevertheless is being delivered starting tomorrow.) When she's up and running, she'll offer wholesale baked goods for local businesses and have a takeout window, which will open at 6 a.m. to peddle coffee and biscuits for local fisherman. She'll also drive a VW van to the beach to sell sandwiches and pastries, which will maintain her trademark mix of familiar and innovative. Think: peanut-butter pretzel cookies, and salted-honey croissants.
This, actually, is just one of two projects Obolsky will work on. She also plans to collaborate with Whitney Aycock — New York's very own pizza nazi — in the same space on a project and will whip up things for him like Cap'n Crunch–Rice Krispie treats and a Fernet Branca–infused shortbread cookie.
Opening in an out-of-the-way neighborhood like Rockaway might seem risky, but Obolsky sees it as filling a void: "There really isn't anything else out here," she says, adding that Dunkin' Donuts is basically the only option for coffee in the Averne area at the moment. "I'm going to be doing a lot of bread, and there's not really anywhere you can get fresh croissants or sourdough bread or anything like that."