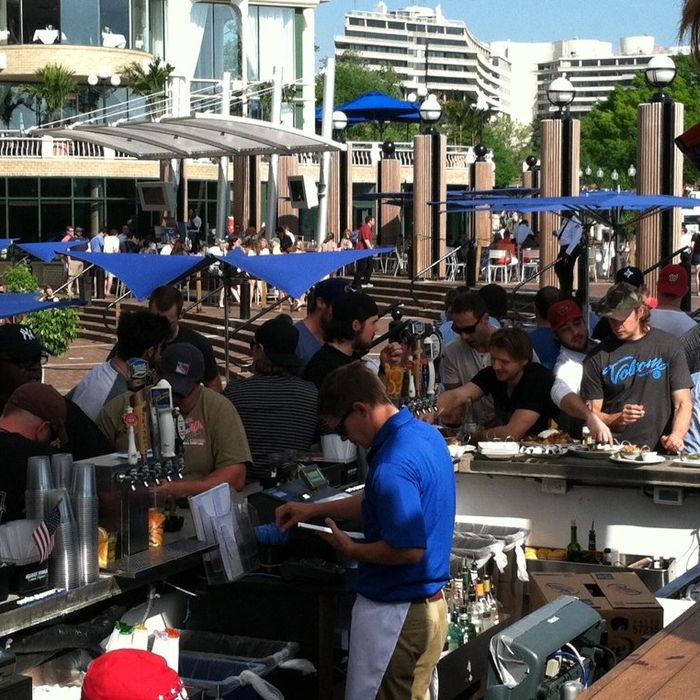 Talk about a Friday-afternoon news dump.
Photo: @NicksRiverside/Twitter
After conducting "extensive research" on the matter, the owner of the D.C. restaurant that earlier this week accused a Yelper of pooping herself says it appears it was wrong. Whatever disagreements remain with the one-star review from Yelper "Emma C.," Greg Casten now comes forward to say that, in retrospect, he doesn't think she lost control of her bowels at Nick's Riverside Grill last week after all.
On Yelp, Emma called Nick's staff out for apparently showing little regard for the fact that she'd been overcharged for drinks. This drew an angry retort from a manager that described, in great detail, how Emma had wreaked legendary havoc on Nick's that day by soiling herself, staying seated in the mess so the staff had to divert customers around her, and then tossing her ruined clothes in the restaurant's trash. "Never return to any of our establishments until you are potty trained," the manager wrote. People hailed it as an instant-classic bad-Yelper burn.
It's safe to say Casten now regrets pretty much all of this. In an email to City Paper, he writes: "I believe that Nick's Riverside Grill has made a mistake. After extensive research which revealed new facts, stern cross examination of the numerous employees involved, and speaking with the friends of the woman who wrote the review, there is clear evidence that a mistake in identity did happen."
He continues:
I also stand behind [my employees] and believe this was an honest error and not meant to be anything other than an expression of disbelief that someone might lash out at our establishment considering the above and beyond the call activities that were necessary due to another's situation. And certainly was not expecting the story to be a headline.
At last check, Emma had told the paper she was looking into hiring a lawyer but said she'd give Nick's a chance to redeem itself by written apology. "I will decide about pressing charges once I actually receive the letter myself," she says.