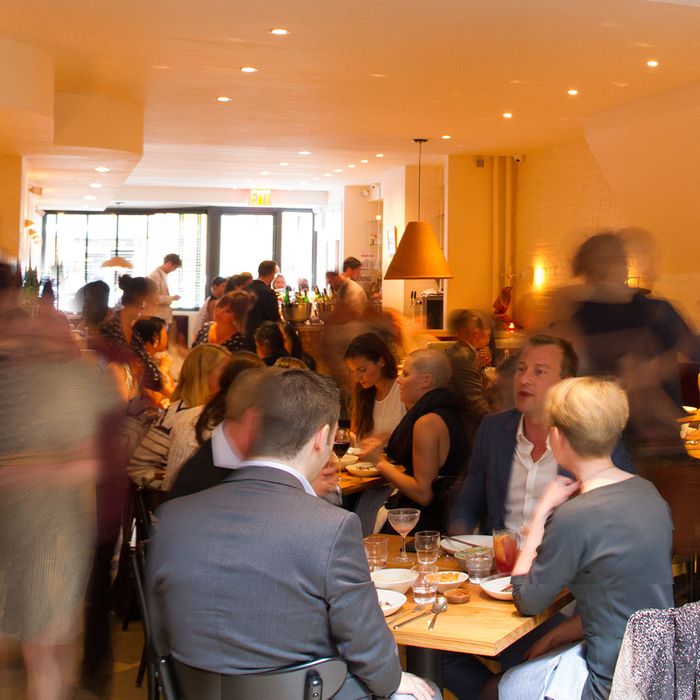 Nix.
Photo: Tirzah Brott/New York Magazine
Vegetables have been at the apex of the food-fashion pyramid for several years now, so it's only fitting that James Truman — who made a name for himself as top curator and tastemaker for the Condé Nast empire and now does more or less the same thing for the hotelier André Balazs — would develop a restaurant devoted to, well, hyperfashionable vegetables. There's a pleasing veil of potted vines hanging over the kitchen window at Nix, which is located, conveniently, just below the Greenmarket in Union Square, and the little lamps scattered here and there around the narrow, white-painted room are constructed with what our brightly smiling server described as "salvaged driftwood trees." (They're fashioned from juniper roots, for the record.) Spiced pumpkin seeds are the snack of choice at the festive little bar up front, and the house martini (they make it with vodka, but please specify gin) is garnished not with an olive or a twist but with a sprig of fresh thyme.
Truman also had a hand in the fine Balazs restaurant Narcissa in the Standard hotel on the Bowery, and his partner here, as there, is the talented John Fraser, who has been at the forefront of the city's haute-vegetable movement for years. Fraser's produce-rich menu at Narcissa is intermingled with all sorts of more standard, meaty dishes, but at Nix there is no escape from the gentle procession of avocado (seared on a griddle and plated in a soothing puddle of tomato water), carefully articulated kale salads (scattered with sunflower seeds and sweetened hijiki), and boutique Champagne mangoes from Mexico flavored with Espelette pepper and lime. Mercifully, there's plenty of bread available, too, in particular the exceptional house tandoor (offered with a medley of hummus, eggplant, and avocado dips), which heavy eaters can fortify themselves with before all the healthy roughage arrives.
Not that every carefully contrived vegetable combination at Nix seems all that healthy, at least not in the usual edifying, spa-friendly, hypervegetarian way. The recipes change all the time, but on my visits, the aforementioned avocado and tomato water was plated with a wad of milky-fresh mozzarella, and the egg salad I ordered one evening off the "Lighter" column of the menu was folded in a creamy mayonnaise spiked with habanero and a light dusting of crushed potato crisps. The "Bolder" column of the menu contains a hunk of deep-fried potato bread the size of a small limpet mine, and an ingenious David Chang-meets-General Tso vegan-chicken mash-up made with tempura-fried pieces of cauliflower shellacked in a sticky Tso's-like sauce flavored with paprika, served with a little sidecar of house-cured pickles and a bamboo steamer filled with a stack of moon-shaped steamed buns.
It is possible to dine like a healthy vegetarian at this bright, buzzy, almost excessively trendy little restaurant (the certified vegan options include a brown-rice stir-fry and shreds of artichoke and broccoli rabe sautéed with tomatoes), but the sinful dishes are much more fun. I'm thinking of the shiitake "cacio e pepe," which Fraser and his cooks poach in butter and toss with polenta, and the pile of morels plated with barley and little asparagus spears, which coheres nicely with a large poached farm egg. There's not quite as much bravado on the short dessert list, although the house sorbets are spiked with various enticing things (apples, chopped cucumbers, slivers of candied olives), and if you want to go hog wild, call for an order of the modest, beignet­like nun's puffs, which you can dip in a pot of warm caramel lightened with a few spoonfuls of goat's milk.
Ignacio Mattos's latest Soho venture, Café Altro Paradiso, is another new, crowded, excessively trendy downtown restaurant, although if you're not a fan of the chef's excellent dining bar, Estela (or even if you are), you might wonder what all the fuss is about. Unlike the intimate walk-up space on East Houston Street, this larger, pleasantly boxy room feels like the kind of amiable, high-volume place that you'd wind up in for brunch after aimlessly wandering the leafy streets of Kansas City or Seattle on a Saturday afternoon. ­Compared with the vividly focused Mediterranean-esque cooking at Estela (honey-­drizzled lamb ribs, mussels escabèche, burrata dripped with salsa verde), the modest, almost achingly familiar Italian menu (yes, there is crudo, and grilled octopus, and housemade gnocchi, and ribbons of carefully procured charcuterie) feels a little run-of-the-mill too.
Not that I didn't enjoy my visits to Café Altro Paradiso. The seared octopus was chopped into plastic-hard chunks on the evening I tried it, but the burrata was very pleasant (it's touched here with lemons instead of salsa verde). The charcuterie-style offerings were very nice, too (the spicy disks of coppa; the fatty, dissolving strips of testa headcheese), and you can complement them, if you're in a hearty mood, with popping little pork sausages of the Tuscan school and a decorous slice of calf's liver, dressed in the Venetian style with onions and vinegar. Except for the ricotta-stuffed ravioli, however, the pastas tend to blend into a kind of rustic sameness, as do the four minimalist entrée options (non-liver eaters, try the swordfish), and the desserts, which include those ye-olde-trattoria stocking stuffers, panna cotta (doused with a little too much balsamic) and a pre-potted little brick of tiramisu.
Nix
72 University Pl., nr. 11th St.; 212-498-9393; nixny.com
Open: Dinner nightly.
Prices: Appetizers, $10 to $15; entrées, $15 to $25.
Ideal Meal: Tandoor bread with dips, avocado à la plancha, cauliflower tempura, sorbet.
Note: Yes, vegans, you can get your own special menu upon request.
Scratchpad: Two hearty stars for the elegant (and hearty) vegetarian cooking.
Café Altro Paradiso
234 Spring St., at Sixth Ave.; 646-952-0828; altroparadiso.com
Open: Dinner nightly, weekend lunch.
Prices: Appetizers, $6 to $23; pastas and entrées, $19 to $38.
Ideal Meal: Testa, ravioli di ricotta, swordfish or liver, chocolate-and-walnut tart.
Note: The 11-page wine list is ambitious for a café this size (there are several thousand-­dollar bottles) and deserves a slightly more ambitious menu.
Scratchpad: One half-star for the decent trattoria cooking and another half-star for the drinks, service, and decent if unremarkable space.
*This article appears in the June 27, 2016 issue of New York Magazine.