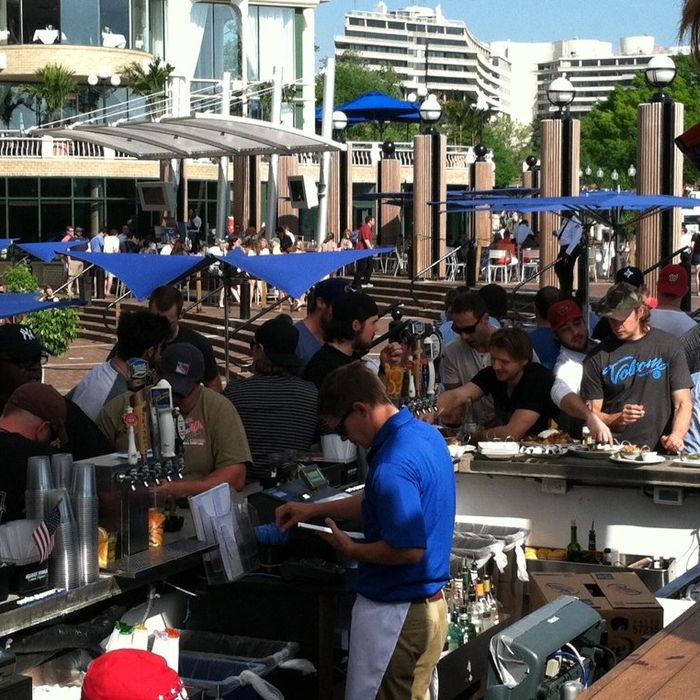 Where the pooping went down.
Photo: @NicksRiverside/Twitter
The reviews themselves may or may not be dubious, but Yelp continues to be the best place to catch restaurateurs and their customers behaving like absolute adult babies. The owner and manager at Nick's Riverside Grill in D.C.'s well-to-do Georgetown neighborhood and a disgruntled Yelper are squabbling over the bad review she left and the detailed rebuttal they then posted about how her complaints are untrue, and, just for what it's worth, she also totally pooped herself.
Problems began after "Emma C." left this one-star review (it's since been removed):
NEVER GO AGAIN!WORST SERVICE!I went there for happy hour and they hold my card at the bar. Charged me two drinks and more while I only ordered one hh drink. I asked the bartender, he said he didn't have the right to change the bill and asked me to call the managerlater since he's out. I called and they just said manager is really busy and will call me back. As u can figure, no call at all. And they post the charge without my signature! I didn't sign the bill!! If u swipe my card wrongly for someone else, I'm not the one paying for it.
In reply, Nick's management addressed her allegedly selective memory, saying there was little doubt Emma had had two drinks because she was "hard to forget":
Out of compassion and being decent human beings we did not charge you a waste removal fee. We were trying not to cause anymore embarrassment or humiliation to you. But after receiving your phone call and seeing this review on yelp, we feel we are justified in defending ourselves. The fact of the matter is you lost control of your bowels in the middle of our restaurant, and you proceeded to sit in it for the remainder of the evening, making more of a mess. We had to reroute our other patrons so they didn't walk through your mess, causing quite a scene. You then proceeded to throw your underwear away in our trash can and our poor manager working that night was left to clean up your feces.

So for you to have the audacity to leave this review when we went above and beyond to make sure you were taken care of is petty and ridiculous. We hope in the future you will think before you act. We would be happy to refund your entire bill with the understanding you will never return to any of our establishments until you are potty trained
The response is already being applauded as "a classic response to a bad Yelp review," although Emma is still ranting as well, claiming Nick's staff are so inept, they can't even realize they've accused the wrong person of soiling herself. She tells City Paper her outfit was entirely different from the pooper's, and is now emailing media to "hopefully prevent anyone from continuing to spread a story that isn't true":
It was merely a coincidence that I was at the bar the same night as this other girl, who I feel bad for since she is also being publicly dragged through the media.

I just wanted to clarify that I'm just a dissatisfied customer who is now being accused by this establishment of being someone that I'm not, saying some very nasty things about me and also insulting this other girl who could potentially have serious health issues.
Owner Greg Casten has re-replied to Emma's reply that they have her face plain as day on security-camera footage, and one can only hope this is precisely the kind of thing viewers can expect to see acted out, America's Most Wanted style, on the Food Network's upcoming show 12 Hungry Yelpers.
Update: Casten now admits he was wrong, saying "after extensive research which revealed new facts, stern cross examination of the numerous employees involved, and speaking with the friends of the woman who wrote the review, there is clear evidence that a mistake in identity did happen."