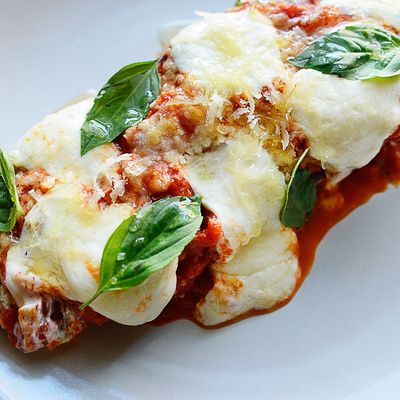 What you might call a "vegetable-forward" eggplant parm from Barano.
Photo: Jody Wissner/New York Magazine
Throughout the great history of New York's many Italian restaurants, one style has endured: the classic red-sauce joint, defined as much by a commitment to Italian-American standards — your veal Parms, a nice plate of linguine with clams — as it is by a certain dated décor (checkered tablecloths, the Chianti-bottle candles). Classic spots like Queen Italian Restaurant in Brooklyn Heights, Bamonte's in Williamsburg, and Emilio's Ballato carry on the tradition proudly, but nobody's going to call them cutting edge.
So the question facing New York restaurant critic Adam Platt and Grub Street editor Alan Sytsma in this week's episode of the Grub Street Podcast is this: Is it possible to create a new restaurant that maintains the best parts of the archetypal red-sauce experience that also takes into account the prevailing winds of our current culinary moment? Carbone, of course, is an example of a new restaurant that nods to the red-sauce tradition, but it's such a faithful re-creation that it feels as much like theater as it does a restaurant.
So, to see if there's a kind of happy medium, the duo traveled to Williamsburg — much to Mr. Platt's chagrin — and talked to Albert Di Meglio, chef and owner of the brand-new Barano, which seems to navigate the two worlds as well as anywhere.
Check it out at iTunes or on SoundCloud.