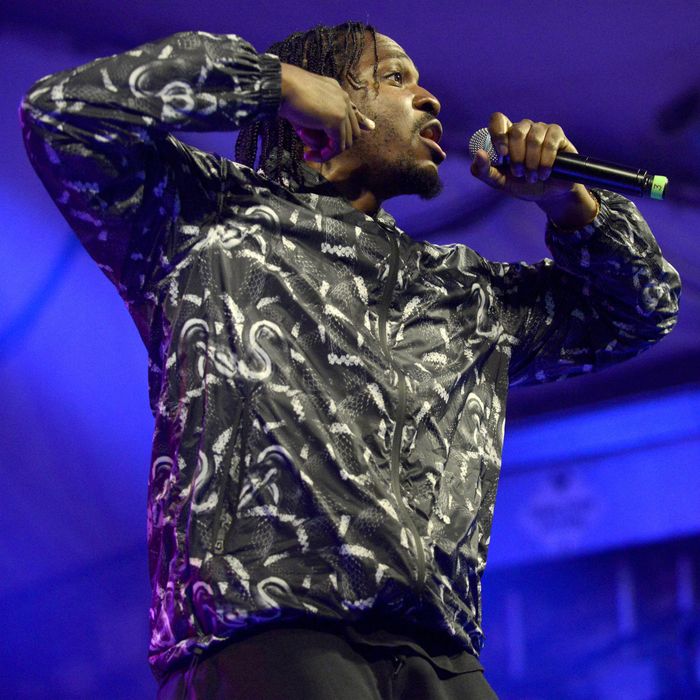 The man behind the most famous fast-food tagline of all time.
Photo: Tim Mosenfelder/Getty Images
No longer can you blame JT the next time "Ba-da-ba-ba-ba, I'm lovin' it" starts playing on loop in your head. Justin Timberlake did famously sing the addictive iconic jingle when it came out way back in 2003. But as Steve Stoute, whose firm Translation brokered the deal for McDonald's, said during a radio appearance Thursday on New York's Hot 97, "I'm Lovin' It" actually wasn't the work of Timberlake or Pharrell, the other person long thought to have penned it, but of Pusha T, a longtime collaborator of Pharrell's who was largely unrecognizable at the time.
Hot 97's host Ebro Darden was talking about how much Timberlake and Pharrell remade the face of McDonald's with the song, when Stoute interrupted to drop this bomb: "No, you know who did that? Pusha T. That's crazy that Pusha T wrote the song to McDonald's 'I'm Lovin It.'" (It comes around the four-minute mark in the video below.)
Pusha T's reps have since confirmed to Rolling Stone that he did, in fact, compose the song. Timberlake got paid $6 million for singing it, and while Stoute says he can't remember Pusha's take, it's fair to say "nobody was upset."
Pharrell fanboys whose minds are blown can also check out this extended version of a 2003 "I'm Lovin' It" ad that's surfaced online featuring someone distinctly Pusha-like front and center on vocals: