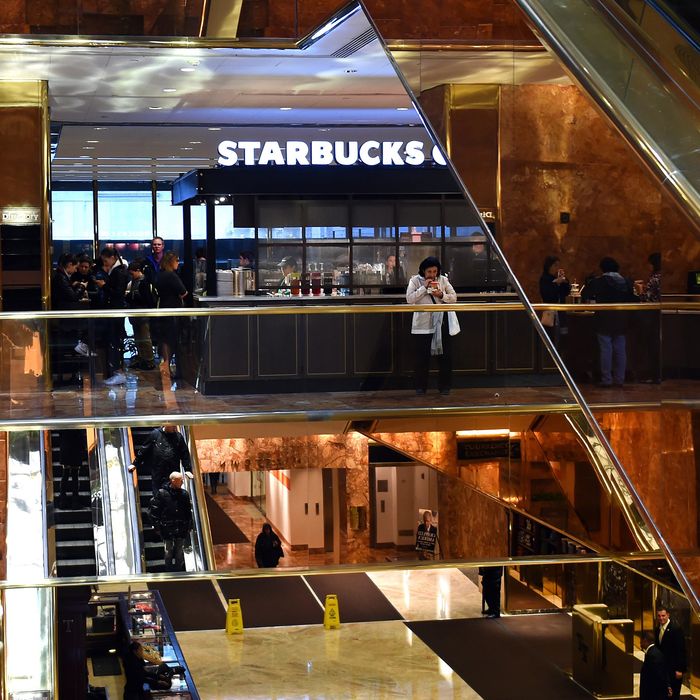 Make Trump Tower Starbucks-Less again.
Photo: Timothy A. Clary/AFP/Getty Images
Starbucks has suddenly found itself on the unfamiliar side of social activism: A petition is circulating online that demands the coffee chain, arguably among America's most overtly political corporations, terminate any and all leases it holds on properties owned by Donald Trump. It's racked up 7,000 supporters in less than a day and, at last glance, had already stretched that goal to 8,000.
On the page for the petition, posted to activist-networking site Care2, creator Kyle Brooks tries to clue CEO Howard Schultz and the rest of the company in to the paradox he sees:
Starbucks is a bold company that values belonging, inclusion, and diversity. They have continuously stood beside the LGBT community, African-Americans, and other minority communities. Unfortunately, Starbucks still has a business partner with a man who has called Mexicans rapists, stereotyped the Muslim community as terrorists, and disgraces women.
It's unclear how many Starbucks stores are on Trump properties, but Trump Tower, the Donald's home base in midtown and headquarters for the entire Trump Organization, still has a very conspicuous one in the building's atrium. Trump actually threatened to close it last year after Starbucks released plain red holiday cups that some Christians dismissed as insufficiently Christmassy. Pandering to them at the time, Trump suggested a boycott, then announced very definitive plans to banish the store from his building. ("By the way: That's the end of that lease" was how he unambiguously put it.)
It'd be fair to call that a pretty major swipe by one business partner against another — the sort of thing a person could even see Trump suing for — and Brooks thinks his petition "will send a bold statement that good business partners do not shame each other," and if they do, that it "will not be tolerated." Probably Starbucks's exit wouldn't send any kind of message like that to Trump, but seeing the space all boarded up inside the flamboyantly gold Trump Tower would at least feel like justice was served.
[The Hill]