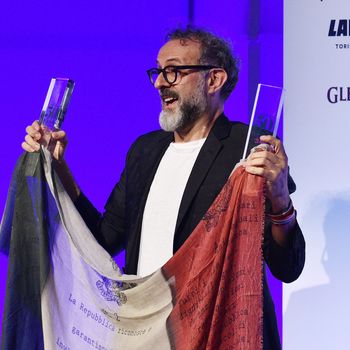 Speech! Speech! Speech!
Photo: Bryan Bedder/Getty Images
Last night, Massimo Bottura's Osteria Francescana, located in Modena, Italy, won the top honor at the "World's 50 Best Restaurants" competition — the first time he has ever placed first. Though the system is certainly questionable (voters aren't anonymous and can accept free meals and trips), there's no doubt that this list has a strong impact on which chefs become internationally renowned. Booking a table at 2015's winner, El Celler de Can Roca, requires advanced planning of an entire calendar year.
At 21-year-old Osteria Francescana, 53-year-old chef Massimo Bottura has slowly worked to reinvent the traditional and conservative cuisine of his home country. In July, when he came to New York to cook at Momofuku Ko for the Gelinaz! Shuffle, he said his ragù preparation, with bone marrow and kimchee, "would never be accepted in Italy." He added, "Italy is such a traditional place that if you think about these kinds of flavors, they would never understand, you know? But New York is New York. It's a place of open minds, so for me, it's okay."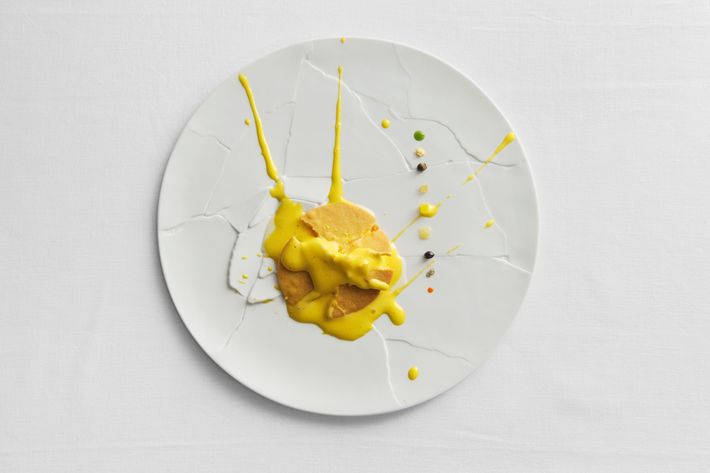 Back home at his 12-table restaurant, his current menu includes a simple tagliatelle with hand-chopped meat ragù; ravioli filled with leeks, foie gras, and truffles; suckling pig with local balsamic vinegar; and "five ages of Parmigiano Reggiano in different textures and temperatures." Unlike the majority of the "World's 50 Best" honorees, he offers both an à la carte option as well as two tasting menus (€180 and €200, before wine pairings).
Bottura is also an art aficionado: The restaurant features his impressive collection, including one of Damien Hirst's "Spin" paintings. Hirst, Ai WeiWei, and Pablo Picasso have even inspired a few of Bottura's artfully composed dishes. The Hirst-inspired "Beautiful Psychedelic Spin-painted veal, not flame grilled" is perhaps Bottura's most famous plate.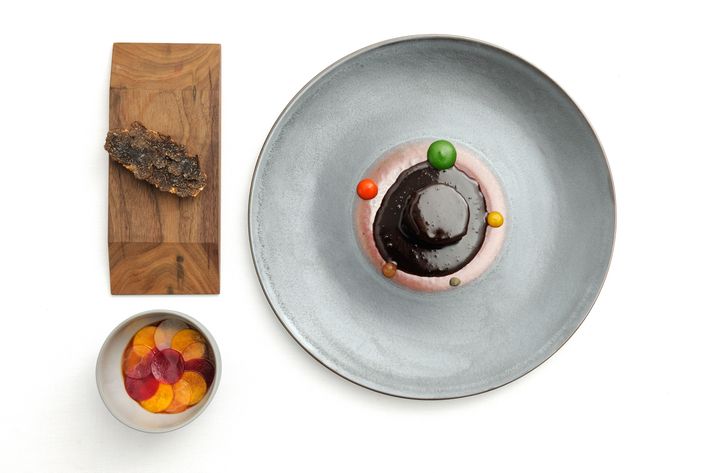 And beyond Osteria Francescana, Bottura is cementing his legacy as one of the world's leading chefs by fighting food waste. He wrote an article for The Wall Street Journal asserting, "Chefs have greater social responsibility than ever before," and created a soup kitchen called "Food for Soul" as part of Milan's 2015 Expo.
When Grub asked Bottura in July if he had his eye on the top "World's 50 Best" spot, he played coy. "Me? Never," he said. "We just enjoy what we do, and I think the Roca brothers deserve to be No. 1 again. We don't cook to be No. 1. We don't cook to be No. 2 or 3 or 4." Still, the chef seemed quite pleased with his success last night, when Daniel Boulud and Alain Ducasse showered him with Champagne inside Eleven Madison Park's kitchen.