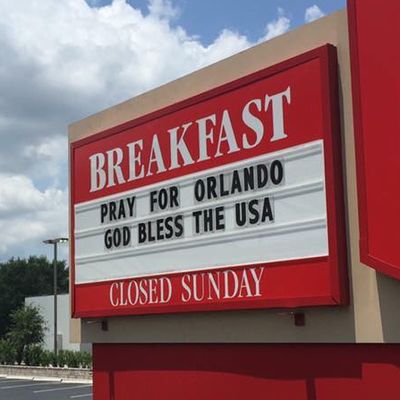 One store's sign after the shooting.
Photo: Chick-fil-A/Facebook
Chick-fil-A threw people for a loop this weekend — not only did several of Orlando's locations open up on a Sunday, God's (and therefore founder Truett Cathy's) official day of rest, but they broke the rules so workers could make free food for area blood donors and first responders. That response was for victims of the weekend's horrific terrorist shooting at Pulse, the gay nightclub some Chick-fil-A employees and customers might have less regard for under different circumstances.
But whatever their politics ordinarily, employees responded with commendable compassion — in the case of one store, they brought hot chicken biscuits and orange juice to stressed police and firefighters. Workers at another location showed up on their day off, fired up the grill, cooked sandwiches, brewed iced tea, and fed a nearby line of blood donors. "A few of our awesome team decided to go to work on a Sunday and make some food for people waiting in line to donate blood," the store wrote on its Facebook page. "We love our city and love the people in our community." Reminding everyone what vantage point the team was coming from, the post ends with the hashtag "#prayfororlando."