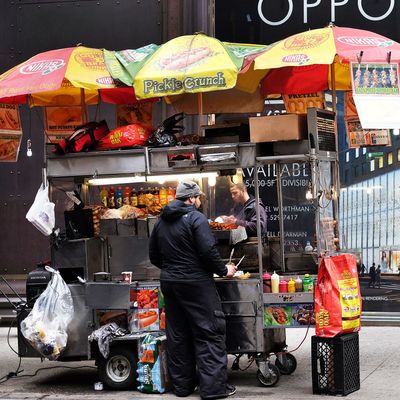 Watch your back, buddy.
Photo: Jewel Samad/AFP/Getty Images
Things are grim for New York's street-food vendors: Of course, a Mister Softee splinter group has been tormenting its name-brand rivals in midtown, even bloodying the occasional pretzel guy with a bat. And now halal-truck operators are apparently settling their turf wars with razor blades.
Vendor Mohamed Awad was charged with felony assault and weapons possession on Tuesday after he allegedly slashed a rival, Eissa Naser, who parked his gyro cart near Tenth Avenue and 30th Street in Chelsea — known, at least to Awad, as Awad's corner. The NYPD says the two got into a fight, and Awad sliced Naser in the back with a razor, leaving a wound that required five stitches. Naser tried calling police from his phone but collapsed next to his cart.
According to police, Awad initially fled the scene but eventually returned to his cart like everything was normal — a move so shocking that it almost worked, since police assumed he must have been a witness. Naser, a Jersey City father of two, will require two weeks of recovery before he's able to man his cart again.
[NYDN]