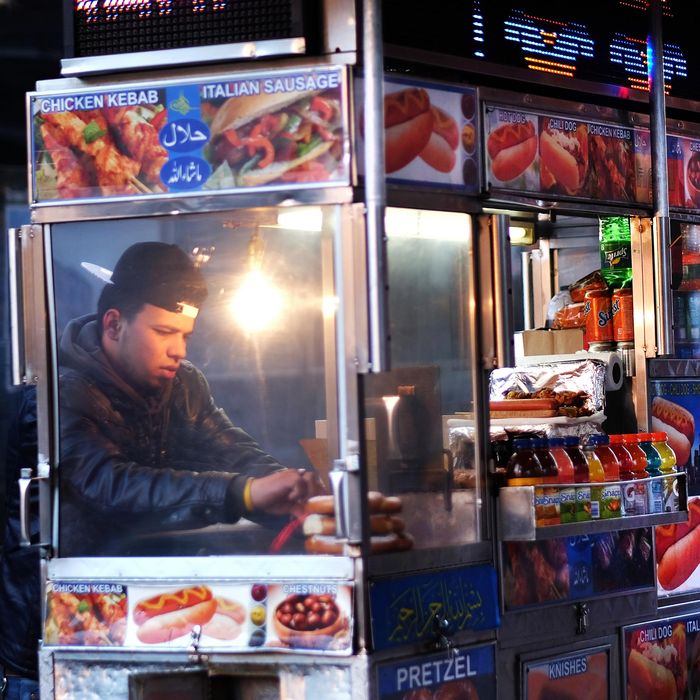 $20,000 is a lot of kebabs.
Photo: Jewel Samad/AFP/Getty Images
New York's food-cart black market is no secret — Ed Koch capped the number of permits at 3,000 in 1981, and, ever since, demand's been considerably higher than supply. Generally, a new vendor's only recourse, therefore, is to "rent" (illegally) a permit from someone who already holds one. This arrangement has been well documented before, but Crain's did a deep dive into the underground food-cart economy this weekend, and it serves as yet another reminder that what was once a way to make a good living, and even eventually own your own business, has morphed into a job that now barely pays these hard workers minimum wage.
Of course, other factors besides exorbitant permit rentals worsen the vendors' plight, but the report makes clear just how much power these $200 two-year licenses give their holders: Cart operators (who already also have to rent their carts, pay cart-storage fees, and buy commissary supplies at markup) are now shelling out as much as $20,000 to sell their hot dogs and dollar coffee. And this price, Crain's says, is still increasing — or "going up, up, up," to quote one guy in the industry — enough that it will probably jump by another $2,000 next year, even though coffee will still be a buck.
Part of the problem can be explained by new rules the city passed:
In 2015, the health department began requiring permit holders to show up in person to contest tickets for violating the myriad rules of where and when carts can operate. (Previously, the licensed food seller was held responsible.) To account for this greater risk, owners are pricing permits higher still. Some even require a security deposit in addition to the biennial fee.
The city also requires that carts be stored in commissaries and cleaned every night, yet these commissaries charge as much as $600 a month. For its part, the city doesn't do a whole lot to crack down on the illegal black market. Fewer than 70 permits have been suspended or put on probation since 2014, even though the pace at which they're changing hands seems as feverish as ever. Vendors and the New York City Hospitality Alliance want a new permit system, but the alliance says "it's difficult to say what a new system would look like." City Council has spent over a year trying to find a compromise everyone will support, but so far it has no solution. (It did manage to put some snazzy ecofriendly carts on the streets, however.) Crain's notes that the vendors, meanwhile, are guys "who started under Giuliani" but "are now well into middle age, and most have little to show for their decades of hard work."
[Crain's]