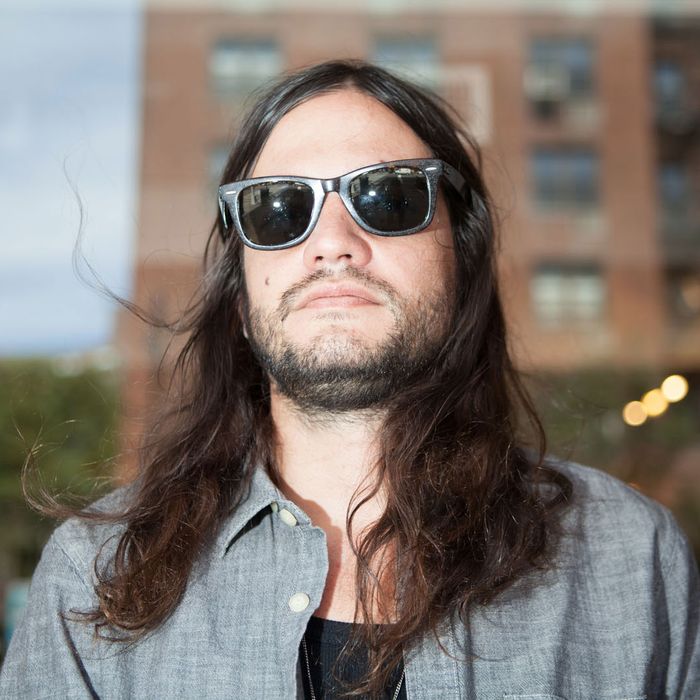 "I picked up all my stuff, took out all of the money that I had, and moved."
Photo: Konstantin Sergeyev
Countless cooks try to mimic the open-fire cooking style of Francis Mallmann, an Argentine who's one of the highest-profile and most influential chefs in the world. But Norberto Piattoni has rare firsthand experience: He worked for Mallmann for four years, acting as his right-hand man, and after traveling around America (putting in time at Bar Tartine), he has decided to settle down in New York. This fall, Piattoni's opening a restaurant in Fort Greene with Henry Rich (Rucola, June Wine Bar, Cassette), where he'll only cook using fire — no gas or electric equipment. But first, Piattoni will test out his South America–inspired recipes at a summer pop-up at Fitzcarraldo in Bushwick. Read on to learn why he's one to watch:
First, tell me about the pop-up.
I'm working with Henry to open a restaurant in Fort Greene. So he owns this space, Fitzcarraldo, which has been closed since last year. I decided to work on dishes here and build up my relationships with farmers, so when we're ready to open the restaurant in Fort Greene, we already have a whole network. For, me it's the first time I'm doing a project in Bushwick, but from what I hear, it attracts a lot of young people, so we don't want to have any high prices on the menu. We want to keep it really affordable for everybody.
What will you cook?
We're going to do a plain, very simple meat-and-cheese plate; a flatbread with tzatziki and eggplant dips; a dandelion-greens salad with radishes and pea shoots with a lemon vinaigrette; steamed mussels — a recipe from Uruguay — with garlic, parsley, and a little bit of white wine. Then we have this potato salad that is inspired by a great dish called taramasalata, and we made this mayonnaise with fish roe. Plus, a whole-roasted chicken with romesco sauce and braised leeks. And two desserts: lavender rice pudding with strawberries, and a rhubarb tart with strawberries.
That all sounds quite lovely and summery.
So this is a starting point for us, for a first menu for our project. All this is going to be served with natural fermented wine. Henry owns the June, a wine bar in Cobble Hill. We're going to be serving the wine in magnum bottles, and the idea is to charge between $6 to $7 for a glass of wine. Maybe $5. Or you can order the whole magnum.
In the outside area, we can cook with fire, so we're going to have a fire pit there. Because, at the restaurant in Fort Greene, we're not using any gas or electric equipment in the kitchen. It's going to be only fire.
All year round?
All year round. We're not going to use gas for anything in the restaurant. It's an open kitchen with coal-fire cooking.
That's indicative of your training with Francis. Before we get into your relationship with him, how did you get into cooking?
I grew up in Argentina, near the Uruguay River, which is what divides Argentina from Uruguay. So, basically, I grew up with the two cultures. And I always was interested in cooking, but when I finished high school, I decided to study chemical engineering. I did that for six years.
What a curveball!
Yes. In the end of the '90s in Argentina, to become a chef it wasn't a career still, you know? Finally, I decided, This is not for me, and two months after, I was cooking. I worked in Santa Fe, Argentina, which is a city three hours from where I grew up, where I studied engineering in college. From there, I moved to another city in another state in Argentina, opening a new restaurant in a golf club. Worked there for a year. And after that said, "Okay, I want to live in Mendoza, and I want to work for Francis." I picked up all my stuff, took out all of the money that I had, and moved.
Had you even met Francis yet?
No. I just wanted to go to his restaurant and see if I could get a job. So I moved to Mendoza, stayed there for like a month, and I couldn't find any jobs. From there, I moved to another city in Mendoza called San Rafael, where I cooked for friends and drank a lot of wine. Mendoza is the place where all the good wine comes from in Argentina. I got a job in a sandwich shop on the way to a big skiing resort, and the brother of the owner of the sandwich shop was the head chef of Francis's restaurant in Mendoza. And his wife's sister was Francis's girlfriend.
They put me in touch, and from there I went straight back to Mendoza and got the staging job in Francis's restaurant. The first day I got there, I was put in charge of the grill. Every night, I took care of the fire. By the end of the first month, the head chef said, "We're going to hire you."
Francis came to me and said, "Norberto, are you able to go to Uruguay? I have a restaurant, El Garzon, and we need people for the season." He said they only needed me there for 20 days, so I said, "Sure." I got to Uruguay in December of 2009, and those 20 days became three years. By the end of the season, I was a head chef of the restaurant, and after that I came back for most seasons to open the restaurant, or in the summer as the head chef.
You really proved yourself.
I worked about six to seven months of the year in Uruguay, and then the rest of the time I was traveling with him. The first year, I went to Patagonia to make one of his TV shows, and cooked for some events, like when the prime minister of China visited Buenos Aires. We cooked a whole bull and about 15 different kinds of animals! I traveled with him to New York, where we cooked for Gramercy Tavern in the street, and we cooked together at Chez Panisse.
At El Garzon, we took over the square where this restaurant is, and we set up a whole block of fire from one corner to another. And one of the most fun things in that time was cooking for the president of Uruguay … I was doing basically all the chef work, and he trusted me and gave me the chance to grow.
What are the biggest lessons you learned from him?
One of the big things is that Francis has worked with so many people over the years, and he's a good teacher. He's around, but he only says something when he has to say it. He's always kind of looking at us and quietly observing, and then he chooses the leaders for his work. So I think he understands and appreciates cooks and how they work, and he cares more about attitude than experience. Like, he sometimes reads a big CV and says, "I don't know. I prefer to get somebody new and who wants to learn."
And I learned about how you can create an amazing scene in the middle of nowhere, because Francis has this way — to bring up a wooden table in the middle of nowhere under a tree, put some linens on top, open a bottle of wine, grab some white flowers, and basically create this wonderful scene without thinking too much.
So why did you decide to leave? And where'd you go?
I moved to L.A. after that. I never had a chance to live outside of Argentina and Uruguay in my life, and I got an offer to open a restaurant in Kentucky, randomly, and I had a girlfriend in L.A. I spent there around six months in L.A. doing pop-ups, and then moved to Kentucky, where I met this guy who owns a horse farm, and I went there. He was in love with El Garzon's style of cooking and wanted this Argentine-inspired restaurant in Kentucky, so I moved there for ten months and opened that restaurant with him. Kentucky was a wonderful experience for me, but you are in the middle of nowhere. To go and want to explore the world, it's not the best place to be.
When I was done, I moved to San Francisco, because before I went to Kentucky, I had a chance to stage at Bar Tartine for two weeks, and I became really good friends of Nick and Courtney and all the staff. So when I was done with my work in Kentucky, I emailed Nick, and he said, "Hey, we need people right now. If you can make it to San Francisco, we'll hire you as a sous-chef right away." Bar Tartine is my favorite restaurant, I think, that I've ever been to. That is where all my love for natural and fermented stuff started to grow.
From there, I moved back to L.A. to start a pop-up dinner series with my friend Max Chow from Mr. Chow, the Chinese restaurant. But California, for me, was quite slow. You know, I was missing something — some energy, some movement. So, last year, I moved to New York, in April, and got in touch with the Fat Radish guys. We did a pop-up in Red Hook, and then in Rhinebeck. And I spent a month with Fernando [Aciar] working at Rockaway Beach, and I was the consulting chef for the Metrograph, and at an Italian restaurant that's opening on Kenmare and Elizabeth in July, called Pietro.
— Who also cooked with Francis, along with Ignacio. Is there a New York tribe of alumni?
Yeah. I first met Ignacio in Uruguay. Francis has had restaurants since the '80s, so there's a lot of different generations of people who have cooked for him. He helped me create a lot of relationships in New York. I met Henry, who's my partner now, through another pop-up at Pioneer Works, and he asked for me to be his chef. He had the space but no concept. I have a good reputation and a good background, so for me that opens a lot of doors.
Francis was always a big deal, but now, with Chef's Table, I feel like a whole new audience has discovered him.
Yeah, Francis was always a huge deal, but it was more just a group of people who knew about him and open-fire cooking. But since Chef's Table came out, now everybody in the world decides to copy him. It's kind of funny.
You've bounced around a lot. Are you here to stay?
Yes. I've been moving around for a long time, so I'm looking forward to having a space to stay. Because when you don't have a kitchen, and you don't have a day-to-day, you can develop your recipes and your dishes, but it's not the same as if you are working every day. You can grow more. If you asked me before, when I was younger, I never had it in my mind to live in New York. Never. But I'm happy here.