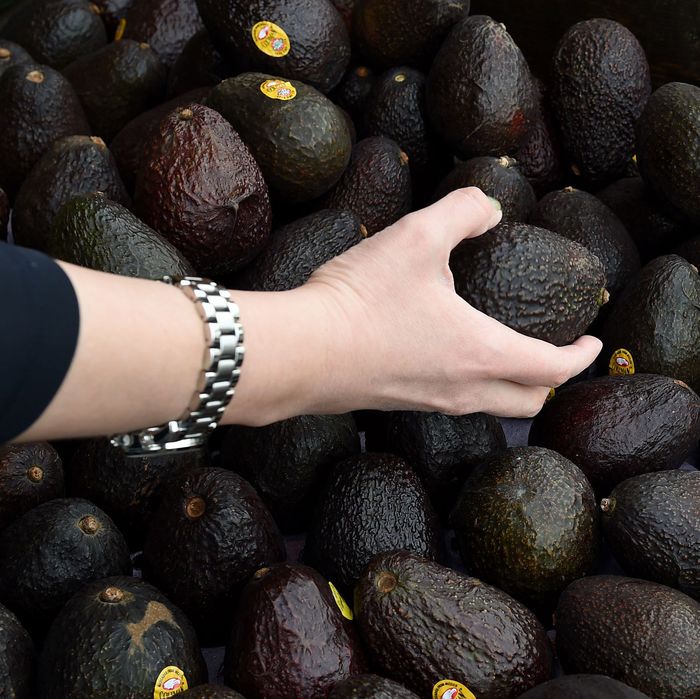 A thriving black market.
Photo: Mark Ralston/AFP/Getty Images
This time, there's no question that the avocado-toast trend has gone too far: Since January, New Zealand has been overrun by a massive crime spree, but no one's breaking into any banks or stealing rare jewels. Instead, these ruthless thieves have staged an onslaught of high-stakes, high-volume avocado heists, hitting innocent orchards on New Zealand's north island in the dead of night and stealing as many as 350 fruit at a time. Nearly 40 raids have been reported, but authorities suspect many others have been committed and gone unreported. In response, some farmers have started installing automatic lights and alarm systems to protect their crops.
The cause of the crime wave is likely the increased price of avocados, which have spiked to roughly $3 to $4 a fruit, a result of a poor growing season coupled with, according to New Zealand Avocado, 96,000 more households discovering avocado toast. Large growers have been unable to keep up with the demand, and the thieves have seized the opportunity so they can sell the avocados themselves at roadside stalls, grocery stores, or small restaurants in Auckland. Though the stolen fruit may have been sprayed recently and so poses a potential risk to unsuspecting customers, the avocado mania is apparently too strong to dissuade anyone. While one small-town police officer believes this is the worst wave of avocado thievery to ever hit New Zealand, the CEO of New Zealand Avocado cautions that this likely isn't the work of an organized avocado-stealing gang.
[Guardian]