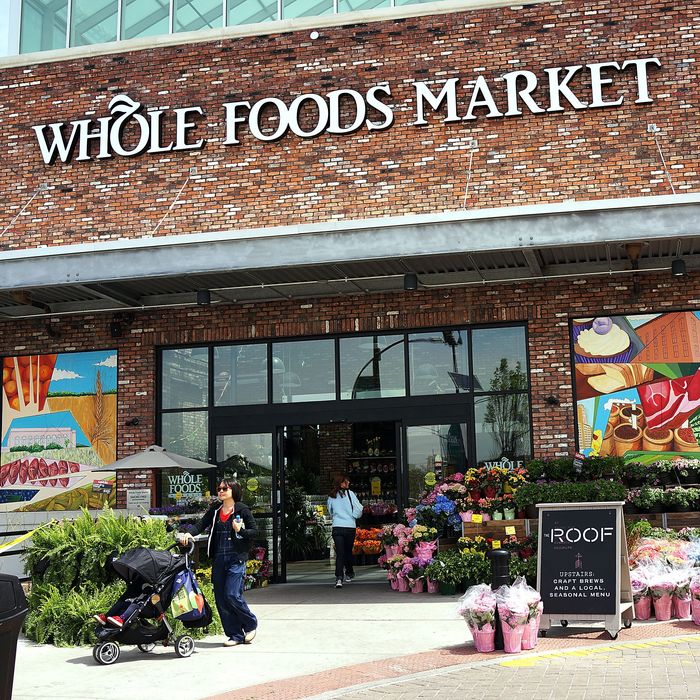 Really thinning out the shelves, guys.
Photo: Spencer Platt/Getty Images
Whole Foods has added two brand-new recalls to a year that's already not going to win an award for product safety. Marin Food Specialties, a manufacturer that supplies raw macadamia nuts to the grocer, warns packs sold out west may be contaminated with salmonella. Another producer, meanwhile, says the pesto pasta salad it makes for stores in the same region could contain listeria — marking Whole Foods' sixth run-in with that particular bacteria this month alone, according to the company's product-recall page.
The pasta salad comes from Green Cuisine, a company that was using peas made by National Frozen Foods, which is a supplier whose factory just made news for having listeria. Packages are labeled as "Whole Foods Pesto Pasta Salad w/ Arugula" and were sold in California, Nevada, and Arizona from June 15 to June 16. No illnesses have been reported yet.
The nuts, meanwhile, were sold in six-ounce tubs at California, Nevada, Oregon, and Washington stores and labeled "Whole Foods Raw Macadamia Nuts," with best-by dates between August 21 and November 6 of this year. Consumers can go back to Whole Foods for a full refund if they still have proof of purchase, but that kind of seems like a big if.
This new spate of recalls comes one week after the FDA warned Whole Foods about a Massachusetts food-prep facility whose cleanliness also gave health inspectors "serious concerns."