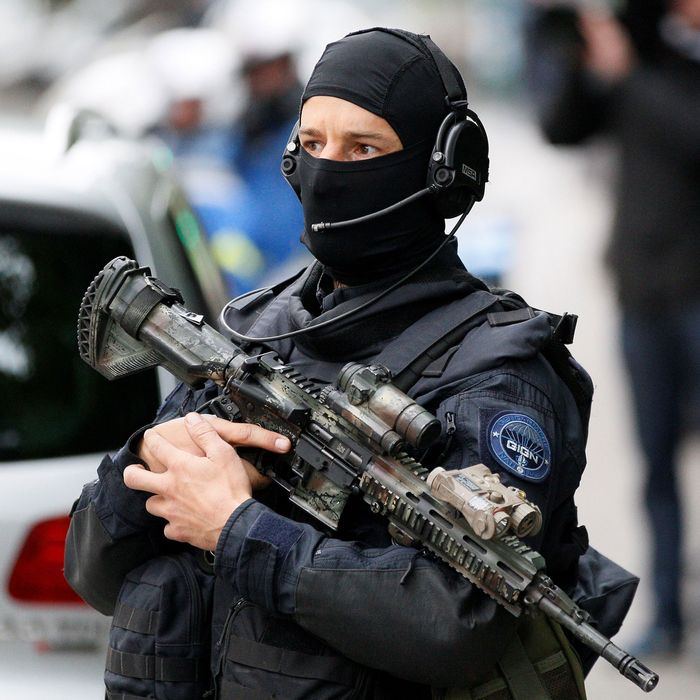 Don't disturb his MacDo with your amateur law-breaking.
Photo: Matthieu Alexandre/AFP/Getty Images
Two dumb outlaws tried robbing a French McDonald's this weekend and discovered midway through their holdup that the customers included France's equivalent of a bunch of Navy SEALs. Per a report by the Telegraph, about 40 diners had their meals interrupted on Sunday evening when the pair of dodos whirled in, fired a shotgun into the air, and demanded staff hand over about $2,300 in cash. Little did they know, of course, that calmly observing the situation between bites of Le Royal with cheese were 11 off-duty members of Groupe d'Intervention de la Gendarmerie Nationale, a special-forces group that's been called "among the most effective anti-terror forces in Europe, if not the world."
The team neutralized the duo tout de suite. They actually waited for the men to exit, to "avoid any collateral bloodshed," then gave short chase. The first guy tripped as he ran because he was loaded down with $2,300 (he must've looked up and seen the GIGN members materialize around him like a bad Chuck Norris joke), and the second guy went ahead and pointed his gun at the trained men, so they were forced to shoot him in the abdomen. Their would-be robbery ended in an arrest and a trip to the local hospital.