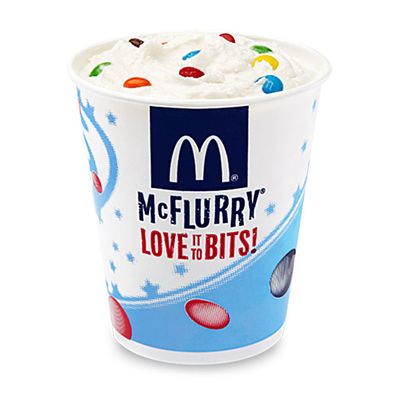 Could be in its final days.
Mars, the world's biggest candy company, apparently believes fast-food chains have made it an accessory to a tragic public-health crime. According to Reuters, the company is trying to stop McDonald's — maker, of course, of the popular M&M;'s McFlurry — from putting Mars's unhealthy candies into McDonald's nominally unhealthier dessert because the resulting concoction is sugar overdrive. The candy-maker's thinking is that since people already consume too much sugar, there's no reason to create desserts like those McFlurries or Burger King's Snickers pie that wipe out almost a whole day's worth of recommended sugar in one serving. Sources tell Reuters Mars would consider reformulating the recipes for the menu items as well.
Last year, Mars publicly backed federal health guidelines that said people shouldn't get more than 10 percent of their daily calories from sugar. A company spokesperson informs Reuters that this commitment "applies to all Mars branded products," so that apparently means meeting with fast-food chains for what have to be seriously awkward conversations. An M&M;'s McFlurry contains 89 grams of sugar, and a large chocolate Blizzard with M&M;'s tops out at 150 grams. (The government's 10 percent rule means that someone on a 2,000-calorie-a-day diet should limit sugar to 200 calories per day, or around 50 grams.) Mars's problem here is that it also makes Skittles, Twix, Milky Way, and dozens of other sugary junk foods, so it's not as if it's playing no role in America's diabetes epidemic. A 1.69-ounce bag of M&M;'s only has 30 grams of sugar, but it's one-seventh the size of a McFlurry, so technically if eaten in equal amounts, the McFlurry is way smarter than gorging on the candies by themselves. It takes a minute for the logic of the attack on McDonald's and other chains to sink in, but as food writer and nutrition professor Marion Nestle ventures, "They must think it's to their marketing advantage."
Rival candy-maker Nabisco doesn't appear to share this feeling, so no fear — those Oreo McFlurries ain't going nowhere, baby.
[Reuters]