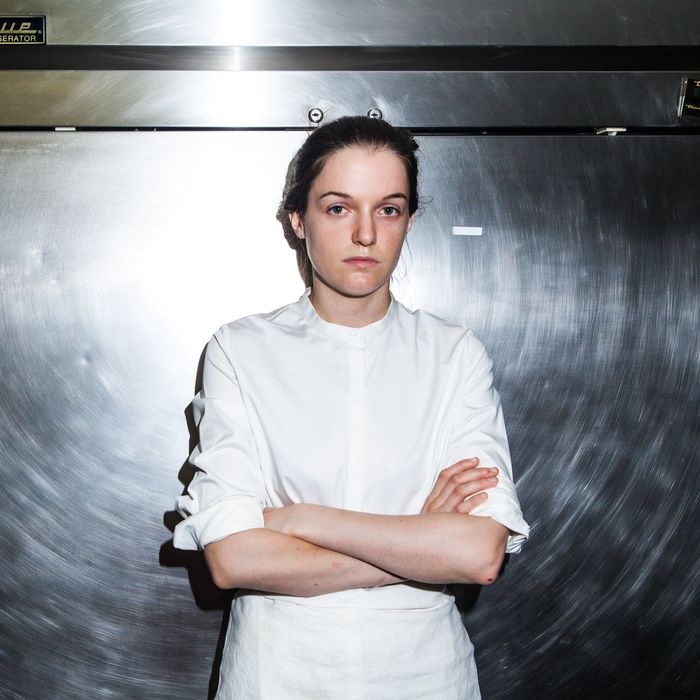 "Before, we really had to fight for the whole cow."
Photo: Konstantin Sergeyev
Mimi, a 27-seat French bistro, quietly opened in Soho in the fall, but only recently have critics begun heaping praise on the place: Last week, New York's own Adam Platt awarded it three stars, and GQ's Brett Martin named it one of the 12 "best" new restaurants of 2016. Before that, the Village Voice gave Mimi a glowing review that may have first tipped people off. Credit goes to Liz Johnson, a 25-year-old chef who's been cooking since age 15 and has put in time at Noma, Chicago's Grace, Toro, and Má Pêche, to name just a few spots. Even when Mimi was "really slow for a long time," Johnson — who has no stake in the restaurant — stood by her vision to make rich, intense dishes like veal Oscar and throwback French desserts like baba au rhum. Grub spoked with Johnson about her impressive career path, why she's obsessive about sourcing products, and how she's dealing with cooking in a restaurant that's suddenly slammed every night.
It's hard to Google-stalk you. When did you begin cooking? What's your background?
I started cooking when I was 15. I've never held a job that wasn't in a kitchen. I've been fortunate enough to pretty much know that I wanted to be a chef for my entire life. I just kind of went for it. When I was 16, I left high school early to go to a local community college to take cooking classes, and then I got into CIA. I graduated and took a job in Boston at Toro. And then I took a temporary job in Manhattan — I went to work for Má Pêche for a little bit. They needed somebody, and I had a couple of months in between Boston and going to Copenhagen. I got accepted to Noma, so I had downtime.
What's the application like?
I just wrote them a letter and I was like, "I really want to work here." Jamie [Bissonnette] got me the cookbook for Christmas my first year at Toro. I really honestly didn't know a lot about food or restaurants or the top 50 list or anything, and Jamie was just like, "You like heavy metal, you like Scandinavian stuff, here's this cookbook." I remember reading the book and tears coming to my eyes. I thought, I have to go here. I have to go here. Yeah, I basically wrote them a letter saying that.
How long were you there?
I was there for a month. I was only there for a bit. I met my fiancé [Will] there, and we left early and traveled around a little bit. We went to Sweden. We ate at Fäviken and all these places. That was kind of cool. Next I was in Charleston and Chicago, and then we went to Japan for like over half a year, cooking at a restaurant called L'Effervescence in Tokyo. Traveling was so awesome. I miss it a lot. It was just so cool cooking with no responsibilities. I love Japanese culture, cuisine, everything about it.
How was Charleston?
I honestly didn't like it there at all. I'll be straight-up honest. Hated it there. Met up with Will and went to Chicago for a little bit.
Where in Chicago?
I was at Grace, and he was at L20.
You've made the rounds — and you're 25, yes?
Yeah, we've kind of bounced around a little bit. When we got back from Japan, I wanted to come to New York, but I didn't really have enough funds, so we went to D.C. and worked at Minibar for a little bit, just to make some money.
What do you think helped you build up such an impressive résumé?
I don't know. I just kind of like … you just have to go for it. I remember being in Boston, and I didn't know anything about food. I really didn't. But I'm a hard worker, so I don't see why I wouldn't be able to get in. At Noma, basically I was there from 6 a.m. to 2 a.m. every day. All the other people would go home early, and I was like, "Why are you going to come here to, like, party and stuff?" I can do that in Boston. I don't need to do that here. I was very serious about it.
So how did the Mimi job come about? You're not the owner, correct?
I'm not the owner, no. I wouldn't own a restaurant in New York. It's just too much shit you have to deal with. You get fined for having trash on your curb. That's ridiculous.
Where would you want to open a restaurant?
I have a place in mind, but it's a secret.
Fair.
I was working at Empellón Cocina; I was the sous-chef for Alex [Stupak] there doing pastry. Literally Mimi just kind of fell into my lap. I had a friend who I had met at Noma text me and go, "Do you know anybody who wants to be a chef? My friend's opening a restaurant." I put it off. I didn't even think about it, and then a couple of weeks later, I was like, "Let me see the blueprints." He sent me their sample menu that the owners had written up — mind you, they're not chefs. It was really bad. Really bad. I remember reading this and going, "This is serious. They don't know anything." It was so out there. I don't even know if they knew anybody who's a chef.
They knew they wanted it to be French, though?
That's the only thing they knew they wanted. There were spelling errors on the menu. It was pretty bad, and I was like, "Oh, why not?" I'll just try out, and I did, and then I got the job.
How much freedom do they give you now?
It took a bit, but they've given me full freedom with the menu now. In the beginning, we were really slow for a long time. It was a lot of "We need side dishes," "We need more vegetarian things." And I was like, "I'm telling you this is not what people want," but they were just panicking. Once the Village Voice review came out, they were like, "Okay."
Was that the turning point?
That was probably the turning point. I guess before that we used to type our menus, and there was this one day where we just ran out of everything. Now I'm writing the menu every day because it's just easier, and also if I write the menu by hand every day, they can't be so on top of me, because they wouldn't get the menu until, like, 4:30 p.m. Now they just give me full rein, so that's awesome.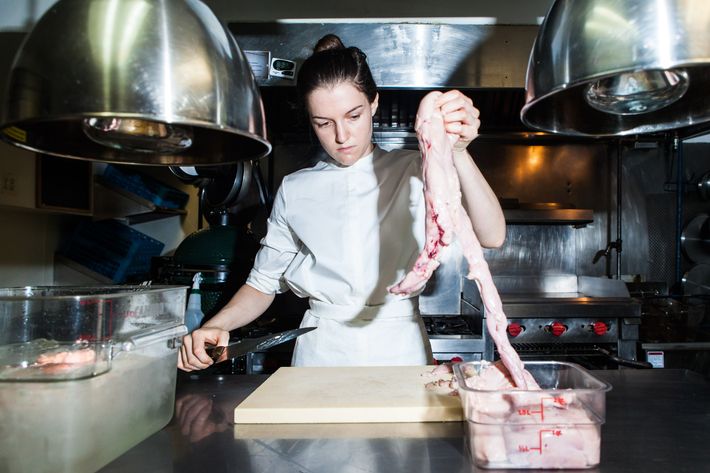 Your cooking is quite ambitious and technically challenging. What went into creating dishes like your veal Oscar?
I've done a lot of research. A lot of reading. I don't want to say it begins with the dish, because sometimes it begins with an idea of, "Oh, I love a Blanquette sauce," which is something that nobody really uses anymore. How can we make this interesting? It has to be interesting, and we have to use ingredients that we think rock — like, really rock. So I guess that's how it starts. But we want to say that the ingredients are the biggest thing — like we'll go anywhere to get a good ingredient. In two weeks, my fiancé and I are driving to Vermont to pick up a whole cow. That kind of thing. It's kind of obsessive at this point.
But it's not necessarily local. A lot of our fish comes from Japan. We tried six different unis before we found one that we really liked. And sometimes we'd come in and we wouldn't like it and we wouldn't serve it. That's just it. It doesn't matter how good the dish is; if there's not an awesome product in it, we're not going to serve it.
That must be hard when you're working at a small restaurant with a tight budget.
We only have three cooks, and that's it. It's my fiancé, myself, and another cook.
Was your fiancé onboard from the start? Do you get to boss him around?
He doesn't let me boss him around. I told him I was going to try out, and he was like, "Don't screw over Stupak."
I'm sure Alex is happy for you.
He hasn't been in. I don't know. I would love to cook for him. Jamie, too … Will was like, "Do the right thing. Give Stupak a month and a half. Don't just get up and leave."
And then Will decided to join you?
Yeah. While he was working at Per Se, he was at Mimi. It was insane. He was working seven days a week, and it sucked. We fought a lot.
That can definitely put a strain on a relationship.
It's a give-and-take. It's getting better, though. In the beginning, when he was there, he was just super-tired all the time, and the bosses were on us about being busy. We were like, "We don't know what to do." We were open for lunch, brunch, and dinner. We just didn't have the crowd.
It's amazing how that can so suddenly change with a review.
Literally, like in a day. Between New York Magazine and the GQ — it's a little overwhelming. I feel like I can't get anything done, you know? I'm really desperate for another cook. But why would a random cook want to come? There are so many cool places in the city that are well-enough established.
Will the success change what you're actually serving? Does it now give you the resources to purchase different ingredients?
Honestly, for this week, we're just trying to figure it out. We're just running out of everything. It's insane. We always buy the whole animal, just because it's cheaper. For instance, two months ago, we would buy three lambs, and they would last us forever, and now we're almost through three lambs in two weeks. So I think we have to figure out the demand first and go from there. Whereas before we really had to fight for the whole cow.
Do you connect with French cuisine, or do you still feel like that's what they were looking for and you're just filling the part?
I never connected with French food, but my food really isn't that French. It's super-non-French in a way, like the way how we cook is Chinese almost, or Southeast Asian sometimes. We draw a lot of inspiration from anything but French cuisine. The French part is the mind-set, like it's going to be luxurious and over-the-top.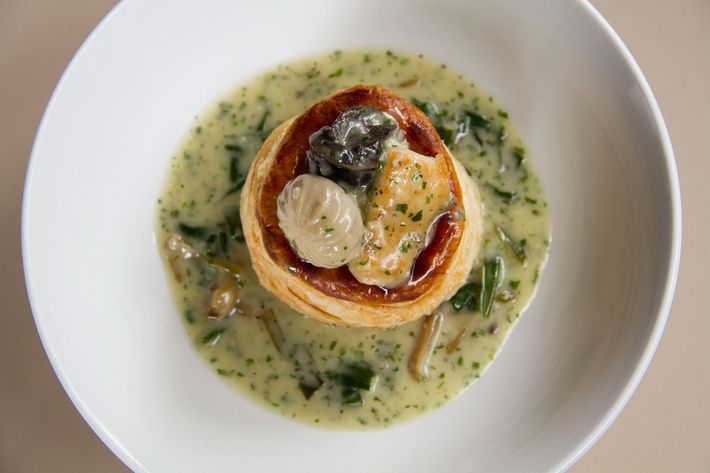 What's the most popular item on your menu?
Our chicken dish. But that's the most popular dish at any restaurant. It's just the only thing that's been on the menu since we've opened, I think, besides maybe the chocolate tart and the veal tartare. The chicken is just a roast chicken with long dumplings that we fold and toss in a mustard crème fraîche. We make it like a salad with gizzards.
Do you find that people are surprised to see that you're a young woman making this rich, intense food?
No. I don't think so. Well, I remember when I first went in, I was nervous that they wouldn't give me the job because I was young, and I wore my engagement ring to look older. And then one of the owners sat down with me and was like, "I was so excited to hear you were 25. We're all really young, so this is awesome." And I was like, "Really?"
If you had your own place, what kind of food would you want to cook?
I don't know. I don't think it would be a specific style or have a culture behind it. But I think it would be super-representative of getting the best products. I hope I never compromise for that. I don't think I will. Maybe I'll have a casual restaurant, but I'll probably have something that's more refined.
Why don't you think you'll stay in New York?
Most cities in America, across the board, are at a higher level in terms of restaurants. New York is a little less, like, important for me. I really mean that. I'm here because Will had a job, and I found a job, and now I have this. But it wasn't because we were like, "Oh, New York! We love New York!"
Like you didn't feel that you needed to be here to progress your career.
Yeah, I didn't feel that way at all. The clientele is very, like … hype-driven. A restaurant can be busy, and then in a year from now it can be closed.
Lowlife just closed after six months.
Really? I can't believe that closed. Will worked with [Lowlife chef Alex Leonard]. He offered me a job, but I said no, actually because of Mimi.
Well, you made the right choice.
Wow, I can't believe that. That's crazy. Maybe he needs a quick job! I'm kidding …