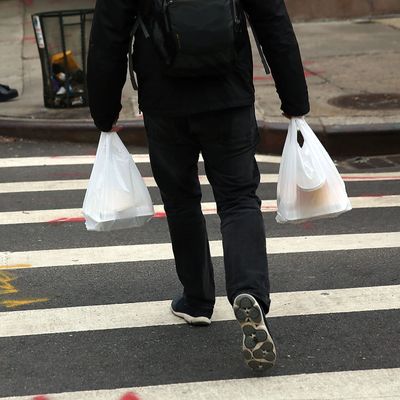 Ten cents' worth of bags.
Photo: Spencer Platt/Getty Images
New Yorkers may be saved from the city's grocery-bag tax before even paying a cent on it. The surcharge, which was passed by City Hall a month ago, is proving massively unpopular with lawmakers up in Albany, the Daily News reports. A bill written to explicitly prohibit bag taxes anywhere in the state is supposed to pass the Republican-controlled Senate today, and a version in the Democrat-controlled Assembly is reportedly picking up steam as well. Speaking for the anti–bag tax gang, Senator Simcha Felder tells the News that people "are stressed enough with everyday life without the City Council driving them nuts by nickel-and-diming them." (Although really it's just "nickeling," now that City Hall made the surcharge five cents instead of ten cents.)
Assembly Speaker Carl Heastie also tells the paper he's hearing lots of grumbling about the bag fee, and won't rule out passing legislation that bans bag fees before the session ends June 16. His colleague Michael Cusick, the bill's sponsor in the chamber, who calls the tax an "undue burden on the consumer," adds there's ample support to pass it.
As it's currently laid out, the tax applies to both plastic and paper bags, but includes several exemptions, like for bags used for restaurant takeout, medications at pharmacies, and anything purchased with food stamps. Felder and other opponents, such as the Bag the Tax NYC campaign formed by several industry groups, argue it's still a regressive tax that hurts low-income earners, but will only make the city nominally greener.
[NYDN]