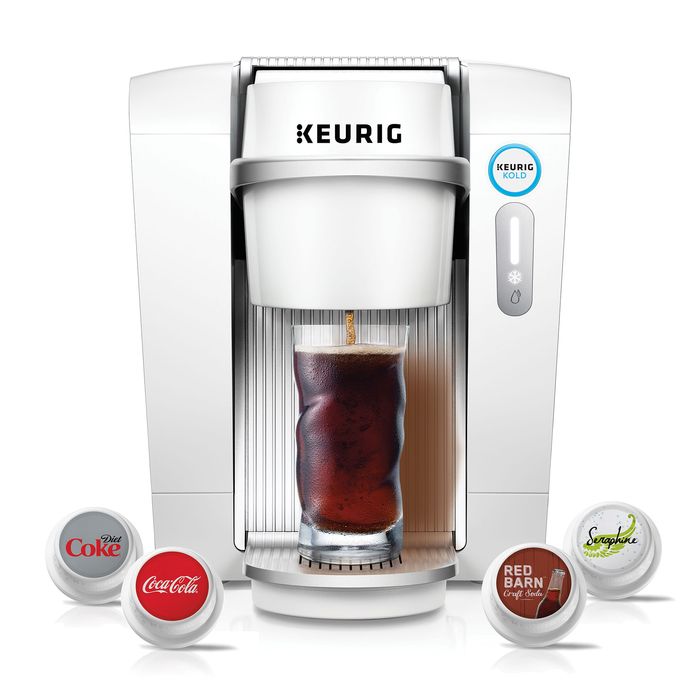 It reportedly only sold a few thousand.
Photo: Keurig
Some would argue they saw this one coming, but Keurig has finally pulled the plug on its prohibitively expensive, quite unpopular DIY soda-maker. The company says the device, called Kold, "didn't fully deliver on consumer expectations, especially around size, speed and value." In what feels like an even greater insult to its creator, Keurig even says it will buy the blasted things back from anyone silly enough to have purchased one.
The end of Kold means layoffs as well — 130 workers who produced the machine's pods at a facility in Vermont. Top brass predicted just eight short months ago that their new "disruptive countertop-size innovation" would go on to be even bigger than hot coffee for Keurig, but that was some seriously Don Quixote–level optimism: Literally nothing about the device sounded worth the $370 it initially cost — it was large, apparently emitted a noise "like Darth Vader taking a nap," and needed 60 seconds to make just eight ounces of soda.
This is the latest in a string of headaches for Keurig, whose sales have been declining since 2014. The company was sold for $14 billion last December to an investor group led by JAB Holding, a private company that now controls an alarming amount of the world's liquid caffeine, from Intelligentsia and Caribou on down to all of Mondelez's coffee brands and Krispy Kreme's Starbucks-copycat lattes. If this is JAB's idea of getting rid of products nobody wants, it had better get busy.